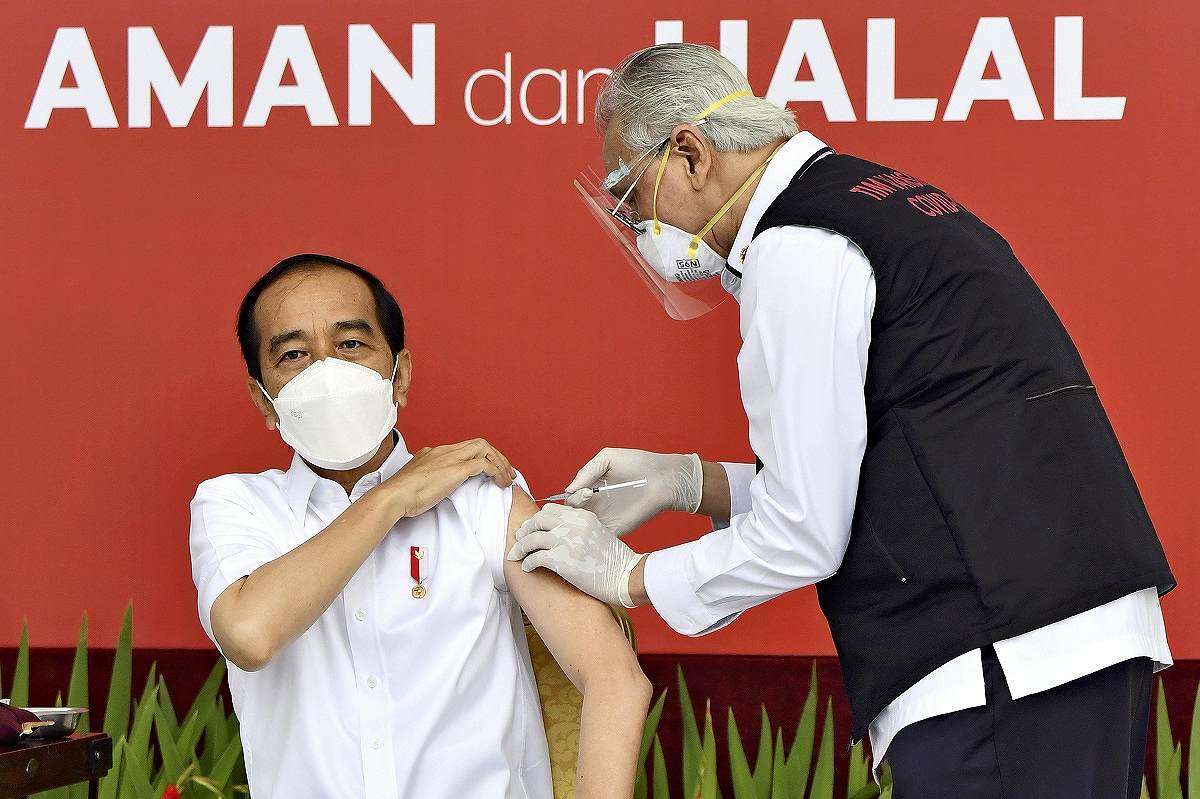 12:12 JST, January 26, 2021
JAKARTA/HANOI — Member countries of the Association of Southeast Asian Nations are increasingly relying on China for the procurement of COVID-19 vaccines. Although some ASEAN countries may see this as a way to quickly distribute large numbers of vaccine doses, others are cautious about the use of Chinese-made vaccines from a viewpoint of effectiveness.
■ President gets 1st shot
One country that is remarkably relying on China for vaccines is Indonesia, which has about 267 million people. Indonesia's cumulative total of infection cases is more than 900,000, the largest number among ASEAN members, and infections are still spreading.
The Indonesian government is scheduled to secure about 330 million doses of vaccine from various suppliers. Of that number, 125 million doses, more than one-third of the total, will be produced by Sinovac Biotech Ltd., China's major drugmaker. Indonesia has already imported 3 million doses of Sinovac's vaccine.
On Jan. 13, Indonesian President Joko Widodo received a shot of Sinovac's COVID-19 vaccine as "the first national" of the country.
The Indonesian government has decided to give vaccine shots to all of its nationals free of charge.
On the same day as Joko's jab, visiting Chinese Foreign Minister Wang Yi, who is also a state councilor of China, remarked, "We accept requests from Indonesia, which is our friend, without hesitating."
The Philippine government also decided to purchase 25 million doses of Sinovac's vaccine. A drugmaker in Malaysia has signed a contract with Sinovac for the licensed production of the company's vaccine.
■ Data varies widely
The background of the situation is that each of the ASEAN countries is unable to secure vaccine doses for all of their populations with procurement from the United States and Britain. Thus, they are relying on quick purchases via China's "vaccine diplomacy."
Beijing has announced that it will provide certain volumes of vaccines free of charge to countries with poor financial resources, such as Cambodia and Myanmar.
It is assumed that Beijing is aiming to counter the United States, which is increasing pressure on China in the Indo-Pacific region including ASEAN, so as to expand its influence in the region.
An ASEAN diplomatic source said, "Though the ASEAN side separates the vaccine issue and national security affairs, it is possible that the situation may somehow influence the countries' relations with China in the future."
Some of the ASEAN countries are cautious about using the Chinese-made vaccines, because data on the vaccines' effectiveness varies in clinical tests conducted in various countries.
In Thailand, authorities are demanding that Sinovac provide information about its vaccine, which the country is scheduled to purchase.
Malaysia plans to conduct detailed examinations regarding data of clinical tests of the Chinese company's vaccine.
■ No foreign minister's visit
Vietnam, which is in confrontation with China over territorial issues in the South China Sea, is said to be considering purchases of Chinese-made vaccines, in addition to those made by other countries' makers, including Britain's AstraZeneca PLC. But no practical plan has been announced.
China's Wang toured Southeast Asian countries in October last year and this month. But he skipped only Vietnam among the 10 ASEAN countries.
In Vietnam, where people's anti-China sentiment is strong, a local journalist said that many Vietnamese "do not want to use Chinese-made vaccines."
Hanoi has placed importance on developing domestically produced vaccines, and the country's state-run media reported that clinical tests of a vaccine by a domestic drugmaker began in December.
Add TheJapanNews to your Google News feed.