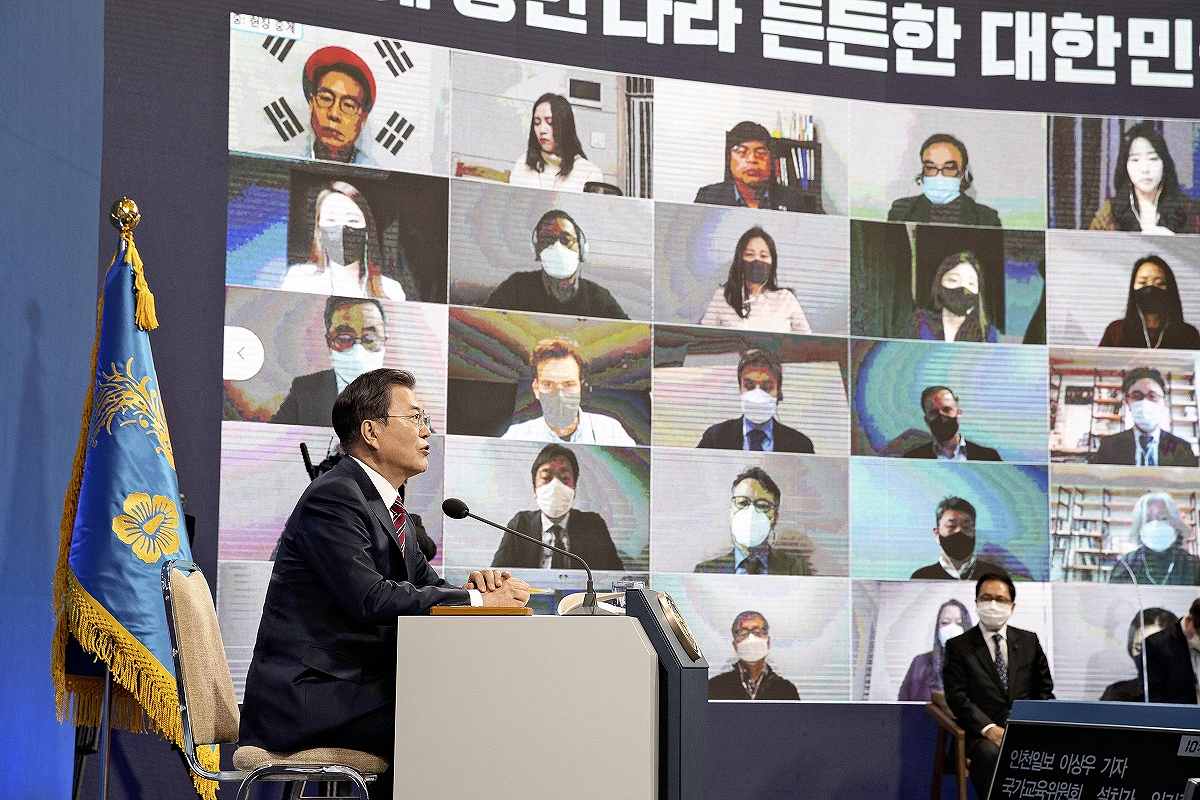 16:57 JST, January 19, 2021
SEOUL — South Korean President Moon Jae-in's latest remark on lawsuits involving former wartime requisitioned workers appears to reflect his hopes of gaining Japan's cooperation to create a legacy for peace on the Korean Peninsula, a long-held dream of his administration.
At his New Year's press conference on Monday, Moon said it was undesirable to liquidate assets seized from Japanese companies in accordance with a ruling ordering the firms to pay compensation to former wartime requisitioned workers.
At the press conference, a Japanese correspondent asked Moon about the Seoul Central District Court's decision ordering Japan to compensate former so-called comfort women. Moon then brought up the "court ruling over wartime requisitioned workers" as one of the "pending issues that must be resolved" between Japan and South Korea. There was no mention of "respecting the court's ruling," his conventional response.
He went on to say, "I don't think it's desirable" to liquidate the assets of the accused Japanese companies, a striking stance shift that could be perceived as an intervention in the judicial process.
Moon also said at Monday's press conference that the South Korean government acknowledged that the 2015 bilateral agreement on the comfort women issue was an "official deal." This statement was a complete change from past harsh criticisms, including a statement issued on Dec. 28, 2017, in which he said the agreement "excluded the opinions of victims and citizens" and had "serious flaws."
Moon's comments at Monday's press conference may be an indication that Japan's assets will not be seized in the comfort women lawsuit.
■ Legacy for peace
The deadlock in the reconciliation with North Korea, a top priority for Moon, may provide some context to his remarks.
According to a South Korean government official, there is a perception within the Moon administration that "the Japanese government's encouragement for the administration of President Donald Trump to take a tough stance on North Korea was one of the factors" for the impasse in denuclearization talks between the United States and North Korea.
In light of the inauguration of U.S. President-elect Joe Biden's administration, which is expected to be tough on North Korean leader Kim Jong Un, there is a desire within Seoul to improve relations with Tokyo and "have Japan urge Biden to agree to hold a U.S.-North Korea summit soon," according to a senior South Korean government official.
The Moon administration is hoping for a turn in the tide, envisaging a scenario in which Biden and Kim attend the opening ceremony of the Tokyo Olympics in July and hold a summit meeting. For this to happen, Japan's cooperation will be indispensable.
The former administration of U.S. President Barack Obama, supported by Biden as vice president, brokered talks between then Prime Minister Shinzo Abe and then South Korean President Park Geun-hye, through which an agreement over the comfort women issue was reached. The fact that Moon expressed his respect for the bilateral agreement over the comfort women issue at the press conference could partly be out of consideration for the incoming Biden administration.
■ Plan to 'return' assets
However, it is still unclear whether Japan-South Korea relations will move toward normalization.
According to a source familiar with Japan-South Korea talks, a proposal has emerged between Tokyo and Seoul over the wartime labor issue to have the South Korean government purchase the seized assets of Japanese companies and then return them to the companies.
Some of the plaintiffs in the lawsuits are adamant that the Japanese companies should be made to pay compensation. Even if the South Korean side were to seriously consider this proposal, it has been questioned how far Moon would be able to persuade the plaintiffs with his "victim-centered approach."
The South Korean newspaper Hankook Ilbo has reported online that Moon's statement differs from his administration's previous position and is expected to cause ripples.
A South Korean expert on Japan-South Korea relations was quoted by the Yonhap news agency saying Seoul's "intention to improve bilateral relations with Japan seems clear."
Add TheJapanNews to your Google News feed.