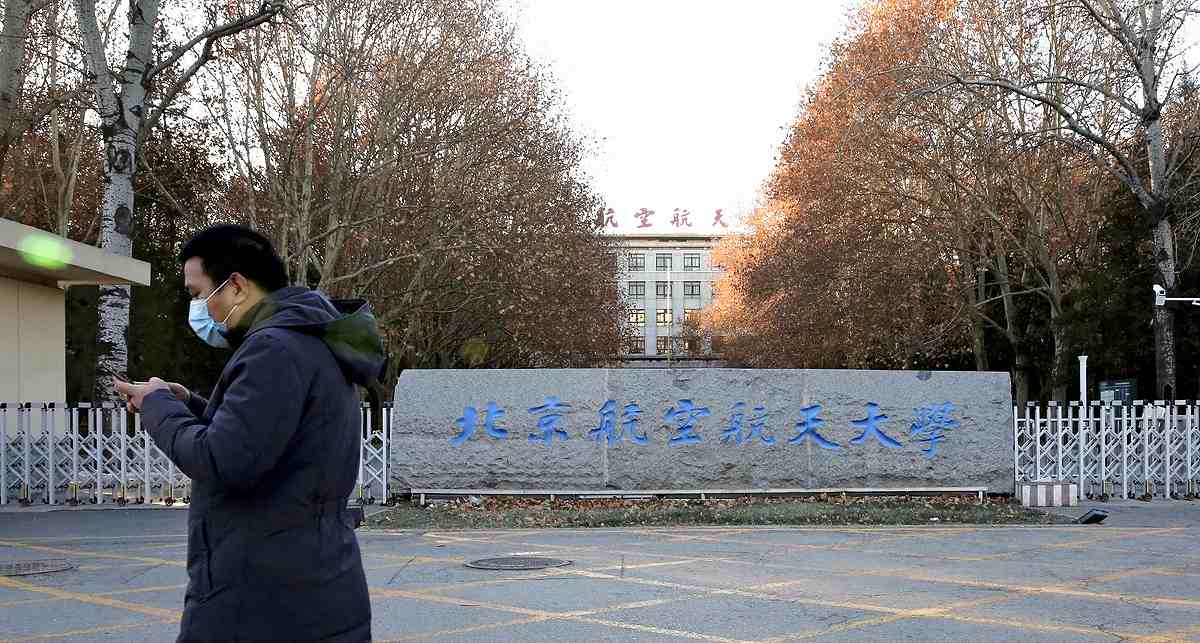 17:42 JST, January 2, 2021
With at least 44 Japanese researchers involved with China's Thousand Talents Plan, what is also coming to light is China's shrewdness in recruiting excellent talent from foreign nations through generous treatment. The research results from these foreign researchers have been boosting China's national power.
As the Japanese government's science and technology budgets are way behind those of China, the government must take measures to prevent the brain drain from continuing.
■ Military purposes?
"I received about ¥200 million as research expenses for five years under the Thousand Talents Plan, and an additional ¥48 million from China's science and technology research expenses fund," said a male Japanese researcher who serves as a professor at Beijing's Beihang University, one of the seven Chinese universities that are said to be strongly linked to the development of weapons for China's military.
The Japanese researcher took part in the Thousand Talents Plan after being invited by a Chinese researcher who belonged to the same research lab as he did in Japan.
He said the Chinese researcher told him, "In China, we also want to launch experiments and research on nuclear physics where Japan and Germany are in the lead."
With the hope of "disseminating the research he had long been working on throughout Asia," he started to participate in the Thousand Talents Plan from 2010.
In the research lab he was given by Beihang University, he teaght about 10 Chinese students, while at the same time conducting joint research with the Japanese university he concurrently worked for. He spendt half the year in China, where he received wages besides the research funds from the Chinese government. Even after his term of service under the plan expired, he remained at Beihang University to continue his research.
Akiyoshi Osaka, 72, a professor emeritus at Okayama University and a scholar on material chemistry, took part in the Thousand Talents Plan for three years from 2016. He taught at Henan University of Science and Technology, giving instruction to students on his areas of expertise such as ceramics. As to the possible appropriation of his research results for military purposes, Osaka did not deny such a possibility.
"There is such a likelihood for any sort of research," he said. "My research papers have been made public across the world and I'm not responsible for how they are used."
■ Better treatment
Among the 44 Japanese researchers who were found to have been involved in the Thousand Talents Plan, many were formerly professors at national universities, including the University of Tokyo and Kyoto University.
Their areas of expertise include some that can directly be linked to military affairs, such as robotics and artificial intelligence, while others taught physics and mathematics, which can help enhance the fundamentals of China's science and technology.
Many of these Japanese researchers are in their 60s or 70s and had to retire once they reached the mandatory retirement age at universities in Japan. Left looking for new places to pursue their research, the generous treatment offered by Chinese universities has been a conspicuous attraction.
"I was given research funds in the several tens of millions of yen that I didn't know what to do with all the money," said a former Japanese professor who was at a university in Beijing. "When I was invited to a New Years concert, I was given a seat in the middle of the very first row."
At his research lab, he was provided with a secretary who had a good command of Japanese, was given permanent residence and had benefits such as free complete physical checkups.
Yutaka Saito, 72, a professor emeritus at Hokkaido University and a scholar on zoo-ecology, conducted research such as on mites for three years until 2016 at Fujian Academy of Agricultural Sciences. During the time, he was provided with microscopes and other equipment that were more expensive than those available in Japan. He said he lived in a condominium with a housemaid provided and was driven to and from the academy by a chauffeur.
■ Dissatisfaction with Japan
Most of the Japanese researchers who responded to interview requests from The Yomiuri Shimbun expressed their dissatisfaction with Japan's science and technology policy.
Toshitaka Kajino, 64, a professor who has been conducting research on nuclear astrophysics at Beihang University since 2017, was given a total of about ¥100 million for research over a five-year period, far more than what he was given in Japan.
"Japanese researchers have been bent on struggling for a bigger share of a small budget, with the number of researchers remaining in universities declining," he said. "As a result, the country's prowess in science and technology has fallen."
In Japan, there are many postdoctoral researchers who take up unstable posts with restricted terms of office after obtaining their doctorate.
Toru Takahata, 43, a professor at Zhejiang University, went to China in 2014 as he could not find a desirable post in Japan to conduct research into the mechanisms of the brain. Since around 2016, he has taken part in the Thousand Talents Plan in Zhejiang Province.
"Research positions are an attractive profession for young people in China," he said. "But in Japan, they have become high-risk jobs, from which people can be fired at any time."
Add TheJapanNews to your Google News feed.