Ilestedt Scores Twice as Sweden Beats Italy 5-0 to Reach Knockout Rounds at Women's World Cup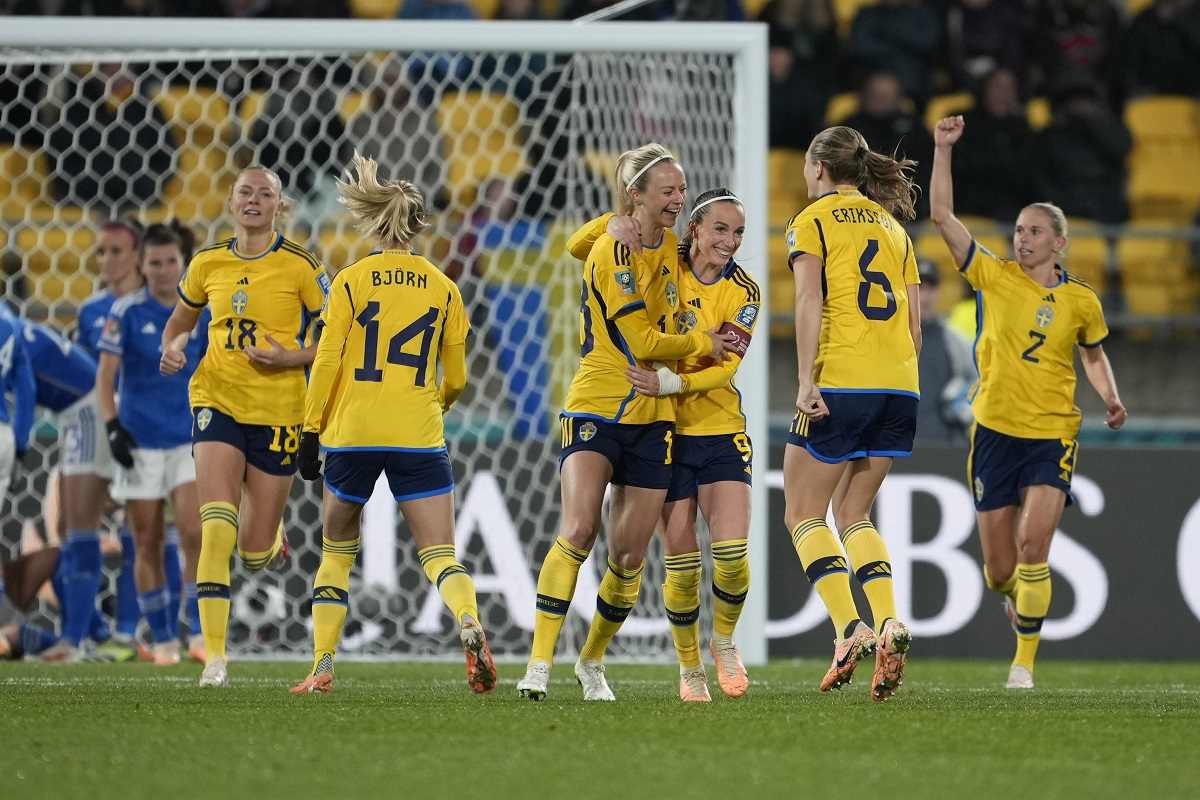 10:47 JST, July 30, 2023
WELLINGTON, New Zealand (AP) — After leaving it to the last minute against South Africa, Sweden left nothing to chance Saturday in a 5-0 win over Italy which sealed its place in the knockout rounds of the Women's World Cup.
Sweden relied on Amanda Ilestedt's 90th-minute winner to salvage a 2-1 win from a sub-par performance in its opener against South Africa.
Ilestedt was Sweden's first scorer Saturday, this time in the 39th, and her glancing header from a corner sparked a flood of four Swedish goals in 11 minutes on either side of halftime. Her second goal came in the 50th and was a mirror image of the first.
Rebecka Blomqvist finished it off in stoppage time with Sweden's fifth goal.
"We are good at set pieces," said Ilestedt, who is now the tournament's leading scorer with three goals. "We have good shooters and we know we are good headers so it feels good the balls are coming where they should."
The Swedish attack again looked hesitant in the first 20 minutes. Italy appeared more composed over the ball in that period and more threatening with Sofia Cantore particularly dangerous on the right. Cantore had the first shot on goal in the opening minute, finding the keeper at the near post, and Italy had five shots on goal before Sweden had its first.
But as the first half progressed, Sweden began to look more composed, more organized and then more ruthless. The crowd of just over 29,000 appeared to sense the change.
AC Milan midfielder Kosovare Asllani began to get behind the defense and while at first she didn't find teammates forward to meet her crosses, her freedom marked a turning point in the match. Italy was forced to soak up more and more pressure until, at last, the dam broke.
Joanna Andersson curled the ball in from the right in the 39th and Ilestedt rose highest at the near post to glance the ball on a narrow angle into the net.
Fridolina Rolfo looked certain to score in the 43rd, one-on-one with Francesca Durante, but the goalkeeper threw herself toward Rolfo's feet and snuffed out the threat.
The reprieve was short-lived and Rolfo had to wait only moments for her second goal of the tournament. Another corner and this time the delivery eluded Durante and found Rolfo on the far post who headed home.
Rolfo turned deliverer in the first minute of stoppage time. Sent clear by a neat back-heel she passed low and beyond Durante, finding Stina Blackstenius, who tapped in. Arsenal's Blackstenius couldn't score against South Africa but she was pivotal to the Swedish attack Saturday; her goal was her 29th for the national team.
Sweden led 3-0 at halftime, and the scoring continued after the break. On a corner in the 50th, Ilestedt was on station at the near post to head home.
Sweden coach Peter Gerhardsson had reason to be concerned about his team's attacking performance against South Africa in which his team trailed until 25 minutes from the end. His confidence that goals eventually would flow was rewarded Saturday.
The clinical nature of Sweden's attack was highlighted by the fact possession was almost evenly shared. But Sweden had 14 shots on target, Italy four and the Italians will be haunted by Sweden's seven corners, all of which represented an immediate danger.
Ilestedt was player of the match and in every sense a towering figure in attack. Blackstenius, Rolfo and Asllani also were back in form and there was every sign Saturday the third-ranked Swedes are peaking at the right time.
Italy heads back to the drawing board with the first order of business to address its defense from set pieces.
WHAT'S NEXT: While Sweden is into the knockout rounds, there is much still to play for in Group G with Argentina, Italy and South Africa all still with a chance of progressing. Sweden has six points, Italy has three points from its victory over Argentina. South Africa and Argentina have one point each after their draw in Dunedin.
---
---
Add TheJapanNews to your Google News feed.