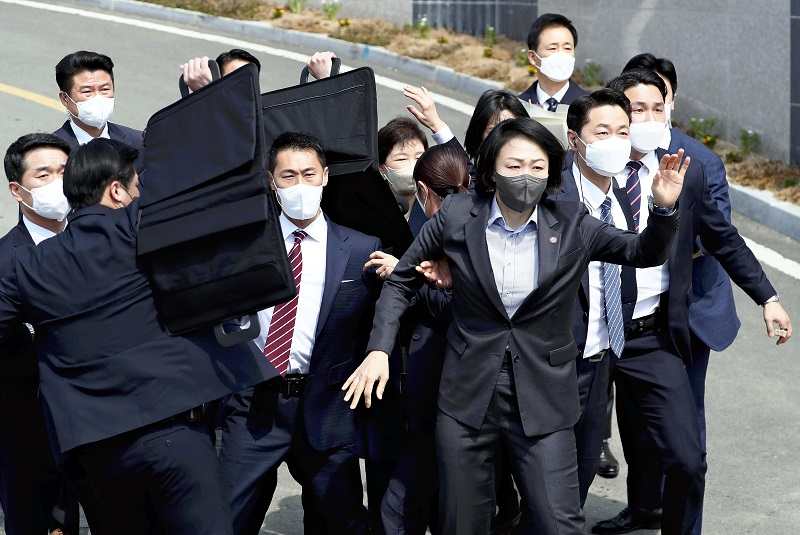 The Yomiuri Shimbun
11:21 JST, July 26, 2022
In the aftermath of the fatal shooting of former Prime Minister Shinzo Abe, questions have arisen about the security detail protecting him. This is the second installment in a three-part series exploring problems with Japan's dignitary protection.
※※※
It happened in an instant. Former South Korean President Park Geun-hye began speaking to the public in front of her home in Daegu, in southeast South Korea, on March 24. Then someone in the crowd threw a bottle of soju at her, prompting more than 10 security officers to rush toward her in a matter of seconds.
They surrounded her in a group two or three people deep, with some holding up bulletproof bags to protect her. The man who threw the bottle was soon nabbed, but the officers stood guard around her for about 80 seconds, taking precautions against any further assault by a possible accomplice.
The steps taken in Park's case were in contrast to what was seen when former Prime Minister Shinzo Abe was gunned down earlier this month. In the incident involving Abe, immediately after Tetsuya Yamagami, the 41-year-old suspect, fired twice at him, two of the four security personnel standing close to Abe rushed to the suspect.
Yet the primary role of protective service personnel is not to arrest a suspect but to secure the safety of a dignitary. There is no telling where the second or third attack could come from. When an abnormal incident happens, they throw themselves on top of a dignitary or have him or her lie down to protect their life.
"They probably had not formed an image in their minds of how they would act if something unexpected happened," said Hideto Osanai of the International Bodyguard Association, a London-based organization that trains private-sector security personnel in about 100 countries around the world. Osanai added, "It is necessary to examine the way security personnel are fostered and trained."
Security service arrangements differ among countries.
In South Korea, the Presidential Security Service, a government organization with about 400 personnel, provides security for the president and his or her immediate family, among others. The presidents, even after their terms expire, are entitled to security services for up to 15 years, equivalent to what they received while in office.
In the U.S. Secret Service, thousands of security officers, in uniform and plain clothes, are charged with providing special services including protective security services. When the president is giving a public speech, the venue will have metal detectors installed, and if the speech is to be made outdoors, snipers will be deployed.
In Russia, there is the Federal Security Service, while in France, a group of about 80 security personnel, including those from the police, are tasked with protecting the president and their immediate family.
Compared with these countries, the security arrangements for dignitaries in Japan seem less dependable. With security police personnel from the Metropolitan Police Department at the core, security officers guard the prime minister, cabinet members and senior officials of political parties, but the total number of such personnel is a mere 200 to 300.
When these dignitaries take the stump in provincial districts, local police officers, who usually have different tasks, will join the security team.
A senior police official said: "Although circumstances differ from such countries as the United States, which is a gun society, a gun was used in the latest incident. Discussions to strengthen the relevant system will be needed."
The modus operandi of the security personnel should be reviewed as well.
According to British media, including the BBC, after then Prime Minister Tony Blair resigned in 2007, he was supplied with a team of close protection officers — as many as 12 at times. As there had been public backlash against his decision to take part in the Iraq War, the security arrangements were said to have been reinforced in line with the degree of threat to him.
In the United States, when former President Donald Trump has made speeches, which attract a lot of attention, bulletproof glass panels have been set up around him.
Abe was a conservative, high-profile politician who had been at the helm of a record-long administration, and there were not a few people critical of him. But most of the time, there was only one security officer assigned to protect him. A former senior police officer said regretfully, "A flexible response should have been taken, including increasing the number of security personnel depending on the circumstances."
Masahiro Tamura, a professor at Kyoto Sangyo University and a scholar on police administration law, said: "Many foreign dignitaries are expected to come to Japan to attend a state funeral for Abe in September, and our country will also host a summit of the Group of Seven major economies next year. Measures that could dispel concerns over Japan's security arrangements for dignitaries will be urgently needed."
Add TheJapanNews to your Google News feed.