Sojitz Employee Suspected of Stealing Trade Secrets from Former Employer Kanematsu, Allegedly Used Former Colleague's ID, Password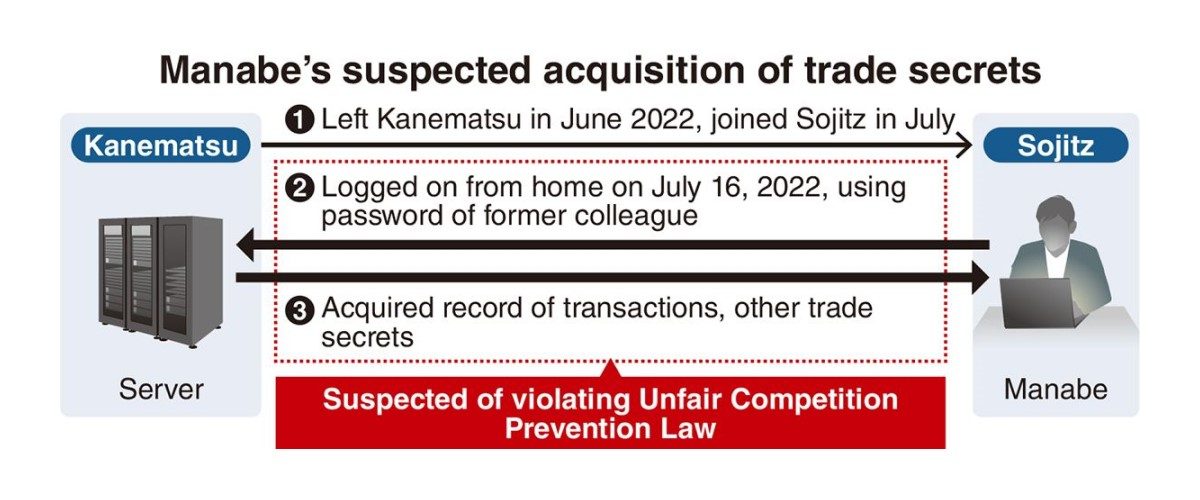 17:04 JST, September 28, 2023
A former member of the Sojitz Corp. trading company has been arrested on suspicion of illegally acquiring trade secrets from his previous employer, the Kanematsu Corp. trading company, the Metropolitan Police Department announced Thursday.
Shosuke Manabe, a 32-year-old resident of Koto Ward, Tokyo, was arrested by the MPD on Wednesday on suspicion of violating the Unfair Competition Prevention Law. Police believe Manabe intended to use the trade secrets at his new position at Sojitz.
According to the MPD, on July 16, 2022, while he was an employee of Sojitz, Manabe used the ID and password of a former colleague from his time at Kanematsu to illegally connect to Kanematsu's server from his home computer.
Manabe is suspected of downloading and storing three files containing trade secrets on his computer, including a record containing a list of transactions with overseas automobile manufacturers and materials related to the development of automobile parts.
Police said Manabe allegedly told the former colleague that he wanted to see a list that he had compiled for restaurants to be used on overseas business trips, and asked for the log-on information to the server.
The MPD said that the suspect has denied the allegations when questioned by investigators.
Manabe worked for Kanematsu in the automotive-related division, and left the company in June 2022. He also worked in a division related to vehicles at Sojitz, which he joined the following July.
The investigators are checking whether Manabe used the files taken from Kanematsu after joining Sojitz.
The MPD said that Manabe downloaded about 37,000 files to a company-owned computer in June 2022 before he changed jobs, and may have saved them to his private computer. The investigators are also checking whether these files contain information that constitutes trade secrets.
Kanematsu conducted an internal investigation in September last year and uncovered the suspected wrongdoing. In April, the MPD carried out a search at the Sojitz headquarters in Chiyoda Ward, Tokyo. Manabe left Sojitz in May.
Following the arrest of Manabe, Sojitz released a statement on Thursday saying "we sincerely apologize" for inconveniencing stakeholders and clients.
A Kanematsu official said, "We will take this case very seriously and re-emphasize employee training."
Sojitz and Kobe-based Kanematsu are both listed on the Tokyo Stock Exchange's Prime section.
Sojitz ranked seventh in the trading industry with consolidated sales of ¥2.48 trillion in fiscal 2022 ended in March, while Kanematsu ranked eighth with ¥910 billion.
Add TheJapanNews to your Google News feed.