Suspects in Japan Robbery Ring Arrested over Tokyo Homicide; Perpetrators Allegedly Told to Break Elderly Woman's Bones (Update 1)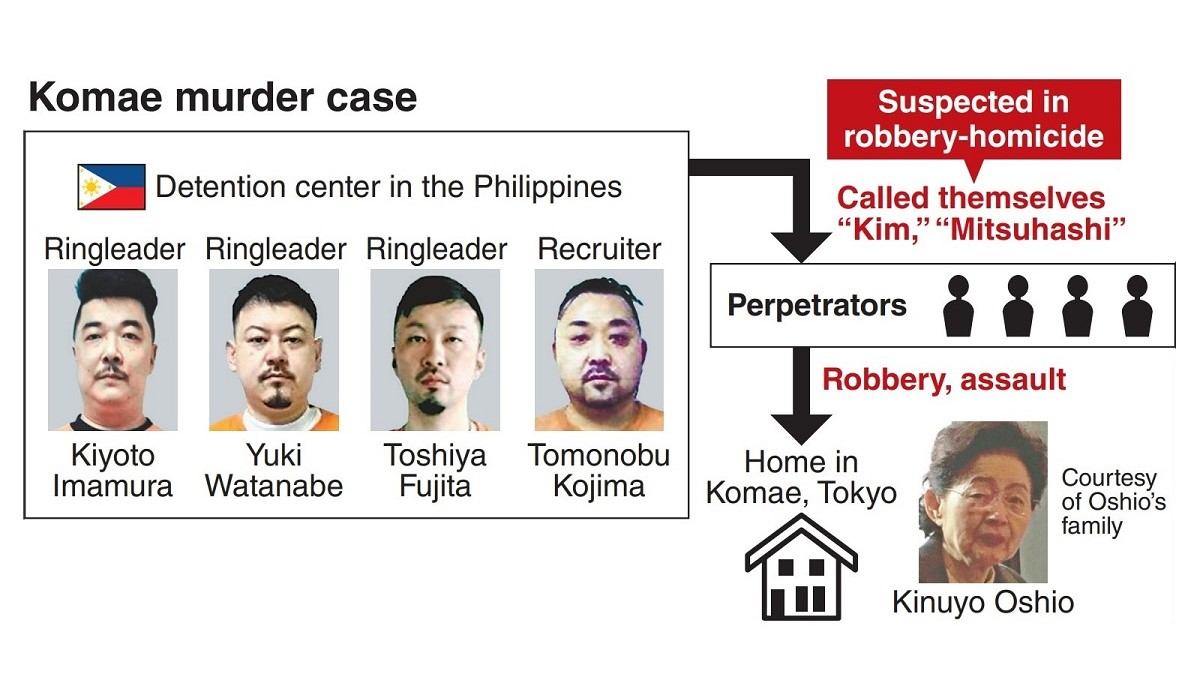 11:47 JST, September 12, 2023 (updated at 16:25 JST)
Four suspects indicted on robbery and fraud charges after being deported to Japan from the Philippines in February were arrested again Tuesday, on suspicion of involvement in a high-profile robbery-homicide that led to the death of a 90-year-old woman in Komae, Tokyo, in January.
The Metropolitan Police Department believe that the four — Yuki Watanabe, 39; Kiyoto Imamura, 39; Toshiya Fujita, 39, and Tomonobu Kojima, 45 — orchestrated the Jan. 19 robbery-homicide in Komae from a detention center in the Philippines.
Imamura has been charged in another robbery, and the other three have been charged with theft in fraud cases.
The Komae incident brought to society's attention a string of robberies involving ringleaders who orchestrated crimes while using such aliases as "Luffy."
This is the only incident that involved a fatality amid the robberies. The MPD has deemed it to be the most serious case, and police were determined to identify the instructors.
The MPD suspects the four men used the names "Kim" and "Mitsuhashi" — who are believed to be associates of "Luffy" — in the Komae case, and gave orders to the perpetrators in Japan from the Philippines.
At around 11:30 a.m. on Jan. 19, Watanabe and the others allegedly conspired with four perpetrators, including Rikuto Nagata, 21, who has been indicted on charges including robbery-homicide.
The perpetrators are suspected of breaking into a house in Komae, binding the hands of the resident, Kinuyo Oshio, and fatally beating her with a crowbar. They then stole three luxury watches and a ring, worth about ¥600,000 in total.
According to investigators, Watanabe and the other three were the leaders of a fraud group. Their subordinate Risa Yamada, 27, who was being held at the same detention center in the Philippines, told the MPD that she saw and heard them giving such instructions as "There's money in the basement" and "Break her bones" over the phone on the day of the incident.
Her statements and analysis of smartphones led the MPD to suspect the four had an unspoken intent to kill and did not care if the victim died.
Kojima allegedly recruited perpetrators via social media. The police are investigating the roles of the other suspects.
Add TheJapanNews to your Google News feed.