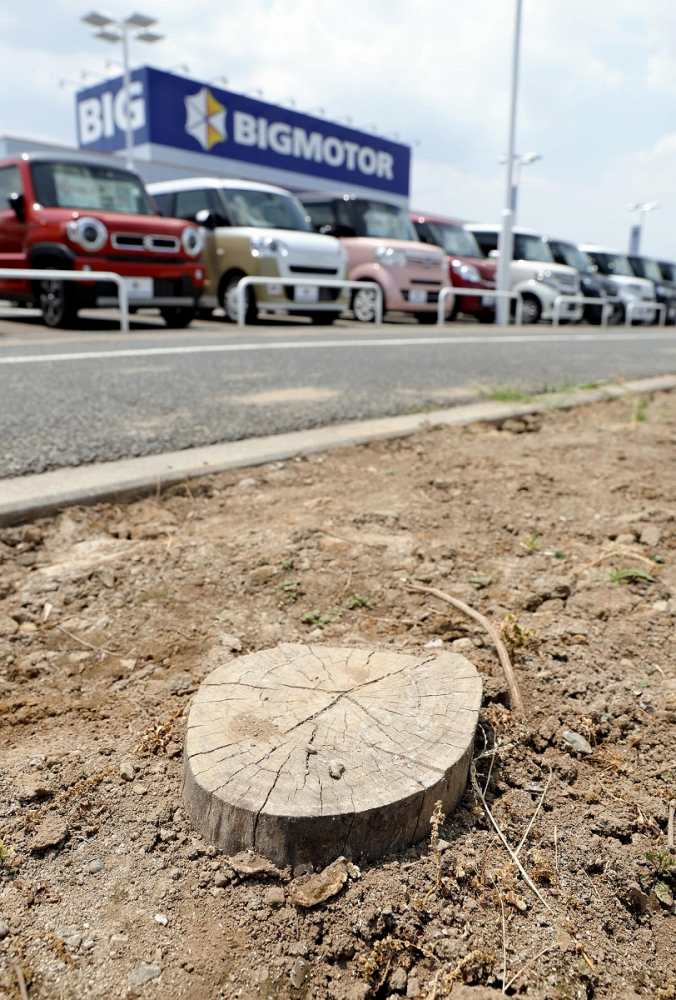 13:56 JST, July 29, 2023
Bigmotor Co. has admitted on its website that the death of roadside trees in front of outlets of the used-car dealer may have been due to the use of herbicides.
"It is very likely that the trees have died due to the effects of herbicides and other chemicals used during cleanup efforts at several of our stores," the company said on its website Friday.
"We offer our deepest apologies for the considerable concern this has caused to a great many people," it said.
The company stated that it had come to this conclusion as a result of its own investigation. "We will fully cooperate with the on-site investigation by the Land, Infrastructure, Transport and Tourism Ministry and the relevant local governments. We will take measures to restore the sites to their original condition, including soil replacement and tree planting," it said.
In May last year, three Japanese zelkova trees were found dead in front of the Urawa-Misono outlet in Saitama. The municipal government cut them down.
When a city official questioned the outlet's representative Friday about the death of the trees, the store official said, "We applied herbicide on the undergrowth once or twice a month," according to the city. The outlet denied applied directly on the zelkovas, according to the city.
"The fact that it applied the herbicide on its own without coordination with the city [which manages the roads] is a problem in itself," Saitama Mayor Hayato Shimizu said at a regular press conference on Friday.
The city plans to take strict action against the company after conducting a soil survey, he said.
An official of the firm's Yashio outlet in Yashio, Saitama Prefecture, where one zelkova by the sidewalk died two years ago, replied to a prefectural government inquiry by saying that the outlet had used herbicide in gutters on the property, but never on the street trees, according to sources.
The ministry announced on Friday that roadside trees had died in front of 10 of the chain's outlets along national highways.
After investigating the cause and confirming that herbicides were used, the ministry will file a damage report with the police.
Add TheJapanNews to your Google News feed.