(UPDATE1) On-Site Inspections Held at 34 Bigmotor Outlets over Insurance Fraud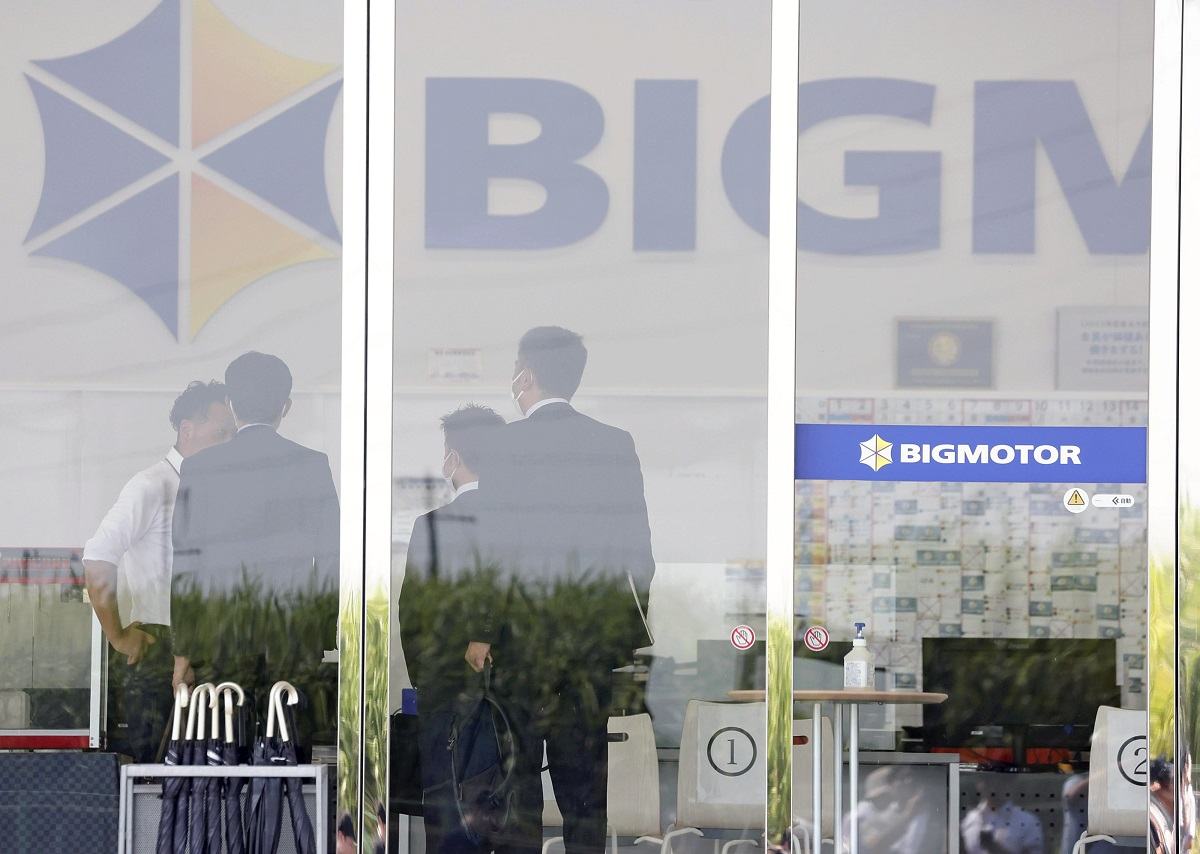 10:45 JST, July 28, 2023 (updated at 17:15 JST)
The Land, Infrastructure, Transport and Tourism Ministry on Friday began on-site inspections at 34 outlets of Bigmotor Co. in Tokyo and 23 other prefectures in connection with the major used-car dealer's fraudulent insurance claims.
The ministry is conducting the inspections based on the Road Transport Vehicle Law, after having deemed it essential to interview Bigmotor employees and examine business operations at each outlet in question.
If serious violations are confirmed, the ministry will impose administrative penalties, such as revoking the designation of outlet garages as private vehicle inspection stations.
At Bigmotor's Urawa-Misono outlet in Saitama City, several ministry officials entered the store as soon as it opened at 9 a.m. and began interviewing employees.
The company operates about 300 outlets nationwide. At 135 of its outlets, the company's garages have been designated as automobile inspection stations where it provides sheet metal, painting and other services.
Fraudulent acts were allegedly conducted at the garages of the 34 outlets where inspections began Friday, according to an investigative report by outside lawyers released by the company on July 18.
The alleged practices in question include deliberately damaging vehicles that customers had sent in for repairs and making the damage appear more serious than it was, thereby padding repair bills when filing claims with non-life insurance companies.
The law prohibits charging fees for maintenance that has not been done, or that has not been requested by clients. The ministry, which oversees the law, conducts hearings when violations are suspected and also conducts on-site inspections when deemed necessary.
If a violation is confirmed, administrative penalties, such as revocation of designation as a private automobile inspection station, suspension of operations, or a business improvement order, will be triggered, depending on the nature of the violation. Since penalties are imposed not on the company as a whole, but on each maintenance garage, violations must be verified on a garage-by-garage basis.
On Wednesday, the ministry held a hearing with Bigmotor President Shinji Izumi and four other senior company executives.
However, all of them stated that they were "unaware" of the misconduct, and as a result, the ministry is believed to have determined that hearings alone would not clarify the situation.
"Based on the results of the on-site inspections, we will work with the relevant ministries and agencies to confirm the facts, and if a violation of the Road Transport Vehicle Law is found, we will take strict action," Land, Infrastructure, Transport and Tourism Minister Tetsuo Saito said at a press conference after Friday's Cabinet meeting.
---
Add TheJapanNews to your Google News feed.