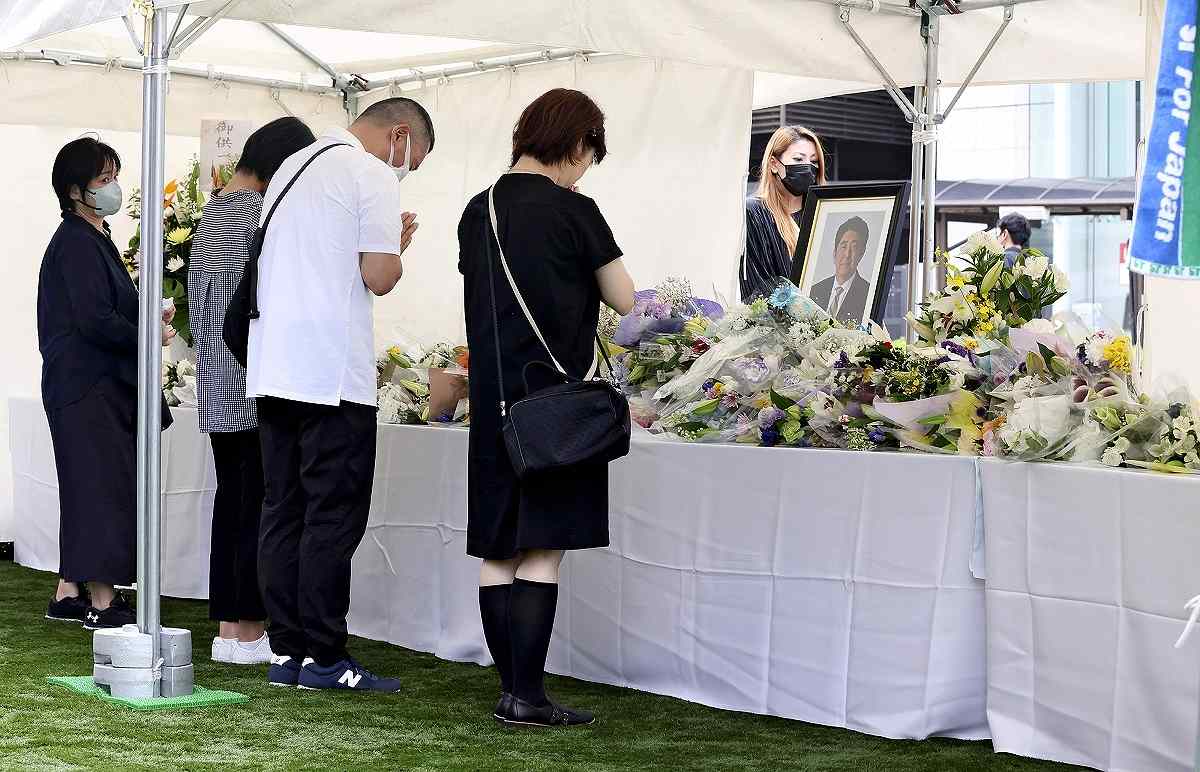 15:04 JST, July 8, 2023
Saturday marked one year since Shinzo Abe, Japan's longest-serving prime minister, was fatally shot during a campaign speech in Nara.
Many people visited a floral tribute stand set up near the site of the shooting in front of Kintetsu Railway Co.'s Yamato-Saidaiji Station in the city to pray for Abe, with some expressing their opposition to violence.
The shooting occurred at 11:31 a.m. on July 8, 2022, on a street in front of the station when Abe, 67, was making a speech on behalf of a candidate in the House of Councillors election. He was rushed to a hospital, where he was pronounced dead.
The tribute stand was set up a dozen meters from the shooting site by people including lawmakers and prefectural assembly members who belong to the Liberal Democratic Party's Nara prefectural chapter, with approval from the city government.
About 50 people were lined up as of 8:30 a.m. when flower offerings began at the stand, and the number exceeded 100 before 11 a.m. With a framed photo of Abe also displayed at the tribute stand, some people were moved to tears.
"Many people have come to mourn him because I think he was highly regarded," said a 58-year-old man from Shizuoka, who was the first person to offer flowers at the stand on Saturday. "Abe committed himself to protecting this country. I want him to rest in peace."
Many politicians, including lawmakers, also visited the floral tribute stand. Several dozen police officers were on alert to heighten security.
Tetsuya Yamagami, 42, has been indicted on murder and other charges related to the shooting. He reportedly told investigators that he held a grudge against the Unification Church, a religious group officially called the Family Federation for World Peace and Unification. His background and use of homemade guns drew public attention.
"I still can't believe that crime involving guns happened so close to me," said a 39-year-old Nara woman who works at a commercial facility near the scene of the incident. "No matter what circumstances Yamagami was under, it is absolutely wrong to resort to violence."
In April this year, Prime Minister Fumio Kishida also came under attack during a campaign speech in Wakayama.
Memorial service in Tokyo
A memorial service was held at Zojoji temple in Minato Ward, Tokyo, to mark the first anniversary of Abe's death on Saturday. Kishida and other people from political and business circles who were close to Abe were among those who attended the service, which was closed to the media.
The LDP, the party's Abe faction and his family jointly set up a floral tribute stand at the temple to accept flowers from members of the public.
When he took office at the age of 52, Abe became the nation's youngest prime minister since the end of World War II. He held power for a total of 3,188 days, the longest tenure for a Japanese prime minister.
---
---
Add TheJapanNews to your Google News feed.