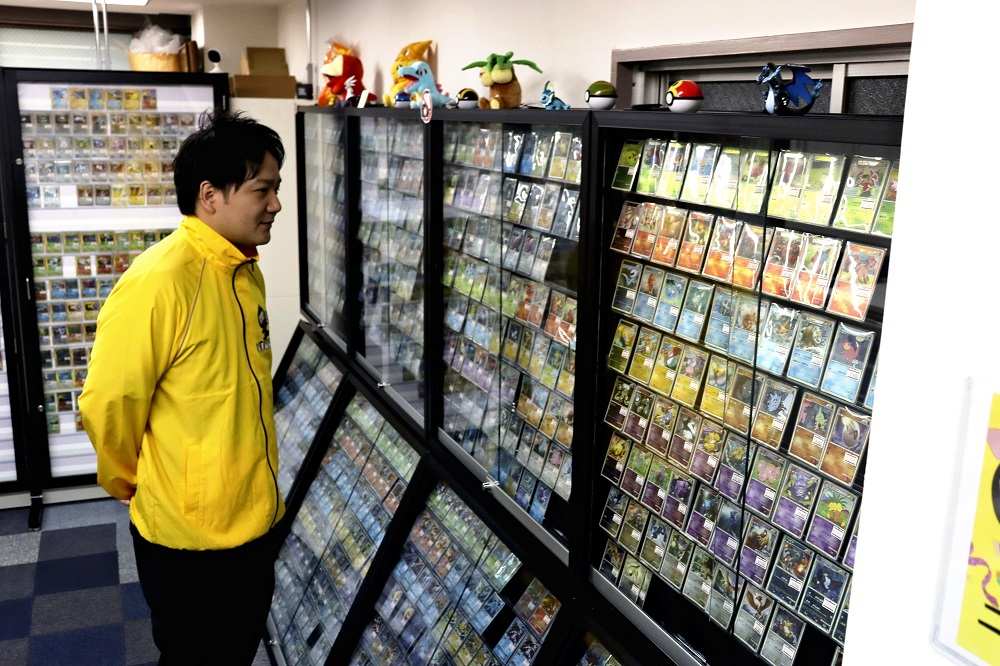 17:57 JST, June 30, 2023
Pokemon cards are disappearing from store shelves across Japan as thieves swipe them and trying to cash in on their high resale value.
Enthusiasts of the popular Pokemon trading card game shell out big money for rare specimens, and some cards can fetch several million yen.
Before dawn on May 8, display cases were broken into at Card Shop Mero in Fujiyoshida, Yamanashi Prefecture, and dozens of boxes containing 150 Pokemon cards, each as well as individual cards, were stolen. A card worth ¥180,000 was also stolen from a shop drawer.
More than 10,000 cards were stolen for total damages of ¥2.2 million, the Yamanashi prefectural police said.
"The thief must have chosen what to steal by the price," said Takuma Goto, who represents the shop. "I never expected an incident like this in such a rural spot."
The police arrested a 25-year-old Tokyo man on suspicion of stealing the cards from the store, and prosecutors charged him with stealing two worth a combined ¥15,500.
The man told the prosecutors that he sold the stolen cards for money, and that he had also stolen cards in Saitama Prefecture and Tokyo.
Skyrocketing prices
A pack of five Pokemon cards usually sells for ¥180. But rare cards have sold at high prices at specialty stores and on flea market websites.
One cause of price growth is believed to be the cards' popularity overseas. While cards are also sold in other languages, "The Japanese version is considered to be the original and cool," said a spokesperson at Nagoya-based Pokemon card retailer Fullahead Inc.
In one case, a foreign buyer spent ¥2 million for cards at the store.
The price surge is said to have been further spurred by the sale of "original packs," which are assembled from used cards by stores or individuals.
Prices for such packs vary from several thousand yen to tens of thousands of yen. As the cards are not visible from outside, the purchase of the packs is akin to lottery, and allows for cheap cards to be sold off. In some cases, a rare card is mixed into the pack, and a phrase such as "High-value Pokemon cards inside" is used to arouse customer interest.
Hokuto Ogawa, who represents Pokemon card specialty store Ninja in Tokyo, said, "People who get expensive cards resell them at a high price, and the cards are then resold as the best card in an 'original pack.'"
Unwrapped at sale
Some retailers are taking measures to prevent resales so that customers can make fair purchases. Major toy retailer Toys"R"Us sold new Pokemon cards released in June exclusively to members selected by a drawing. To prevent resales, the store handed the purchasers the boxed product after removing the plastic film wrapper, as unopened products tend to be resold at higher prices.
Leading electronics retailer Yamada Denki Co. also sold its Pokemon cards in June by advance drawing.
"We want the cards to be distributed fairly to children and fans," a spokesperson said.
In an effort to control prices for Pokemon cards in sales between individuals, leading flea market app Mercari signed a comprehensive agreement with Nintendo Co. affiliate Pokemon Co. in June for reasonable card deals. Mercari will alert users to its pricing policy and, in some cases, remove items from the market.
---
Add TheJapanNews to your Google News feed.