Japan's Strict Regulations Failed to Prevent Shooting by 4 gun-owning Suspect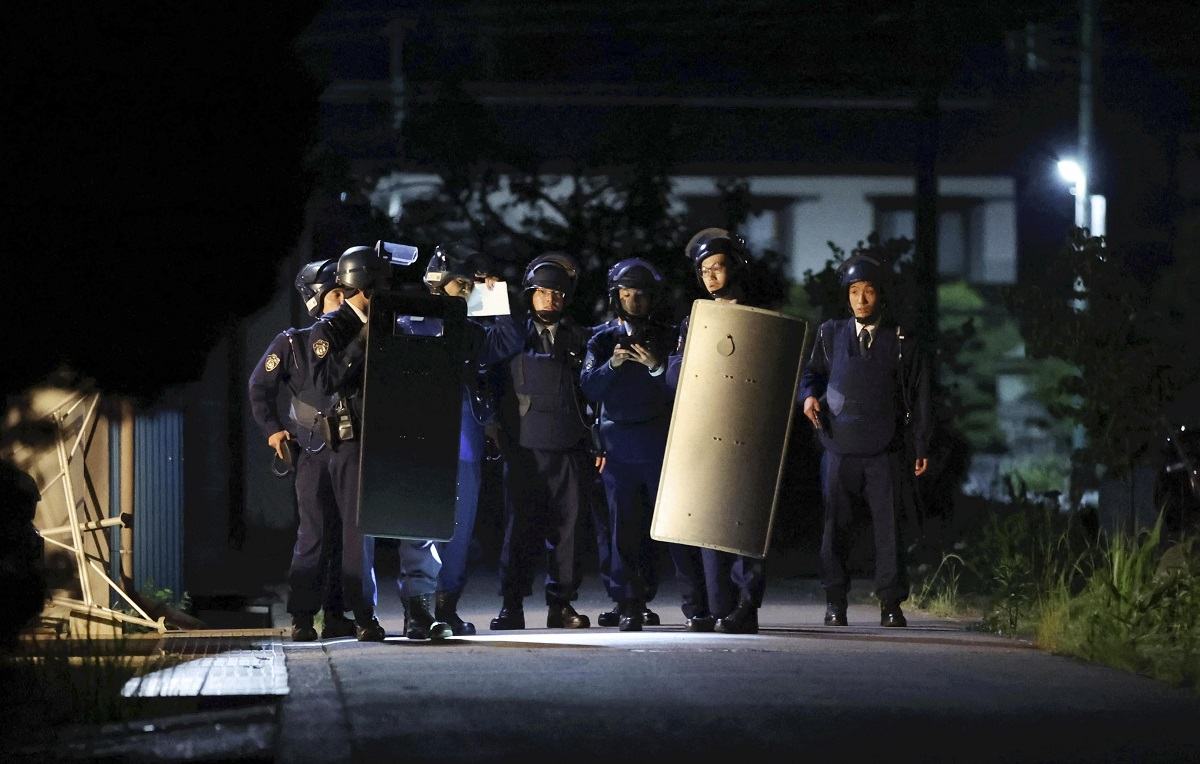 17:00 JST, May 27, 2023
The recent shooting incident in Nakano, Nagano Prefecture, was allegedly perpetrated by an individual permitted to possess guns under the Firearms and Swords Control Law.
Despite Japan's strict gun controls, there are more than 170,000 licensed guns in the country. Is it possible to prevent similar violent outrages from happening again?
The suspect, Masanori Aoki, 31, who has been arrested on suspicion of murder, obtained a gun permit from the prefectural public safety commission. "The suspect obtained permission to own a total of four guns between 2015 and 2019," said Iwao Koyama, the 56-year-old head of the Nagano prefectural police department at a Friday press conference. "We believe one of them was used [in the Nakano shooting incident]."
The prefectural police said all four firearms were licensed in the name of the suspect. It is believed that Aoki purchased the weapons from an authorized dealer for the purposes of "hunting" and competitive "target shooting," among other activities.
Nakano sits in the northeastern part of Nagano Prefecture and boasts strong agricultural and forestry industries, including fruit cultivation. People in the area often have to contend with damage-inflicting wildlife, including deer and bears, and many use guns to kill birds and other animals, or for hunting purposes.
As of the end of last year, 3,292 people in the prefecture were permitted to own guns. Locals were reportedly unsurprised to learn that the suspect, who works on his family's farm, possessed a gun.
Indeed, several people living in the neighborhood said they were aware Aoki owned a hunting gun. Yet, a man in his 60s said, "I never thought an incident like this would happen."
Under the Firearms and Swords Control Law, people who wish to obtain a gun must apply to the prefectural public safety commission that has jurisdiction over the area in question. Permits are granted following a screening.
Gun-owning regulations have gradually been tightened following a number of incidents in the nation. For example, following the shooting deaths of a man and a woman at a sports club in Sasebo, Nagasaki Prefecture in 2007, it was learned that the suspect had earlier acted suspiciously, such as by barging into a neighbor's house at night.
The following year, the law was amended, making it mandatory for aspirant gun owners to submit a medical certificate confirming their mentally stability.
The law states that stalkers, perpetrators of domestic violence, people addicted to alcohol or drugs, or individuals with suicidal tendencies are not allowed possess firearms.
"The system is basically designed to prevent people who are likely to harm others from possessing guns," a senior official of the National Police Agency (NPA) said.
Screening involves police officers visiting an applicant's home, interviewing the applicant and their family, and even asking neighbors about the applicant's personality and behavior.
Permits must be renewed every three years, and a new investigation and medical examination is conducted each time. Permits can be revoked if a gun owner exhibits problematic behavior.
Some 215 permits were revoked in the five years up to 2022 due to fears that the permit holders could harm others.
According to acquaintances and others, Aoki became reticent and spoke only rarely to those around him after dropping out of college and returning to his parents' home. It will likely be necessary to confirm whether there were any "red flags" that could have led to possible denial of his permit applications or the revocation of his permits.
According to the NPA, as of the end of last year, approximately 86,000 people in Japan legally owned a total of around 174,000 guns.
Japan's gun controls are said to be among the strictest in the world. But instances of illegal gun usage can cause societal problems. A senior NPA official said, "We have to consider responses on the premise that even licensed guns can be used in crimes."
Young generation 'hunting boom'
Measures have been put in place in recent years to prevent accidents involving licensed guns, according to an industry group of firearms dealers in Tokyo.
Dealers now require prospective gun purchasers to present a permit issued by the prefectural public safety commission of each prefecture. Additionally, stores across the country provide explanations to customers about proper gun handling and conduct checks to identify possibly suspicious behavior by potential buyers.
Gun ownership in Japan has been declining in recent years due to stricter regulations and the aging population. In 2008, 153,000 people held gun permits for a total of approximately 309,000 guns, according to the National Police Agency. Since then, however, both figures have nearly halved.
Conversely, the number of young people taking up hunting as a hobby has surged over the past decade. This increase can be attributed to the rising popularity of wild-animal cuisine and hunting-themed cartoons. Environment Ministry data shows around 5,100 people in their 20s held hunting licenses in fiscal 2014, with the figure rising to approximately 9,500 by fiscal 2019.
Niigata Prefecture-based Hunting Creation Co. manufactures and sells hunting guns. The company has seen firearms sales double among young people in the past 10 years. Approximately 70% of the guns were bought for hunting purposes, while the remaining 30% were for such activities as clay pigeon shooting.
Some people, meanwhile, are said to buy guns simply because they find them visually appealing.
Add TheJapanNews to your Google News feed.