Masked Robbers Likely Took Rolexes Worth ¥100 Million From Tokyo Shop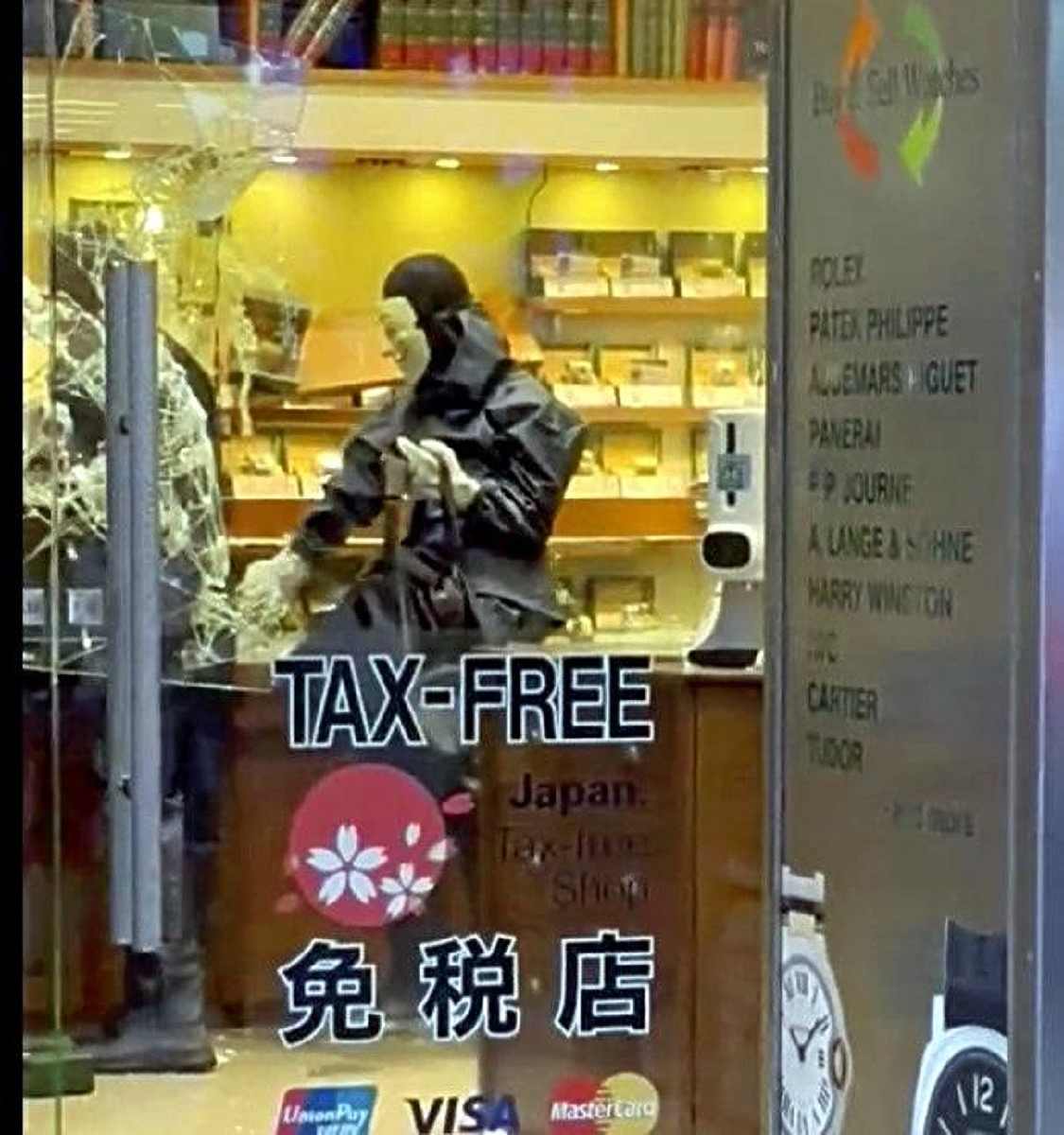 16:51 JST, May 10, 2023
The total value of over 100 Rolex watches and other items stolen from a specialty store in the Ginza district in Chuo Ward, Tokyo, on Monday is likely to add up to about ¥100 million, according to investigative sources. A total of 60 to 70 watches have been found in and near a van used by the robbers, but dozens are believed to be still missing, and the Metropolitan Police Department is continuing its investigation.
According to sources, about 30 watches were found in a black bag found among roadside plantings near the rented van that was abandoned in the Akasaka district in Minato Ward, Tokyo, after the robbers used it to flee the crime scene in Ginza on Monday evening. The investigators found another 30 to 40 watches inside the van by Wednesday morning.
The robbery occurred around 6:15 p.m. Monday at Quark Ginza 888, a Rolex watch specialty shop. A trio wearing white masks to hide their faces threatened a clerk at knifepoint, smashed showcases using crowbar-like objects and allegedly took more than 100 watches.
A passerby made an emergency 110 call to police at 6:19 p.m., but the robbers fled the scene in a van that was parked in front of the shop at around 6:25 p.m., before police officers arrived.
Police tracked the van and found it abandoned in Akasaka, approximately 3 kilometers from the shop, a little after 6:30 p.m. The police found four male teenagers in the hallways and on balconies of an apartment building about 60 meters from the van and arrested them on suspicion of unlawfully entering a residential building.
The MPD alleges the four teenagers, aged 16 to 19, were involved in the robbery. According to sources, the four have told the police that they do not know each other. However, they all live near one another in Yokohama and are close in age. The MPD is working to determine their relationships and how they came to work together through analysis of confiscated smartphones and other means.
There are some reports that the robbers were a group of five. The MPD is also investigating the possibility of other persons being involved in the case by giving instructions.
Add TheJapanNews to your Google News feed.