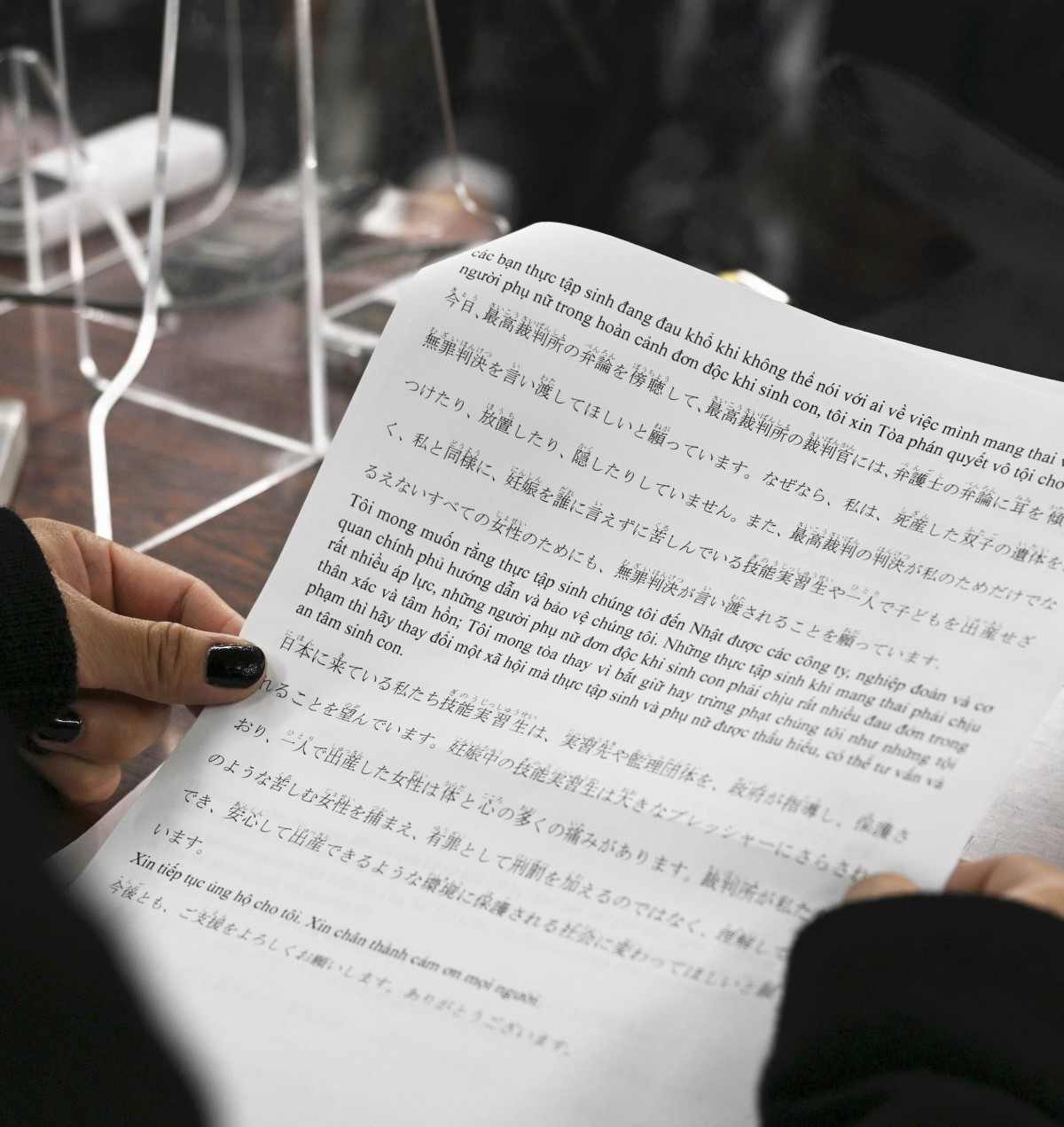 16:04 JST, March 22, 2023
The Supreme Court will hand down a decision Friday on the appeal of a former Vietnamese trainee convicted of abandoning the corpses of stillborn twins she gave birth to in Kumamoto Prefecture in 2020.
Tens of thousands of supporters and foreign trainees have signed a document seeking the woman's acquittal in a case that has shone a spotlight on the unfair treatment of female trainees who get pregnant or give birth in Japan under the government's so-called technical intern program.
"I hope I'll be acquitted for the sake of foreign trainees who, like me, are suffering because they are unable to tell anyone about their pregnancies," the former trainee Le Thi Thuy Linh said in Vietnamese at a press conference in Tokyo after a hearing at the Supreme Court on Feb. 24.
According to the defense team, Linh came to Japan in August 2018 to "earn money for her family." Her parents, who earn about ¥300,000 a year, funded the about ¥1.5 million fee that agents based in Vietnam and other countries charge prospective trainees to mediate applications.
Linh, 24, worked at a mandarin farm in Ashikita, Kumamoto Prefecture, earning a monthly salary of ¥120,000-¥130,000, of which she sent ¥90,000-¥100,000 home.
Around July 2020, she realized she was pregnant. She said she did not tell anyone about the pregnancy because she had read on social media that pregnant trainees were forced to return to their home countries.
Four months later, she delivered twin boys around 9 a.m. on Nov. 15, the day after experiencing severe abdominal pain. However, the newborns did not cry after birth and she soon realized they were not breathing.
Exhausted and in pain after the ordeal, she came up with the Vietnamese names Khoi and Cuong, meaning "wise" and "strong," respectively. She wrote down the names in a notebook with a message reading, "May you return to a peaceful place soon."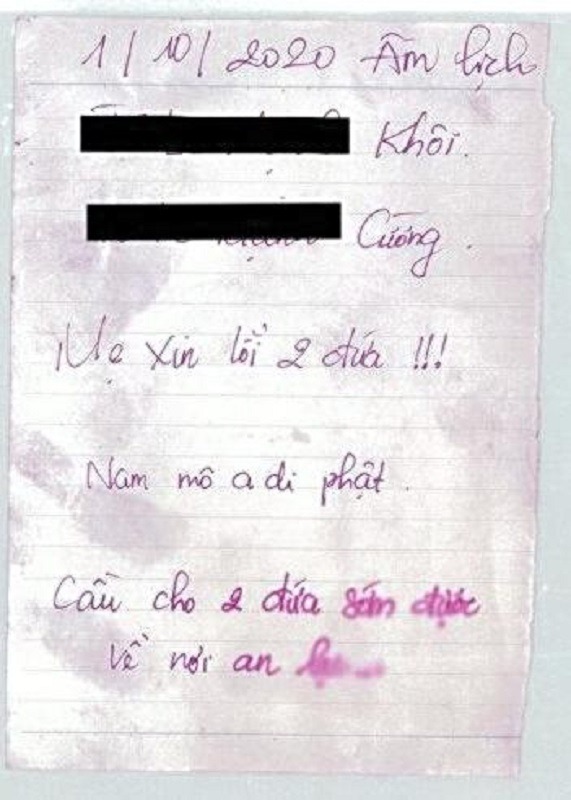 Linh put the message in a cardboard box, along with the bodies of the twins wrapped in towels. She then put the box with the corpses into another cardboard box, which she sealed and put on a shelf in her room.
She went to the hospital the following day and told a doctor she had given birth. She was arrested on Nov. 19.
At trial, the focus has been whether the act of putting the dead newborns in a box and leaving the box on a shelf at home constituted illegal abandonment of corpses. Such acts as dumping a body in the mountains or hiding it under the floor constitute the crime of corpse abandonment, which exists to protect the dignity of the dead.
At the Supreme Court last month, the lead defense attorney Hiroki Ishiguro said the bodies were put in a box "to stop the babies from getting cold," and the act of sealing the box with tape was to prevent the bodies from decomposing. "The defendant continued to mourn. Her actions were not abandonment, but careful placement," Ishiguro said.
Prosecutors countered by saying Linh concealed the corpses in a way that constituted abandonment, which violated the dignity of the deceased.
The Kumamoto District Court ruled that Linh's actions constituted a crime and sentenced her to eight months in prison suspended for three years.
The Fukuoka High Court subsequently ruled that the act of leaving the corpses at home for about 1½ days did not constitute abandonment but leaving the corpses in a sealed box did. The high court sentenced her to three months in prison, suspended for two years.
Friday's Supreme Court ruling could result in a review of the conviction.
More than 90,000 signatures were submitted to the court by Japanese supporters and trainees demanding an acquittal, on the grounds that if Linh's appeal is rejected, other women in similar circumstances may be charged with crimes.
26% threatened with dismissal
The about 330,000 foreign trainees in Japan under the government's so-called technical intern program are protected by labor-related laws and regulations that prohibit such treatment as forcing female trainees to return home or to resign from their jobs because of pregnancy or childbirth.
However, according to a survey conducted last year by the Immigration Services Agency of Japan, 26.5% of trainees were told such things as "You will have to quit your job [or return home] if you get pregnant" by mediating agencies in their home country or supervisory organizations in Japan.
"Many trainees worry about getting pregnant," said Shinichiro Nakashima, a representative of a Kumamoto-based citizens' group that has been supporting Linh since her arrest. "The government should not only alert organizations that supervise the trainee program, but also establish a system to support mothers and children."
Add TheJapanNews to your Google News feed.