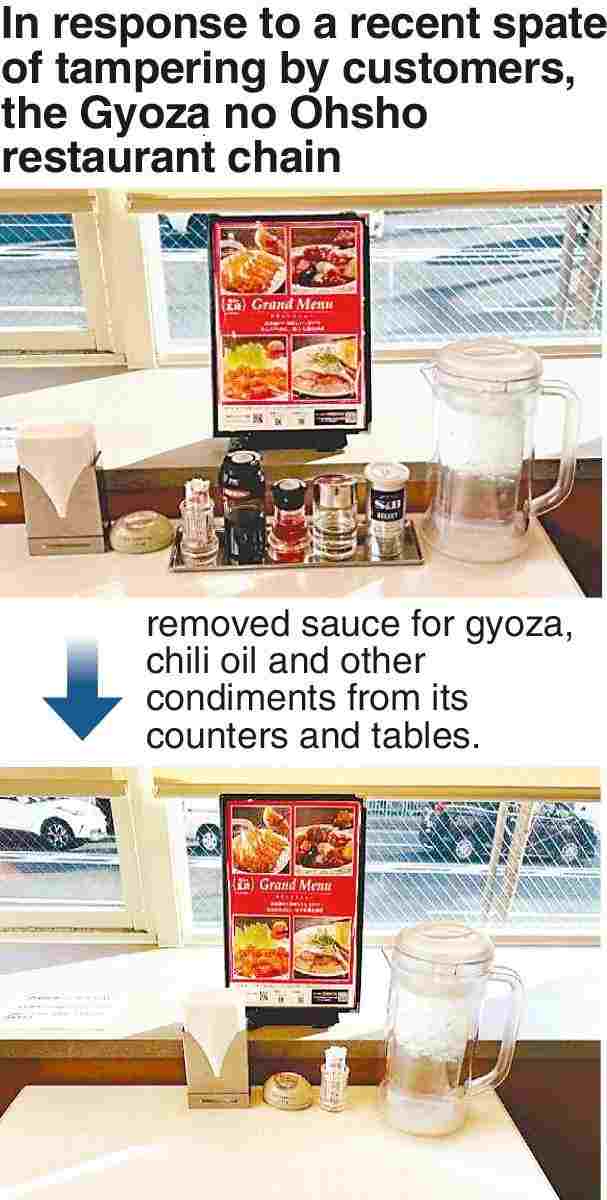 13:21 JST, March 4, 2023
In the wake of a series of disruptive hygiene-related incidents involving customers, some major eatery chains have removed condiments and utensils from tables, and more conveyor-belt sushi chain operators now cover all their plates when dispatching dishes.
Such measures are seen as a last resort to ensure customers can enjoy their meals without worrying about possible tampering. However, the introduction of such steps causes inconvenience for customers and staff in terms of extra time and effort. The trouble stirred up by a small number of thoughtless individuals is changing the way people eat reasonably priced and popular dishes at eateries across the nation.
Last month, Gyoza no Ohsho — a Chinese cuisine restaurant chain — started removing soy sauce, chili oil and other condiments from its counters and tables. Now, staff deliver such flavorings after customers place their orders. A 30-year-old office worker visiting a Gyoza no Ohsho outlet in Osaka, said, "It's troublesome, but it's the only way to enjoy a meal without concerns."
Meanwhile, Ichiran — a tonkotsu ramen restaurant chain — has removed drinking glasses from its counters and tables. The move came after a video emerged recently showing a customer licking tea cups at one of the firm's outlets.
Curry House CoCo Ichibanya has withdrawn table-use pickles and sauces at the majority of its establishments after some customers were found to have interfered with such items.
For its part, Kushidori — a Sapporo-based yakitori store chain — has removed chili pepper and other flavorings from its tables. "We'd just put such items back last fall after removing them during the COVID-19 pandemic," said the official in charge.
The recent cases of meddling have prompted numerous social media postings such as: "I hesitate to eat out now" and "I'm afraid to use the seasonings on the table."
An official at a major restaurant chain operator said, "An increasing number of people are concerned about food safety, so we've no choice but to take these actions."
The latest string of incidents occurred at a conveyor-belt sushi restaurant, prompting the introduction of sweeping measures within the sushi eatery industry. For example, the Sushiro chain has stopped using conveyor belts to dispatch various dishes for anyone to select, and now only sends out items specifically ordered by customers. Outlets of the Kappa Sushi sushi chain now cover all dishes placed onto conveyor belts.
There is a strong sense of concern within the eatery industry that unchecked nuisance behavior could undermine its business model. Sushi restaurant chain operators say they will bring criminal and civil charges against customers who cause trouble in their shops.
Japan's leading restaurant chain operators have promoted such labor-saving initiatives as conveyor-belt sushi and self-service payment systems. As a result, foods such as sushi and steaks — which used to be expensive — have fallen in price and become more popular. However, observers say these initiatives have made it more difficult to detect mean-spirited behavior by customers.
Japan is suffering from a chronic labor shortage and many restaurants find it difficult to increase staff numbers. If labor costs continue to increase, customers will likely face price hikes.
"Until now, the handling of seasonings and other items put on the table has been left up to [the common sense] of customers," said Jun Yokokawa, a professor of business administration at Asia University and a restaurant industry expert. "We've now entered an era in which restaurants are tasked with providing seasonings and other items in such a way that it sets customers' minds at ease, even if doing so costs a little more."
Add TheJapanNews to your Google News feed.