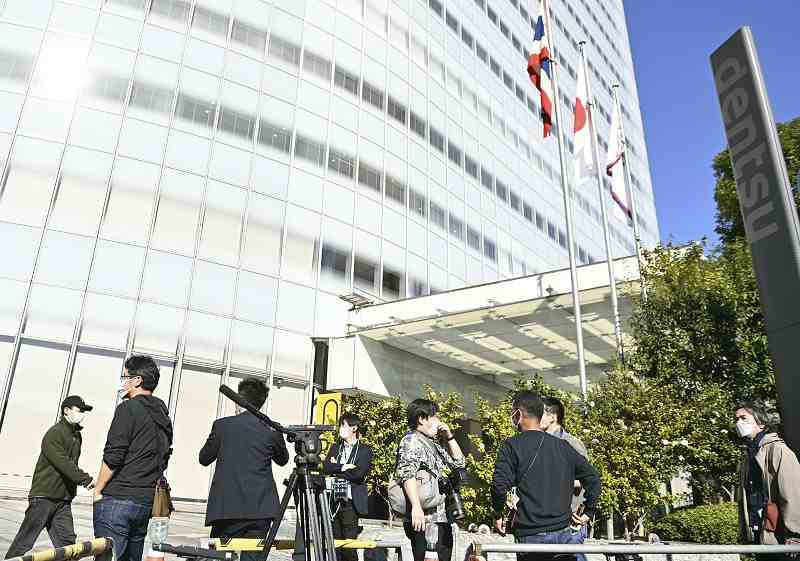 15:38 JST, January 29, 2023
Senior executives at advertising giant Dentsu Inc. admitted to their involvement in compiling a list of requests from prospective companies to participate in bidding for contracts for Tokyo Games test events, it has been learned.
In hearings held by the special investigation squad of the Tokyo District Public Prosecutors office, the executives admitted to helping the Tokyo Olympic and Paralympic organizing committee compile the list, sources close to the prosecutors office said.
The prosecutors suspect that the former organizing committee executive and the Dentsu officials worked closely together to lead the bid rigging, they said.
The alleged collusion involved 26 bids for planning test competitions for each event conducted by the organizing committee from May to August 2018, with nine companies, including Dentsu, and one joint venture winning the bids for a total of more than ¥500 million.
According to the sources, the committee's former official and Dentsu executives asked prospective bidders about their preferences before the bidding and made a list of their requests for each venue.
Upon asking for their requests for the bids, the former committee executive is suspected to have made arrangements, such as by telling bidders whether they could submit a tender while showing them the list and whether they would be able to win the bids
The Dentsu executives allegedly admitted to the prosecutors that they were involved in the series of activities such as asking prospective bidders about their requests for bids and helping to make a list of such requests.
The prosecutors are conducting an investigation of the committee's former senior official and the Dentsu executives with a view to building a case against them for violation of the Antimonopoly Law, according to the sources
The committee's senior official has denied recognizing collusion to the investigators, the sources said.
Add TheJapanNews to your Google News feed.