Robbery Group Suspected of Involvement in Over 30 Offenses Across Japan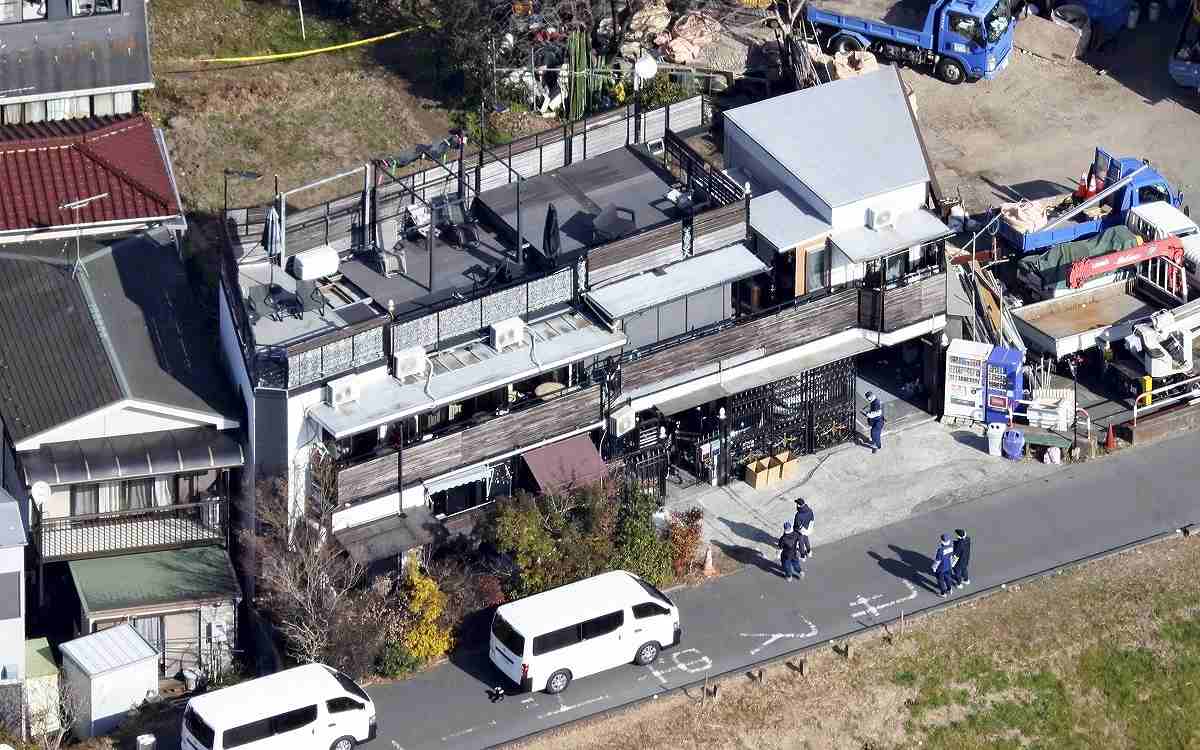 17:02 JST, January 25, 2023
A criminal group suspected of involvement in the robbery and murder of a 90-year-old woman in Tokyo is alleged to have committed more than 30 offenses across Japan since last year, according to investigative sources.
The group is also suspected of soliciting members on social media with ads for "dark" part-time jobs, and paying recruits to carry out robberies and other crimes.
According to investigative sources, the Metropolitan Police Department and other police forces have arrested more than 10 suspects over a series of robberies and burglaries in Tokyo and five other prefectures in the Kanto region, and in Yamaguchi and Hiroshima prefectures.
Based on statements from some of the suspects and security camera footage, police suspect the same group has been committing the crimes with different members involved in different operations.
Police have confirmed that the group is suspected of being involved in more than 30 cases, including a jewelry store theft.
Authorities believe the group went quiet after a case in Kyoto Prefecture in May and relaunched activities in autumn.
Although authorities are yet to confirm the identity of the person orchestrating operations, the name "Luffy" has surfaced through analysis of confiscated smartphones and other evidence.
The person is said to have given specific instructions on the date, time, location and method of robbery via the Telegram communication app.
Many of the suspects are young people who are believed to have responded to suspicious part-time job ads on Twitter and Instagram that claimed to offer "high compensation" or "instant payment."
According to the authorities, the payment reportedly differed depending on the role in the crime, such as driver, lookout or housebreaker.
In several of the cases, the perpetrators broke into houses when residents were at home. They tied up victims with zip cables and asked them where they kept their money and valuables, and how to open safes.
It is possible the perpetrators thought they would have a better chance of obtaining money and valuables when the residents were at home compared to breaking into an empty house.
When 90-year-old Kinuyo Oshio was murdered on Jan. 19 in Komae, Tokyo, in a suspected robbery-homicide, the perpetrators are believed to have waited for her to return home from shopping and then broke in through the front door.
In a Dec. 5 robbery in Nakano Ward, Tokyo, about ¥30 million in cash was taken from a house.
The MPD believes the group is collecting information about wealthy families.
'Dark' part-time jobs
Masahiro Wano, a suspect in a robbery in Nakano Ward, Tokyo, told the Metropolitan Police Department he had applied for a "dark" part-time job and that the people he met up with before the robbery did not know each other.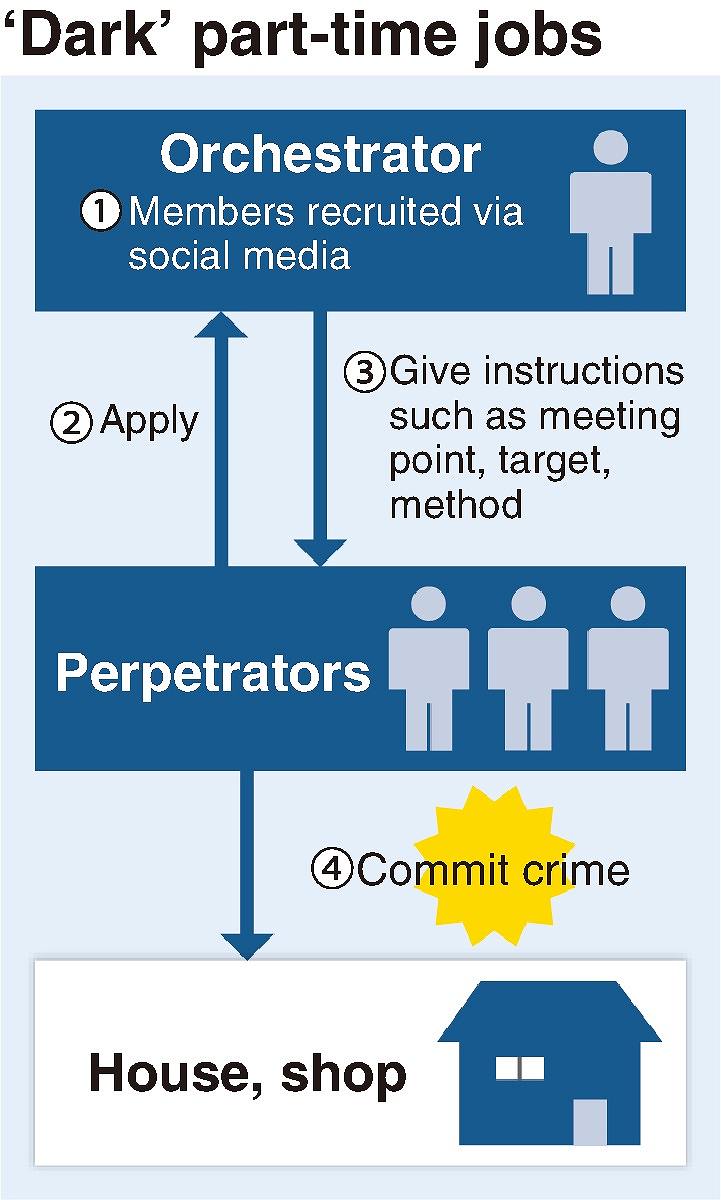 Wano, 34, an unemployed man of no fixed address, has been indicted for robbery resulting in bodily injury.
Perpetrators broke into the home of a 49-year-old man, assaulted him and took about ¥30 million before fleeing the scene of the crime.
Wano was seized on a nearby street, according to the police.
Authorities believe the crime was committed by seven people, including Wano, who did not know each other beforehand.
The MPD arrested Rikuto Nagata, 21, on Saturday; and Masaya Yamada, 22, and Shoji Hasegawa, 26, on Tuesday on suspicion of robbery resulting in bodily injury of the man.
Nagata lives in Kanazawa, Yamada in Saitama and Hasegawa in Koto Ward, Tokyo, all of which are far apart.
A rented car used by Nagata was spotted near the home of Kinuyo Oshio in Komae, Tokyo, on Jan. 19, the day she was killed.
The MPD believes some of the suspects of the crime in Nakano Ward were possibly involved in the Komae robbery-homicide.
Five people suspected of being part of the criminal group have been indicted for an attempted robbery in Iwakuni, Yamaguchi Prefecture, in November.
The five suspects, who also reportedly claimed they had applied for jobs online, lived in Sapporo, Utsunomiya, Tokyo, and Aichi Prefecture.
One of the five suspects was Tsubasa Watanabe, a 26-year-old company employee from Edogawa Ward, Tokyo, who was charged with attempted robbery and other charges.
At Watanabe's hearing, prosecutors of the Yamaguchi District Public Prosecutors Office noted that he had applied for a job offering ¥1 million per day on social media.
Add TheJapanNews to your Google News feed.