Abe shooting suspect Yamagami acted calmly, purposefully ahead of incident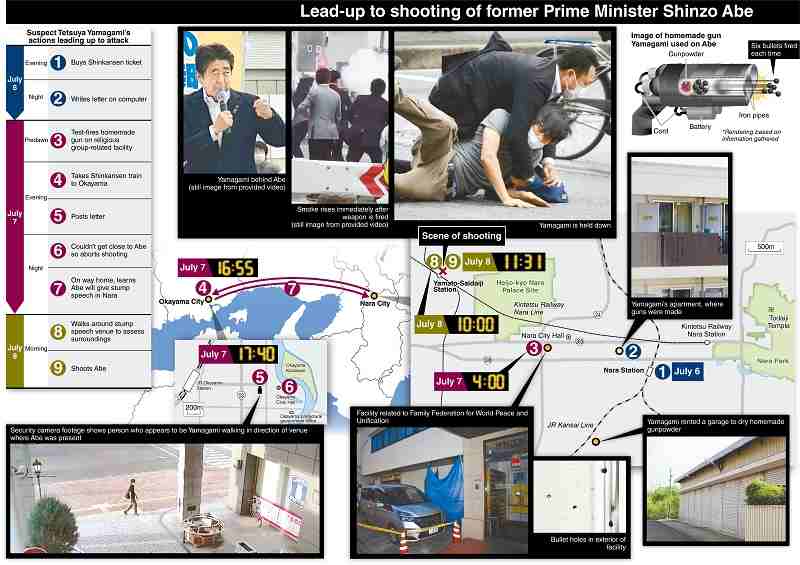 14:13 JST, August 10, 2022
Former Prime Minister Shinzo Abe was shot dead just over a month ago on July 8. Since that time, Nara prefectural police investigations have revealed that the suspect, Tetsuya Yamagami, acted calmly and with purpose in the days leading up to the incident.
The police have arrested Yamagami, 41, and papers have been sent to prosecutors on suspicion of murder. He is being detained while psychiatric evaluations are peformed.
Investigators are looking into the reasons Yamagami shifted his target to Abe while holding a long-standing grudge against the religious group widely known as the Unification Church.
According to police, Yamagami bought a Shinkansen ticket to Okayama on July 6 at JR Nara Station near his home. He had confirmed several times on his smartphone on and after July 3 that Abe would deliver a speech in Okayama on July 7.
After returning home, Yamagami wrote a letter on his computer to Kazuhiro Yonemoto, a writer in Matsue who runs a blog criticizing the Unification Church, now officially called the Family Federation for World Peace and Unification. In the letter, Yamagami hinted at killing Abe.
In the predawn hours of July 7, Yamagami test-fired a homemade gun at a facility in Nara related to the religious group, leaving six bullet holes in the building. Then he bought a can of beer that he usually drinks.
Yamagami arrived in Okayama on July 7 in the evening and posted the letter as he walked toward Okayama Civic Hall, the venue where Abe was scheduled to speak. He looked for an opportunity to shoot Abe there but gave up because he could not get close enough.
On his way home by Shinkansen, he learned through a search on his smartphone that Abe would give a stump speech in Nara the following day.
On the morning of July 8, Yamagami arrived at Kintetsu Railway's Yamato-Saidaiji Station and spent about an hour and a half with a drink he had purchased to survey the area and assess the surroundings. About two minutes after Abe stood on the podium and began talking, Yamagami shot Abe from behind. Yamagami did not try to resist as he was held down by police officers.
The Nara prefectural police were able to determine Yamagami's actions through analytical work, such as by looking into his statements to police and smartphone. According to the police, security cameras at dozens of locations showed that he always appeared to act calmly.
Motive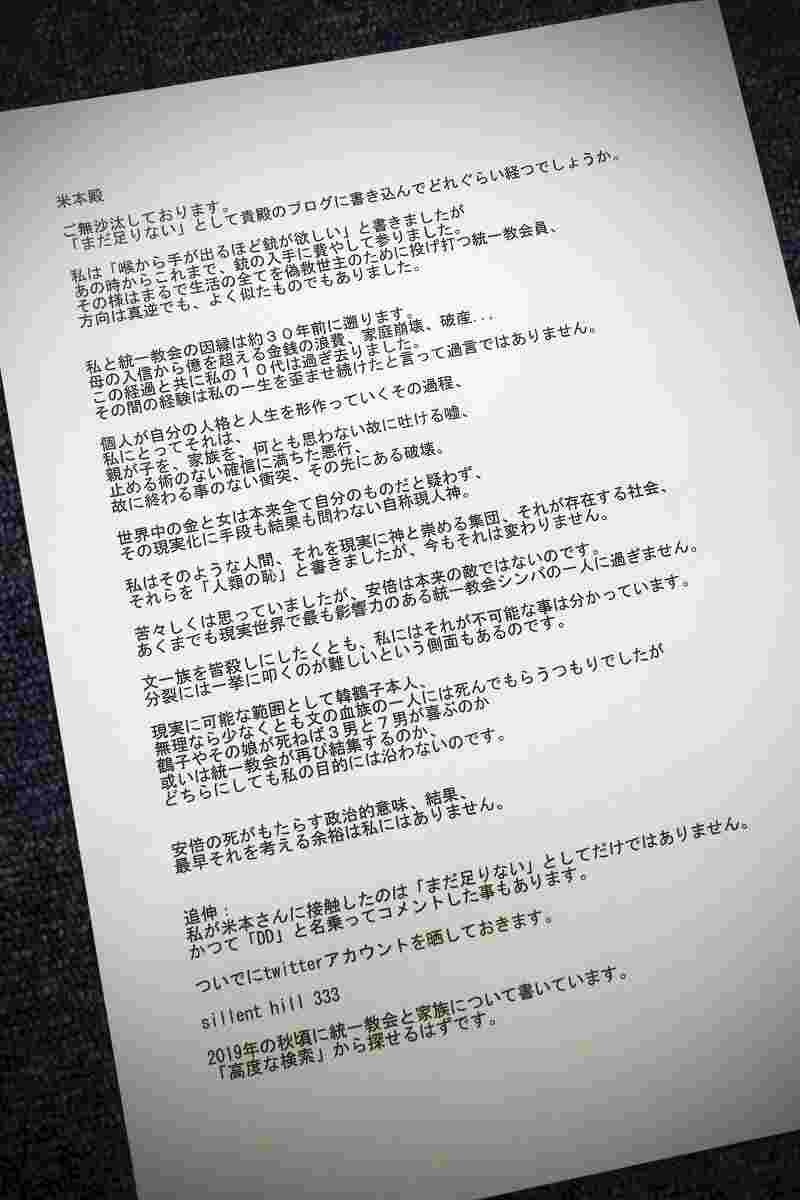 Yamagami has told police that since spring 2021 he began buying online the materials needed to make guns and gunpowder. He learned how to make them through YouTube videos and other sources.
The homemade gun seized at the crime scene was designed to fire bullets by igniting the gunpowder with an electric charge. Several guns, some unfinished, were found in Yamagami's home. It was found that he repeatedly test-fired guns in the mountains to check their performance.
Yamagami had also rented a second apartment and a shuttered garage where he made gunpowder by mixing fertilizer and other ingredients.
While questioning Yamagami, investigators also are analyzing his letters and social media posts to uncover his motive.
"My mother was absorbed in [the religious group's] activities, messing up my family life," Yamagami was quoted as saying to the police. "I resented [the religious group] so much that it had to be absolutely destroyed."
His mother started becoming involved with the religious group in 1991 and was declared bankrupt in 2002, after making donations to the group totaling ¥100 million.
Yamagami told the police that in October 2019 he had planned to attack the reglious group's leader who was visiting Japan from South Korea.
He left a comment on Yonemoto's blog in December 2020, saying, "Vengeance is only meaningful if you take it in your own hands. I want a gun so badly."
He told the police that because of the COVID-19 pandemic, it had become difficult to get anywhere near the religous group's leader.
Later, Yamagami saw online a video message Abe delivered to a rally held in September 2021 by an organization affiliated with the religious group. He then thought Abe had ties to the religious group.
In the letter to Yonemoto, Yamagami wrote that the 67-year-old Abe "is not my original enemy." A source close to the investigation said it is somehow hard to understand why he was able to shift his target to Abe.
The Nara District Public Prosecutors Office began Yamagami's detention on July 25 for an expected four months to conduct psychiatric evaluations.
Add TheJapanNews to your Google News feed.