Aoki's headquarters raided in connection with Tokyo Games bribery case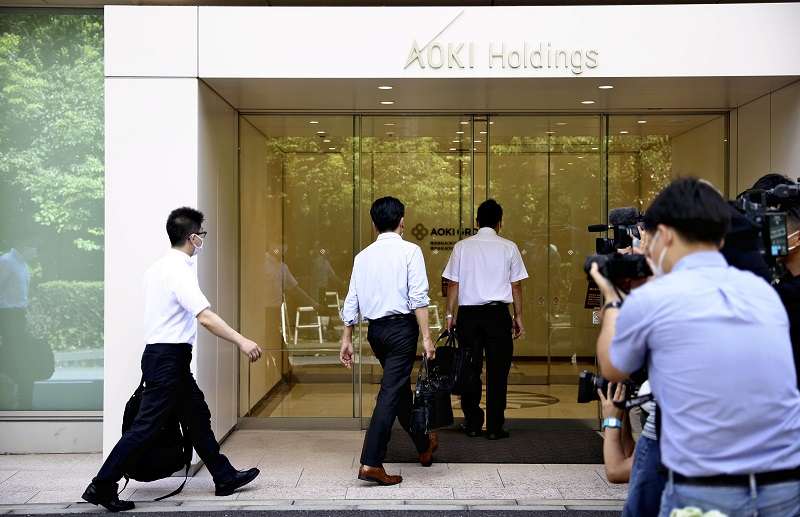 15:37 JST, July 28, 2022
Prosecutors began raiding the main office of leading business attire retailer Aoki Holdings Inc. on Thursday in connection with a bribery case involving a former executive board member of the Tokyo Organizing Committee of the Olympic and Paralympic Games.
The special investigation squad of the Tokyo District Public Prosecutors Office had already begun searching the home of former Aoki Holdings Chairman Hironori Aoki in connection with the case, in which former Games executive board member Haruyuki Takahashi allegedly received a large sum of money from the Aoki Holdings side. Aoki Holdings was a sponsor of the Games, and the prosecutors launched their investigation of its headquarters to probe the possible link.
Meanwhile, it was learned that Takahashi, 78, denied any wrongdoing during a voluntary hearing with the special squad by saying he "had not granted any favors as an executive board member."
A line of five investigators from the squad entered Aoki Holdings' main office in Tsuzuki Ward, Yokohama, at 9:55 a.m. on Thursday.
According to sources, from autumn 2017 to around the end of the Games in 2021, Takahashi received ¥1 million a month in consulting fees from the Aoki Holdings side through a Tokyo-based consulting firm where he serves as president. The amount of money that Takahashi allegedly received totaled at least ¥45 million.
In October 2018, Aoki Holdings became a corporate sponsor for the Games and sold a total of about 30,000 pieces of officially licensed products.
The former Aoki Holdings chairman, 83, admitted to providing funds to Takahashi's side, mentioning "high expectations on Mr. Takahashi's personal capability."
On Tuesday, the prosecutors searched Takahashi's home and office on suspicion of accepting bribes, and Tokyo-based leading advertising agency Dentsu Inc., which recruited sponsors for the Games. On Wednesday, they searched the residence of the former Aoki Holdings chairman as well as a liquidation body of the now-defunct organizing committee in the Tokyo metropolitan government building. The liquidating body took over the committee's remaining tasks, such as collecting debts, repaying debts and disposing of assets, after the committee dissolved at the end of June.
Takahashi told the prosecutors, "Consulting was my main business, and I distinguished it from the project of the organizing committee."
However, the prosecutors suspect that his consulting business hardly functioned in reality, and therefore the money provided by the Aoki Holdings side to Takahashi constituted a bribe for which the granting of favors to the retailer in the Olympic project was expected in return.
Add TheJapanNews to your Google News feed.