Victims of 2008 Akihabara attack call for efforts to prevent recurrence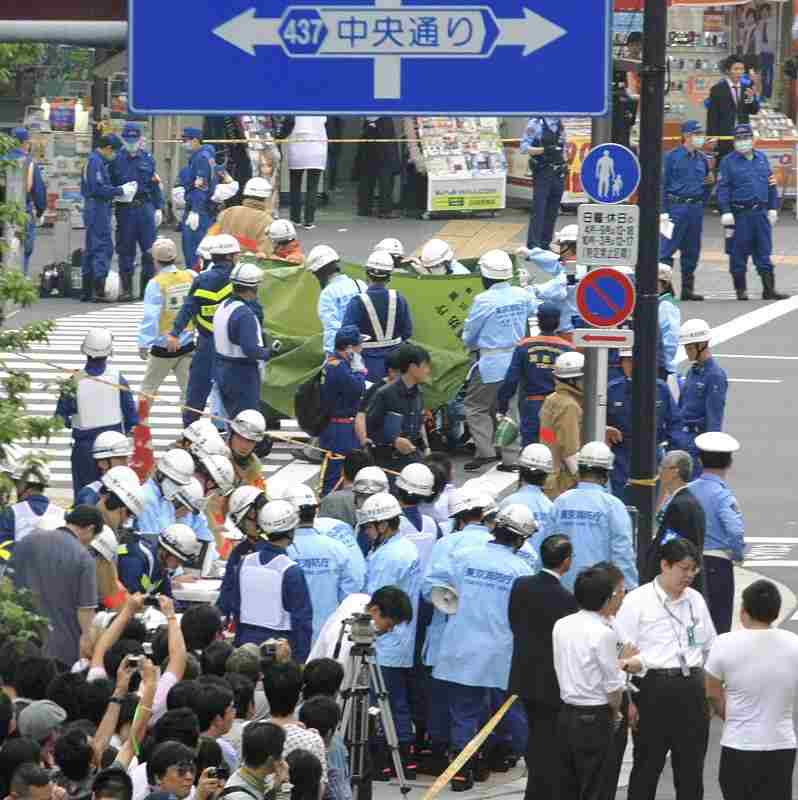 18:14 JST, July 27, 2022
Fourteen years have passed since an indiscriminate attack in Tokyo's Akihabara district left seven people dead and 10 injured.
Tomohiro Kato was 25 when he drove a truck into pedestrians before going on a stabbing spree in a busy commercial district. Kato, who was executed Tuesday, had become absorbed in an online forum before the attack.
Following his execution, some victims have expressed hope that efforts will be made to prevent a recurrence of such incidents.
"I don't want an incident like this to happen again," said Hiroshi Yuasa, 68, who was seriously injured in the attack.
Yuasa was a taxi driver in Tokyo at the time and was driving through Akihabara when he saw a truck plow into a crowd of people. He was stabbed by Kato when he got out of the car to help an injured person.
He was unable to continue working as a taxi driver after the attack because his injury left him with numbness in his limbs.
Yuasa sent seven letters to Kato, repeatedly asking why he committed the crime. Kato replied to some of the letters, but failed to answer the question.
"I think that Kato himself did not understand why he committed the crime," Yuasa said at his home in Miyazaki on Tuesday.
Naoki Miyamoto was 31 when he was killed in the attack. His friend Shigeru Akiyama, 44, said: "Miyamoto will never come back. I will always feel regret."
Kato graduated from one of the most prestigious schools in Aomori Prefecture and went on to complete an automotive-related course at a junior college in Gifu Prefecture. After graduation, he did temporary work, hopping from one job to the next.
In 2005, Kato began using an online forum on his mobile phone and became so absorbed that he spent most of his time outside of work on the messageboard site. He began to feel more alienated the more time he spent alone, and said he committed the crime after he was abused in the forum.
Kato has published four books about the attack since the end of the first trial in July 2012, claiming he would "fulfill his accountability."
Hideyuki Sato, 78, editor-in-chief of Tokyo-based Hihyo-sha Publishing Inc., which released Kato's books, said he met Kato several times at the Tokyo Detention House and kept asking him why he couldn't stop himself from committing the atrocity.
"If you don't delve into your inner thoughts to answer that question, you won't be able to convey your feelings to the victims and their bereaved families," Sato told Kato. But Sato said Kato's reply indicated that he didn't agree.
Kato's side filed a request for a retrial in August 2020.
On Tuesday, the Japan Federation of Bar Associations issued a statement "strongly protesting the execution."
At a press conference to announce the execution, Justice Minister Yoshihisa Furukawa said: "In view of the continuing spate of violent crimes, the death penalty is unavoidable. Abolishing capital punishment is not appropriate."
Alienation
Indiscriminate attacks carried out by alienated individuals who claim to harbor resentments against society have occurred on a number of occasions in Japan.
In an arson attack on a clinic that killed 26 people in Osaka's Kitashinchi district last December, the perpetrator's isolation and sense of inferiority were highlighted.
On July 8, former Prime Minister Shinzo Abe was fatally shot during an election campaign speech in Nara, again highlighting the difficulty of dealing with "lone-wolf" assailants who become radicalized and commit violent crimes.
"A common denominator among the perpetrators is a strong sense of loneliness and despair," said Niigata Seiryo University Prof. Mafumi Usui, who specializes in social psychology.
"Other things they have in common include broken connections with family and friends, or lost jobs, factors that would normally influence whether they commit a crime. They also appear to be willing to end their own lives, and commit their crimes in broad daylight without fear of arrest."
Usui added, "We have no choice but to continue efforts to ensure that people who notice something unusual say something about it, and to consistently provide a visible security presence."
Isao Itabashi of the Council for Public Policy said, "Since the attack, cars, gasoline, and other items whose use is difficult to regulate have become deadly weapons, and the difficulty of preventing such incidents remains to this day."
Itabashi suggested the use of artificial intelligence to monitor criminal threats, and the installation of heavy-duty vehicle barriers in areas with large numbers of pedestrians.
Add TheJapanNews to your Google News feed.