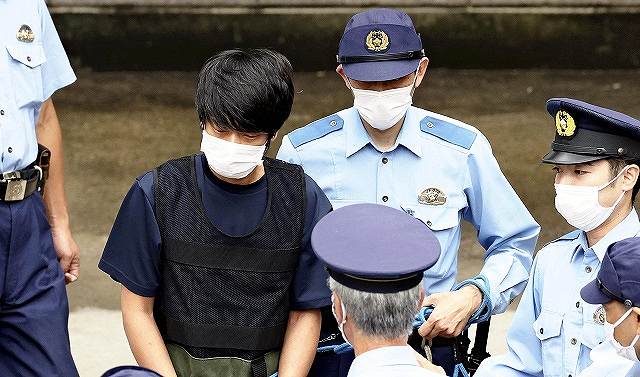 12:12 JST, July 24, 2022
NARA —The suspect in the fatal shooting of Shinzo Abe produced the gunpowder used in the attack by mixing agricultural fertilizer and other ingredients purchased online, it was learned from Nara Prefectural Police sources. The suspect, Tetsuya Yamagami, also researched methods to manufacture gunpowder on YouTube, according to the sources.
Cans containing homemade gunpowder were seized from Yamagami's home, and several trays believed to be for drying gunpowder were found in his car. He reportedly did the drying inside a rented garage in Nara Prefecture.
When Yamagami fired at Abe with his homemade gun, a large cloud of white smoke was formed. Based on the characteristics of the smoke, the police believe that Yamagami used black powder, which in previous eras was used for firearms. Black powder is easily ignited and produces a large amount of smoke. It can be made by mixing potassium nitrate, found in agricultural fertilizers, with sulfur and other ingredients, according to the police.
The police are in the process of analyzing the handmade gun seized at the scene, and have confirmed that the gun was designed to fire bullets by igniting and detonating gunpowder with electricity. Two pipes that served as gun barrels were connected to the battery by an electric cord, the police said.
The police will proceed to assess the seized items, and will also conduct firing tests of the handmade gun to confirm the gun's ability to kill and injure.
Add TheJapanNews to your Google News feed.