Video led suspected shooter to switch target of revenge to Japan ex-PM Abe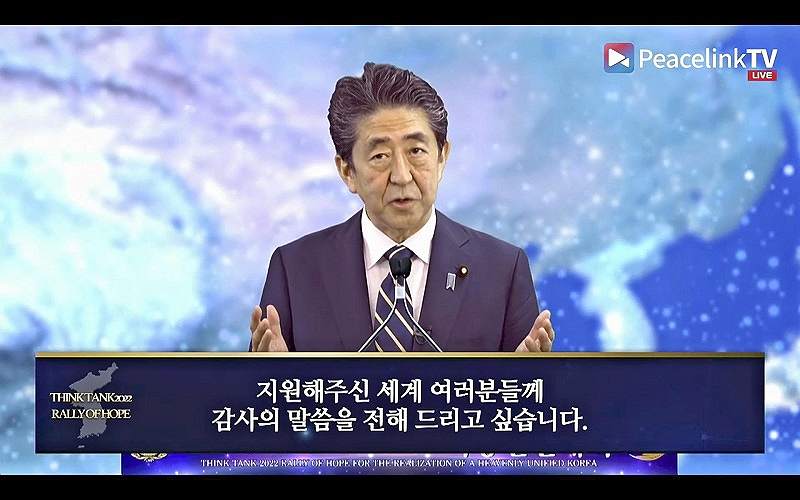 17:39 JST, July 16, 2022
Tetsuya Yamagami, the suspect in the shooting death of former Prime Minister Shinzo Abe, reportedly harbored a grudge against a religious group known as the Unification Church, blaming it for the disintegration of his family after his mother became a follower. Yamagami was quoted by police as saying that a particular video convinced him to switch the target of his revenge from the religious group to Abe, 67.
Last September, Abe appeared in a video, saying, "I pay my respects to President Hak Ja Han for her devotion to the peaceful reunification of the Korean Peninsula."
The video containing the about five-minute-long message was played during an event of the Universal Peace Federation (UPF) in South Korea. Han cofounded the Unification Church — now officially called the Family Federation for World Peace and Unification — and, together with her late husband, also established the UPF, which the Unification Church describes as its "friendship group." Former U.S. President Donald Trump also recorded a video address that was shown at the event.
The event was livestreamed, and Abe's video message was posted on social media later the same day.
Rumors began to circulate about Abe's ties to the Unification Church after he became prime minister, and following the release of the video — in which Abe publicly applauded Han — unsubstantiated claims hinting at Abe's deep connection with the religious group spread quickly on social media.
Yamagami, 41, attempted suicide in January 2005 while serving in the Maritime Self-Defense Force. He reportedly told MSDF personnel during an interview that his life had been ruined by the Unification Church. It is highly likely that Yamagami was already harboring deep resentment against the group at this time.
When Han visited Japan from South Korea in 2019, Yamagami set out to attack her at an event in Aichi Prefecture, using a Molotov cocktail. However, he abandoned the plan when he was unable to enter the venue. Though he continued to look for opportunities to harm Han, he was thwarted by world events. "The coronavirus pandemic disrupted overseas travel, making it difficult to get close [to Han]," he reportedly told investigators.
Yamagami was also quoted by the police as saying: "After I saw the video, I perceived a connection [between Abe and the Unification Church]. That convinced me that I absolutely had to kill him."
Abe is said to have provided the video message at the request of the UPF. However, there has been no confirmation that he was directly involved in or supported the Unification Church's activities.
Yamagami's assertion that the video message motivated him to kill Abe has struck many people as implausible and far-fetched.
"Seeing the video and [reading] unsubstantiated claims on social media may have caused him to experience displaced anger," said psychiatrist Tamami Katada, referring to a way of dealing with rage in which resentment is directed toward a substitute figure if the original cause of the anger cannot be targeted. "The suspect was likely caught up in feelings of resentment for many years and felt unable to stay mentally stable unless he took revenge, even if he had to switch his target."
Mafumi Usui, a professor of social psychology at Niigata Seiryo University, said: "The target of [Yamagami's] grudge must have been the former Unification Church. It's possible that he targeted former Prime Minister Abe to cast light on his own situation and attract criticism of the church, employing a mindset similar to criminals who carry out random attacks."
Add TheJapanNews to your Google News feed.