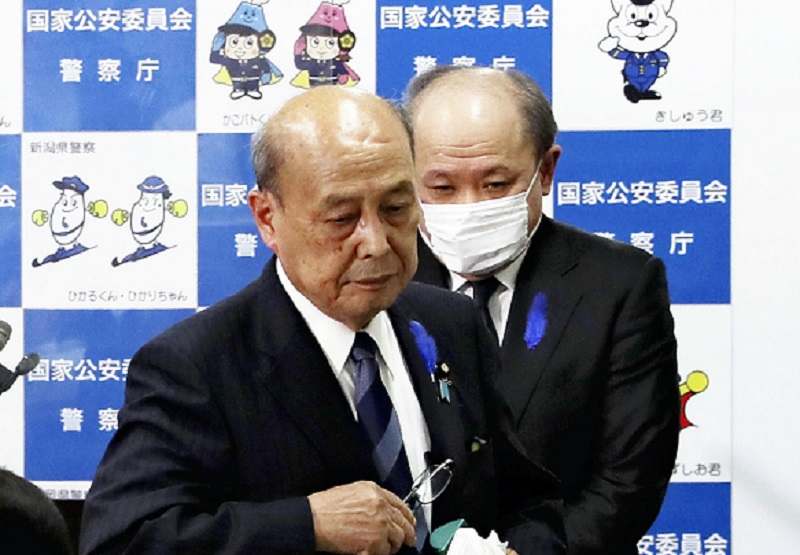 1:00 JST, July 14, 2022
The National Police Agency has launched a review of the security measures in place on the day of the fatal attack on former Prime Minister Shinzo Abe.
As well as revealing flaws in the protection procedures for a prominent politician, the attack also exposed a lack of crisis awareness on the part of the police and the government.
A thorough review of security procedures is urgently needed.
NPA Commissioner General Itaru Nakamura wore a solemn expression throughout a press conference on Tuesday. "The failure to fulfill the responsibility of dignitary protection has had grave consequences," Nakamura said. "As the National Police Agency's commissioner-general, who is in charge of directing and supervising prefectural police, I bear a heavy responsibility."
Satoshi Ninoyu, chairperson of the National Public Safety Commission, was with Nakamura at the press conference.
The NPA has launched a inspection team to review the issues with the security and protection procedures at the scene of the attack.
The team must establish why security was lax in the first place, given that Abe was a former prime minister who still wielded significant influence, and why the police failed to prevent the 41-year-old suspect Tetsuya Yamagami from approaching Abe from behind and discharging a weapon.
Hardly any uniformed police officers can be seen near Abe in the video footage circulating on social media.
Yamagami, who had been standing on the sidewalk behind Abe, walked to within 7 meters of the former prime minister without being stopped by any security personnel before discharging his firearm.
"Even though regional police forces have limited personnel, the number of police officers at the scene was too small," said a senior official at the Metropolitan Police Department who has long been involved in providing security to dignitaries. "If there had been more uniformed officers, the police presence would have been visible, and the suspect might have thought twice about staging the attack."
The actions taken by the security personnel accompanying Abe will also be looked at. Several police officers from the Nara prefectural police and a member of the MPD dignitary protection detail were close to Abe at the time of the attack. None of them appeared to have noticed Yamagami approaching Abe from behind.
The shot that killed Abe is believed to be the second one fired by the suspect. After the first shot, there was an interval of a few seconds. The MPD officer tried to position himself between Yamagami and Abe while holding up a bulletproof bag, but was unable to block the shot.
"Security personnel should have taken such evasive action as getting Abe on the ground," said a former senior police officer with experience in protecting dignitaries. "Maybe the reason they couldn't do so was because they weren't standing close enough to Abe."
Add TheJapanNews to your Google News feed.