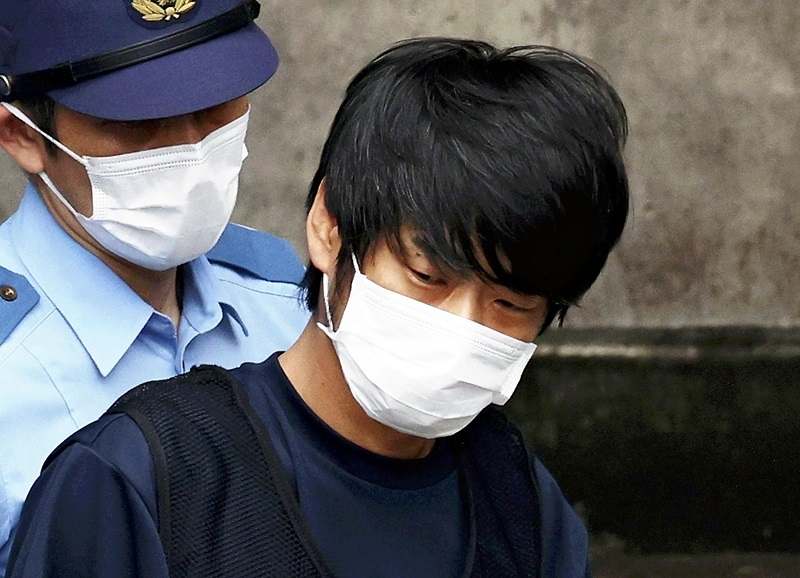 1:00 JST, July 12, 2022
NARA — The 41-year-old suspect in the fatal attack on former Prime Minister Shinzo Abe has told police that he initially targeted the head of a religious group, but changed his target to Abe last autumn, The Yomiuri Shimbun has learned.
According to sources in the Nara prefectural police, Tetsuya Yamagami named a specific religious group during questioning, saying that he held a grudge and had a strong desire to "punish" the group.
Yamagami said he began thinking about killing the head of the group last summer. His mother had believed in the religion since around the year 2000, and went bankrupt after making a large donation. The situation caused financial difficulty in his own life.
After finding it difficult to contact the group leader, the suspect found a video message from Abe that was posted on the internet last September. The message was played at a meeting of an organization that was established by the group leader and others.
"When I saw the video, I was convinced that there was a connection between Abe and the group, and that I absolutely had to kill him," Yamagami said, according to the sources.
Regarding the weapon used in the attack, Yamagami said that he first tried to make a bomb, but decided to use a gun because it would be easier to kill a person with pinpoint accuracy. "I didn't use a bomb to avoid killing people who are not involved," the former Maritime Self-Defense Force personnel said, according to the sources.
The police seized a handmade gun with a shotgun-like structure, about 40 centimeters long and 20 centimeters high, at the crime scene. They also found similar handmade guns at his home. Yamagami told the police that he researched how to make the gun on the internet, purchased the parts online and finished making it around spring this year.
Yamagami is alleged to have fatally shot Abe at around 11:30 a.m. on Friday near Yamato-Saidaiji Station in Nara City. Abe was giving a stump speech for a Liberal Democratic Party candidate for the House of Councillors election, which took place on Sunday.
Add TheJapanNews to your Google News feed.