Suspect in fatal shooting of former Japan PM quit job 2 months ago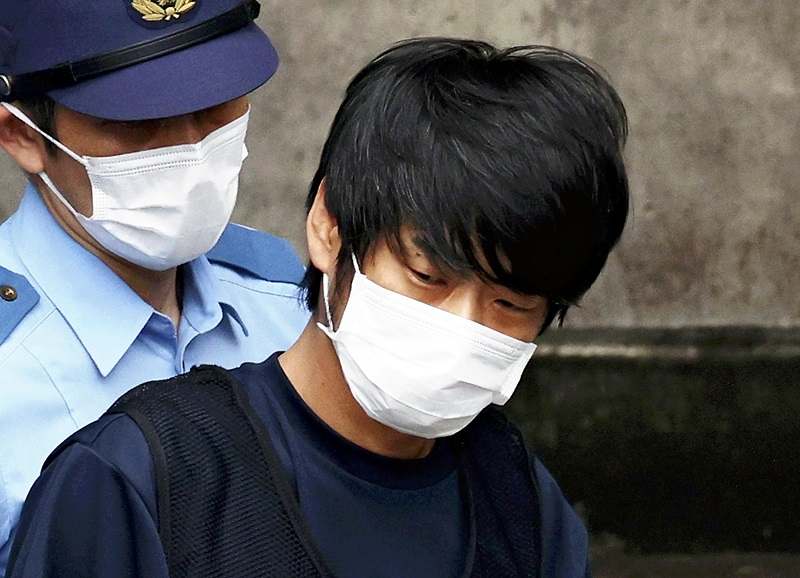 14:27 JST, July 10, 2022
The man arrested over Friday's fatal shooting of former Prime Minister Shinzo Abe in Nara City quit his job about 2 months before the attack, it has been learned.
Tetsuya Yamagami, 41, a former Japanese Marine Self-Defense Force officer, was arrested at the scene on suspicion of attempted murder. Abe, 67, had been giving a stump speech for the House of Councillors election.
Yamagami had taken time off from his work in mid-April and later resigned. Several handmade guns were found at his house, and the Nara Prefectural Police reportedly think he may have been preparing for the attack during this time.
The suspect graduated from one of the most prestigious high schools in Nara Prefecture. In his graduation album, he wrote, "I don't know [what I'll do in the future]."
After graduating from high school in 1999, Yamagami served in the Maritime Self-Defense Force from 2003 to 2005 — it is thought he gained knowledge of guns during this period.
From Oct. 2020 to May this year, he was employed as a temporary worker at a factory in Kyoto Prefecture, where he worked as a forklift operator.
According to a factory official, Yamagami was an earnest worker. However, around mid-April, he stopped coming to work, saying he was "feeling unwell," and later resigned on his own volition, saying "I haven't decided on my next job."
A former colleague in his 50s said: "He always ate alone in his car at lunchtime while everyone else went to the cafeteria. I wondered if he wasn't good at building relationships with others."
Yamagami's family home is in Nara City, where he previously lived with his mother, older brother, and younger sister. His father reportedly has passed away.
At the time of the attack, he was living alone in a studio apartment in the city, about 3 kilometers from the crime scene.
According to a woman in her 50s who lives next door to Yamagami's apartment, he always answered her morning greetings and gave the impression of being diligent. She said he would leave on his bicycle in the mornings and return home in the evenings or late at night.
From around two weeks ago, the woman said she often heard "clink clank" sounds from his Yamagami's apartment, as if he was working with metal, and she wondered what he might be doing.
Add TheJapanNews to your Google News feed.