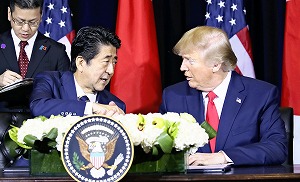 17:37 JST, July 8, 2022
The attack on former Prime Minister Shinzo Abe was covered by media outlets around the world Friday, with reports appearing soon after the shooting on U.S. network ABC and the U.K.'s national broadcaster BBC, as well as wire services such as Reuters and Agence France-Presse.
The BBC noted that "gun violence is very rare in Japan" in its coverage of the attack, which occurred at around 11:30 a.m.
The Financial Times said the shooting was "the most significant act of political violence to rock the country in half a century."
"Abe" was the top search term on China's Weibo social media platform. China's state-run Xinhua News Agency and South Korea's Yonhap News Agency reported the attack, citing Japanese media.
White House: 'Shocked and saddened'
The White House released a statement Friday saying, "We are shocked and saddened to hear about the violent attack against former Japanese Prime Minister Shinzo Abe. We are closely monitoring the reports and keeping our thoughts with his family and the people of Japan."
U.S. Ambassador to Japan Rahm Emanuel also released a statement Friday, saying, "We are all saddened and shocked by the shooting of former Prime Minister Abe Shinzo. Abe-san has been an outstanding leader of Japan and unwavering ally of the United States."
Meanwhile, former U.S. President Donald Trump said the attack was "absolutely devastating news" in a social media post.
"He was a true friend of mine and, much more importantly, America. This is a tremendous blow to the wonderful people of Japan, who loved and admired him so much. We are all praying for Shinzo and his beautiful family!" Trump wrote.
Add TheJapanNews to your Google News feed.