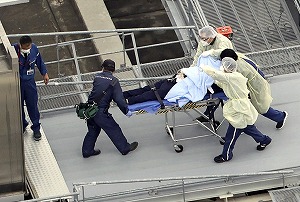 17:24 JST, July 8, 2022
NARA — A gun attack on former Prime Minister Shinzo Abe threw an ordinary election campaign scene, where many voters had gathered, into a scene of chaos filled with shouts and screams.
"Ambulance! Ambulance!" one person on the scene called out, while another shouted, "Medical workers, please come forward!"
After Abe, 67, was shot while making a street speech in Nara City during a campaign for the upcoming the House of Councillors election, he collapsed on the street. A man with a shotgun was apprehended by police officers and others nearby.
The attack took place at about 11:30 a.m. — a few minutes after Abe stood on the podium in front of Kintesu Railway's Yamato-Saidaiji Station in the city and began introducing a candidate backed by the Liberal Democratic Party. A man wielding a gun approached Abe from behind, and a loud sound was heard.
According to a 26-year-old company employee in the city who was walking about 30 meters from the scene, several hundred people were gathered at the campaign site at the time. He said a gunshot sounded suddenly, and that he heard another one about three seconds later.
"I first thought a car had a blowout," the man said. "The surrounding area was noisy with car horns, but I could clearly hear the dry sounds [of the gun]."
A Yomiuri Shimbun reporter was also on the scene, covering the campaign.
Tetsuya Yamagami, 41, is believed to have shot Abe. He was immediately restrained by police officers and others nearby. He did not try to resist.
An ambulance arrived about 15 minutes later, and Abe was taken to a hospital amid the chaos. He was said to be in a state of cardiopulmonary arrest.
A man in his 40s, of Yamatokoriyama, Nara Prefecture, who was listening to Abe's speech, said, "A man suddenly came into the middle of the road, approached [Abe] and fired two shots with what appears to be a gun."
"It seems Abe collapsed with the second shot," he added.
A 26-year-old company employee from Mie Prefecture, who witnessed the attack up close, said: "Abe was motionless when he collapsed, and people of his team brought an AED and started giving him cardiac massage. I can't stop shaking."
A third-year high school student in Nara City, who was watching the campaign from the fourth floor of a building nearby, said she saw a man walking toward Abe. According to the student, it seemed Abe was not aware of the first shot, but he collapsed by the second shot.
"The assailant did not appear to be running away, so he was subdued right way. He had left his gun on the ground," the student said. "When people, who seemed to be nurses, gathered around and started doing cardiac massage on Mr. Abe, I saw blood on his chest. When I saw that, I got scared and started shaking."
Add TheJapanNews to your Google News feed.