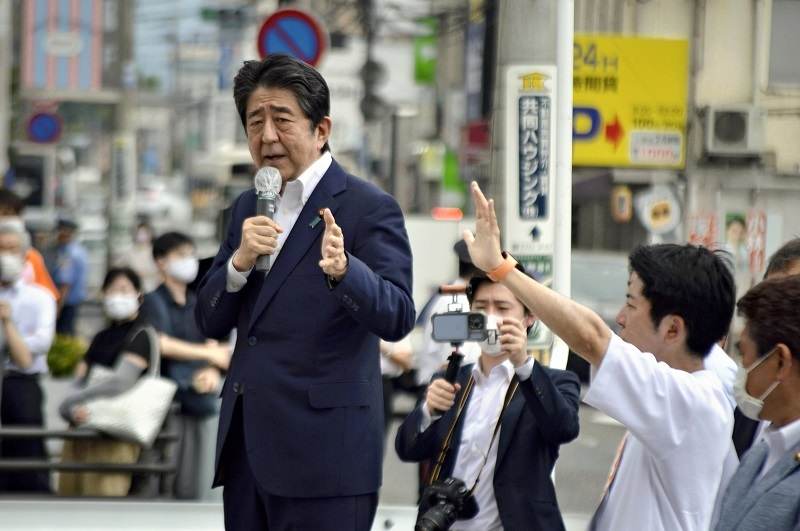 17:53 JST, July 8, 2022
Former Prime Minister Shinzo Abe was the victim of a fatal gun attack while taking part in a campaign event for the House of Councillors election in Nara City on Friday. He was 67.
After being shot at around 11:30 a.m., he was confirmed dead at 5:03 p.m. at Nara Medical University Hospital in Kashihara, Nara Prefecture, where he was transported by ambulance and a medical helicopter immediately after the attack.
According to doctors, Abe suffered a wound deep enough to reach the heart, and when he was brought to the hospital, he was in cardiopulmonary arrest, making rescue quite difficult.
He had two gunshot wounds to his neck. The medical team tried to stop the bleeding and gave him a large amount of blood through transfusions, but his heartbeat did not resume, the doctors said at a press conference on Friday evening.
Police sources had earlier said Abe was shot from behind in the upper back and elsewhere. Two shots were heard, according to witnesses.
Tetsuya Yamagami, 41, of Nara City, was arrested at the scene on suspicion of attempted murder at 11:32 a.m. Yamagami is believed to have shot Abe at close range and a gun has been recovered, according to a police officer.
"I had no grudge against former Prime Minister Abe for his political beliefs," Yamagami was quoted as telling the police during questioning, according to Nara prefectural police sources.
Yamagami, whose current occupation is unknown, is said to have served as a Maritime Self-Defense Force member until 2005, according to a government source. The Defense Ministry is gathering information about the man.
A Yomiuri Shimbun reporter was also at the scene covering the upper house election campaign. Abe, a former Liberal Democratic Party president, arrived at the stump speech venue in front of Yamato-Saidaiji Station in the city at about 11:20 a.m. to give a speech to support an LDP candidate.
Shortly after Abe took hold of a microphone to introduce the candidate while surrounded by the crowd, Yamagami approached him from behind, holding a gun-like object. Loud sounds were heard immediately afterward, and Abe collapsed at the scene, according to witnesses.
The scene became chaotic as people screamed and called for an ambulance and medical personnel.
An ambulance arrived about 15 minutes later, and Abe was transported to a hospital.
Greatly influential in LDP
Abe became prime minister in September 2006 at the age of 52, the youngest to hold the office since the end of World War II. He stepped down in September 2007 due to health problems.
In December 2012, he became prime minister for the second time. His second administration lasted a record 2,822 days until September 2020, when he stepped down again due to the worsening of his chronic disease, ulcerative colitis. Combined with his first administration, his tenure totaled 3,188 days, and this is also the longest in history.
Abe in November 2021 became the chairperson of the Abe faction — the LDP's largest faction — and had since exercised great influence within the party.
In particular, he was strongly committed to the continuation of the Abenomics economic policy package that he had advocated during his tenure as prime minister as well as to the strengthening of Japan's defense capabilities.
His stances were largely reflected in the Basic Policy on Economic and Fiscal Management and Reform formulated in June by the Cabinet of Prime Minister Fumio Kishida.
Abe remained popular, especially among conservatives, and was traveling around Japan to support LDP candidates in the upper house election campaign. On Friday, he had been scheduled to give speeches in Kyoto and Saitama prefectures after Nara Prefecture.
Add TheJapanNews to your Google News feed.