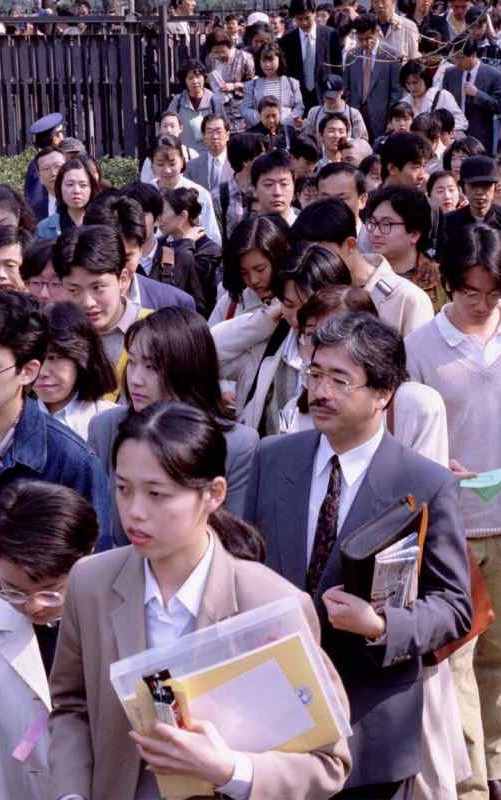 20:00 JST, June 28, 2022
"Truth is the only thing I want," U.S. actor Johnny Depp said during his testimony in a recent trial, footage of which can be found on video-hosting websites as some court hearings in the United States are livestreamed.
Will the day ever come when Japan allows court hearings to be streamed online?
Depp sat through the trial with his hair tied back, wearing a grave expression as the court heard details about his feud with his ex-wife, and allegations of domestic violence and abuse by his mother when he was a child.
The hearing took place in a courtroom in the U.S. state of Virginia — although the footage online looks more like scenes from a movie.
Depp attended court hearings in April after filing a civil suit against his former wife for defamation, and his candid statements on the witness stand were broadcast around the world on TV and online.
Criminal trials can also be broadcast in many U.S. states, explained lawyer Megumi Wada, a member of the Tokyo Bar Association who is familiar with the U.S. judicial system.
"As the United States places great importance on democracy, it is strongly aware of the need to ensure transparency and increase public confidence in the judicial system," Wada said.
According to data from the Japan Newspaper Publishers and Editors Association and other sources, taking photos and videos in courtrooms was allowed following the 1947 enforcement of the Constitution, which states that "trials shall be conducted and judgment declared publicly."
However, in 1949 permission was required to take photos and videos because of problems caused by cameramen scrambling for the best vantage point.
The practice was virtually banned from the 1950s onwards, during an era when disruptions in turbulent trials frequently interfered with proceedings.
Under current rules, cameras are only allowed to capture judges in court before hearings start. Courtroom artists can sketch defendants but photos and footage of defendants in courtrooms cannot be published or broadcast.
Such restrictions are in place because of concerns that cameras could put psychological pressure on defendants and witnesses or disrupt order in courtrooms.
Many people who wish to observe hearings, especially high-profile trials, cannot do so because the number of observers allowed into courtrooms is limited.
In April 1996, 12,292 people wanted to observe the first hearing of Aum Supreme Truth cult founder Chizuo Matsumoto, also known as Shoko Asahara, who was executed in 2018.
The courtroom only had 48 seats for observers.
The number of seats for members of the public has been reduced amid the novel coronavirus pandemic, prompting calls for change in some judicial circles.
"As the internet is being used by the public to obtain information, the time has come to consider video streaming to ensure more thorough transparency in Supreme Court hearings," Supreme Court Judge Takuya Miyama, 67, said in a questionnaire conducted by media companies in October last year.
A report compiled by a Justice Ministry panel in March stated that "Online streaming would promote the concept of 'the openness of trials,' contributing to the public's right to know."
However, a wide range of issues are at stake, such as whether streaming would hamper the testimonies of witnesses or affect the reintegration of defendants into society. High hurdles will need to be overcome before the public will be able to view hearings online.
Rules that "uniformly disallow photos and videos are too strict," according to Constitutional expert Prof. Hidemi Suzuki of Keio University.
"First of all, restrictions should be eased to allow the filming of verdict pronouncements, which is less likely to interfere with the fairness of trials," Suzuki said. "Broadcasts of pre-hearing footage of defendants who are Diet members should also be permitted."
Add TheJapanNews to your Google News feed.