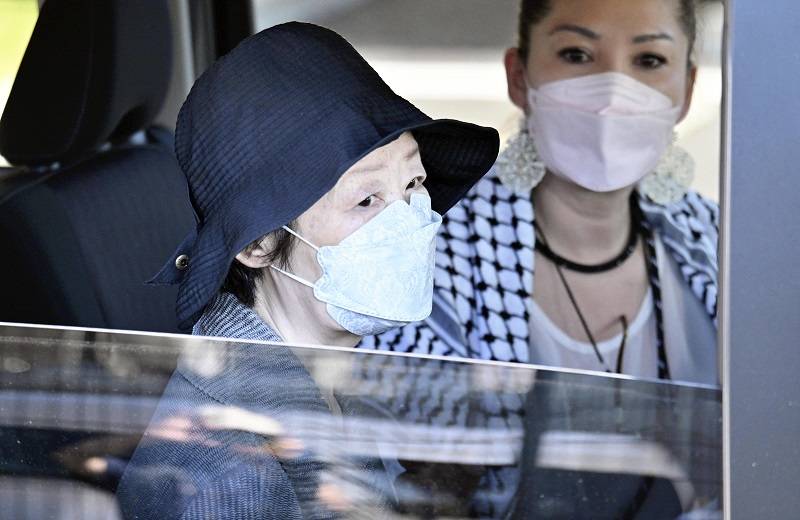 16:11 JST, May 28, 2022
Fusako Shigenobu, a former leader of the Japanese Red Army terrorist group, was released from a Tokyo prison on Saturday after serving a 20-year sentence for her involvement in a hostage incident at the French Embassy in The Hague in 1974, among other charges.
Upon her release from the Medical Correction Center in East Japan in Akishima, Tokyo, she issued in a written apology, saying, "We have caused unintentional damage and trouble to people who are not directly involved during the struggle of the Japanese Red Army." She concluded that the group's course of armed struggle at the time was wrong.
As Shigenobu, 76, left the center with supporters on Saturday morning, she apologized again to reporters, saying, "I caused harm to innocent people who were strangers in our battle 50 years ago."
As Shigenobu has been diagnosed with cancer, she stated that she would like to "first concentrate on treatment and rehabilitation."
Extremists including Shigenobu founded the Japanese Red Army in Lebanon under the slogan "revolution by force" after they left Japan in 1971.
In May 1972, members opened fire with automatic weapons at an Israeli airport, killing or wounding about 100 people, including travelers.
They seized the French Embassy in The Hague in 1974 and the U.S. and Swedish embassies in Kuala Lumpur in 1975, and hijacked a Japan Airlines plane and forced it to land at the Dhaka airport in Bangladesh in 1977. Each time they demanded the release of members detained and imprisoned in Japan or another country, which authorities did in all cases.
Shigenobu was arrested in November 2000 in Osaka Prefecture, where she had been hiding. She was indicted for attempted murder in The Hague incident and other offenses. After being found guilty, she was sentenced to 20 years in prison.
The Japanese Red Army is said to have disbanded in 2001, but seven members remain on an international wanted list and are still on the run. The police are still investigating.
Add TheJapanNews to your Google News feed.