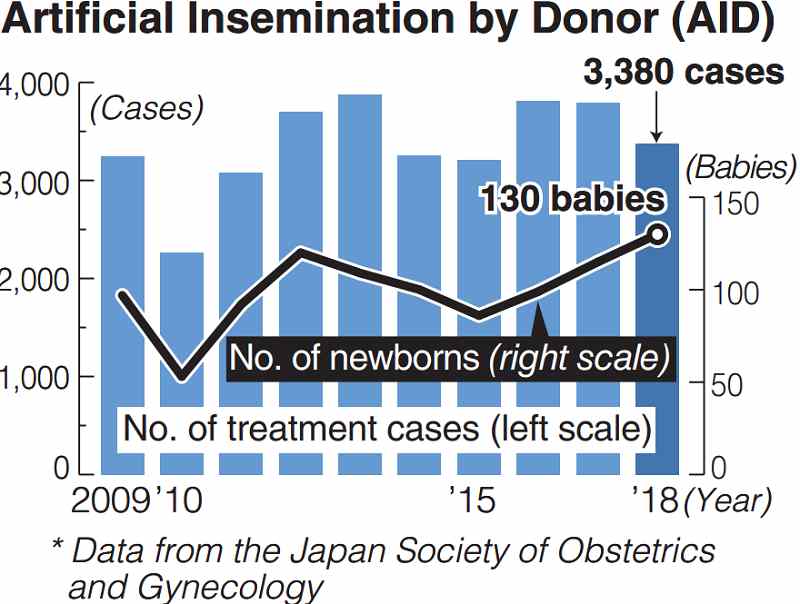 19:46 JST, May 20, 2021
Online sperm trading is increasing as individual sperm donors embrace social media to match with hopeful mothers-to-be. Yet the surge in couples taking matters into their own hands has posed some problematic safety and ethical challenges, underscoring the need for regulations.
Strangers in the night
According to several people who have found sperm donors online, women usually communicate with the donors under fake names and will often meet with them several times before making the decision to conceive. Most women receive a packaged sperm sample directly from the donor, which they then inject into their bodies using a syringe. However, some women request to be impregnated the old-fashioned way.
A Twitter search for the hashtags "#SpermDonation" and "#SpermDonor" in Japanese turns up over 300 accounts. Posts on these accounts offer the donor's services with messages such as one that read: "Anonymous, free of charge, discretion guaranteed."
Some donors offer their services for free, apart from travel expenses and other costs. "I just want to help people who are struggling with infertility," said a man in his 20s from Osaka Prefecture who recently started advertising as a donor.
Not all donors are so forthcoming. In at least one instance, it was later discovered that a donor had lied about his educational background and other personal details. Other would-be donors have used the platform to badger women for sex.
Dwindling AID treatment
Anonymous sperm donation has been an option in Japan for over 70 years through a fertility treatment called AID (artificial insemination by donor). It is thought that more than 10,000 babies have been born so far using the method.
AID treatment is only available from 12 designated medical institutions in the country, per guidelines authored by the Japan Society of Obstetrics and Gynecology. The sperm samples used in AID are provided by student volunteers and other anonymous donors. To ensure safety, samples are tested for infectious diseases and other health issues, and then cryopreserved until needed.
AID is also completely unregulated under Japanese law.
Several attempts to legislate assisted reproductive medicine, including AID, over the past 20 years have been met with strong opposition on the grounds that involving a third-party donor, outside of the marital bed, would undermine the concept of the traditional family.
There has been a shortage of AID donors in recent years, as men become increasingly gun-shy amid mounting fears that donors may be asked, at some point in the future, to acknowledge children conceived through the system as their own.
As a result, many of the designated medical institutions have pressed pause on AID altogether. Keio University Hospital, which previously accounted for over half of the AID procedures performed, stopped accepting new applicants in 2018, around the time when private transactions are believed to have begun to gain traction online.
According to data from the National Institute of Population and Social Security Research, 1 out of every 5.5 married couples has experienced infertility treatment, a number that continues to grow each year. Issues on the man's side, such as azoospermia, are said to account for half of infertility cases among couples, meaning there is plenty of demand for third-party sperm donors.
The demographic of people who want to start families with donated sperm is also becoming more diverse. Last year, a lesbian woman in her 40s who lives in Tokyo gave birth to a baby boy after finding a donor online. "I had no other choice," the woman said.
Same-sex couples are ineligible for AID under the Japan Society of Obstetrics and Gynecology's guidelines. Treatment is also unavailable to "single mothers by choice," unmarried women who want to have a child without a partner. In other words, for those who are not legally married, private donors are the only option in Japan.
But these person-to-person transactions pose certain risks. Unlike AID, samples are not medically vetted to screen for safety and infectious diseases. There is also no way to verify donors' personal information provided by them. The ability to shop for the "seed of life" online also raises some uncomfortable ethical questions.
"Do not even think about procuring sperm from a private donor," said Prof. Mamoru Tanaka, a specialist in reproductive medicine at Keio University, who warns that mothers may be unwittingly introducing genetic diseases to their bloodlines. "Sperm must be provided fairly and safely to those who need it on a non-profit basis, without selecting donors. In my opinion, we need a public system like the systems already in place for blood or organ donation."
The right to know one's origin
In December, the Diet passed special legislation to supplement the Civil Code, clarifying the parent-child relationship of children born through assisted reproductive medicine. When a child is born through AID, its legal father is not the sperm donor, but rather the husband of the child's mother, provided that the husband consented to the fertility treatment.
However, lawmakers have postponed making a decision on regulating assisted reproductive medicine, with a supplementary provision setting a two-year target for "studying the issue and taking necessary legislative measures."
It is a complex subject with many facets for debate, including how to regulate sperm donation and whether to expand the scope of assisted reproductive medicine to apply to other groups beyond married couples. Another major issue is a child's "right to know their origin," which would grant children access to information on the circumstances of their birth and genetic parentage.
The Japan Society of Obstetrics and Gynecology's guidelines state that AID donors are to be anonymous. Currently, donors' identities are kept secret from not only children of AID, but also their parents.
One woman discovered at age 23 that she had been conceived through AID. In an appearance before a session of the House of Representatives Judicial Affairs Committee in December as an unsworn witness, she said: "It is absolutely necessary for children to be informed by their parents [at an early stage of their lives] and to be provided with an environment where they can access donor information when they want to know. If [such an environment] cannot be put in place, this technology [AID] should be discontinued."
The right to know one's origin is recognized by law in countries including Germany and Britain. As the right is also specified in the U.N. Convention on the Rights of the Child, which Japan has ratified, there have been growing calls in Japan to see that it is guaranteed.
If the right is to be recognized, it will be a prerequisite for parents to inform their children of the fact that they were conceived with sperm from someone other than their father. Parents will need to be prepared to have these conversations with their children.
There is also concern that the number of AID donors may further decrease if the precondition of anonymity is removed, further complicating a problem with lifelong ramifications.
Add TheJapanNews to your Google News feed.