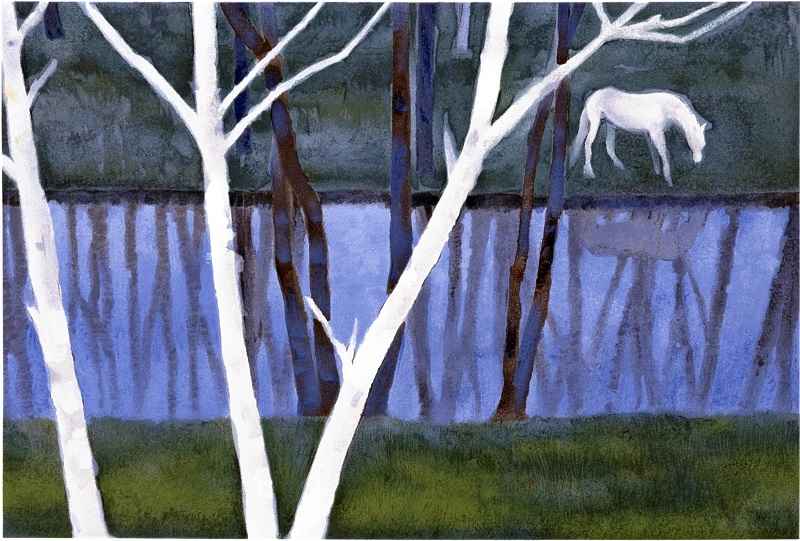 15:11 JST, March 11, 2021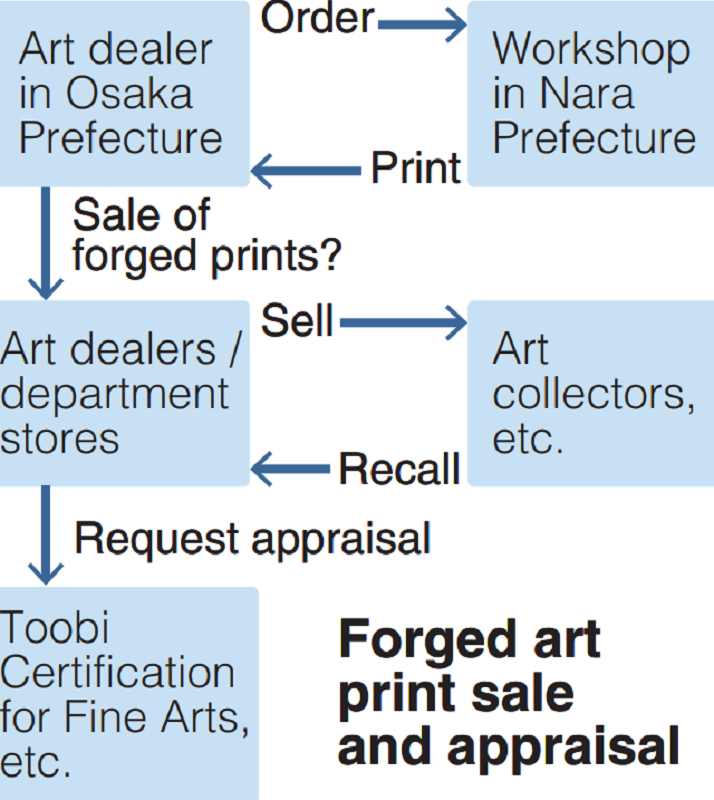 Even some of Japan's leading department stores may have been duped by the massive art counterfeiting ring that circulated fake prints of work by Ikuo Hirayama and other prominent nihonga artists. In a review of department stores across Japan, 19 stores sold over 130 prints based on 16 works known to have been targeted in the scandal, The Yomiuri Shimbun has found. Department stores are now recalling some of the artwork they have sold in the past, in an effort to determine whether or not it was indeed genuine.
Refunds for fakes
The batch of 16 counterfeit works identified last month was the latest revelation in a scam that evidently dates back for the better part of a decade.
Work by Ikuo Hirayama, Kaii Higashiyama and Tamako Kataoka accounted for 10 of the 16 unauthorized reproductions. In a trade organization investigation, an Osaka art dealer in his 50s admitted to having sold counterfeit prints based on work by the three artists for nearly eight years and said that he enlisted a studio in Nara Prefecture to do the printing. The Tokyo Metropolitan Police Department is investigating on suspicion of copyright infringement.
The Yomiuri Shimbun surveyed 50 department stores in the country, asking whether they had sold any prints of the 16 works in question as of the end of February, and how they would respond if it turned out they had.
Sogo & Seibu Co. was found to have sold the largest number of prints by affected artists, selling a combined total of 71 prints in Tokyo and six other prefectures from 2009 to 2020, at prices ranging from several hundred thousand to several million yen apiece. Some sales even took place before the Osaka dealer allegedly began peddling his forgeries. The department store has been able to contact the customers who purchased 65 out of the 71 prints and said it will offer refunds if any of the pieces is determined to be fake.
J. Front Retailing Co., which operates Daimaru Matsuzakaya Department Stores Co., has also sold dozens of the prints. The company has already recovered half from its customers and plans to have them appraised by experts.
Other leading department stores — Isetan, Mitsukoshi, Takashimaya, Tokyu, Odakyu, Keio, and Tobu — have all sold at least one of the prints in question. Among them, Tobu, which has sold four such prints, and Odakyu, which has sold one, said they have concluded that the works were authentic, as they were not acquired from the Osaka dealer. But both said they will have the work appraised by specialists if their customers wish.
Prints left in smaller cities, too
Kintetsu, Keihan, and Hankyu Hanshin department stores in Osaka Prefecture similarly said they have sold one or more of the prints, but added that they are still investigating the matter in further detail.
Meitetsu Department Store in Nagoya has dealt seven of the pertinent prints since November 2017. Tokiwa in Oita also sold seven, including one by Ikuo Hirayama, between 2015 and 2019. Ichibata department stores operator in Matsue sold one print by Tamako Kataoka. All said they plan to have the prints appraised in the days ahead.
On Monday, Toobi Certification for Fine Arts, a Tokyo-based appraiser, began accepting prints thought to be by Ikuo Hirayama, Kaii Higashiyama, and Tamako Kataoka for authentication.
Add TheJapanNews to your Google News feed.