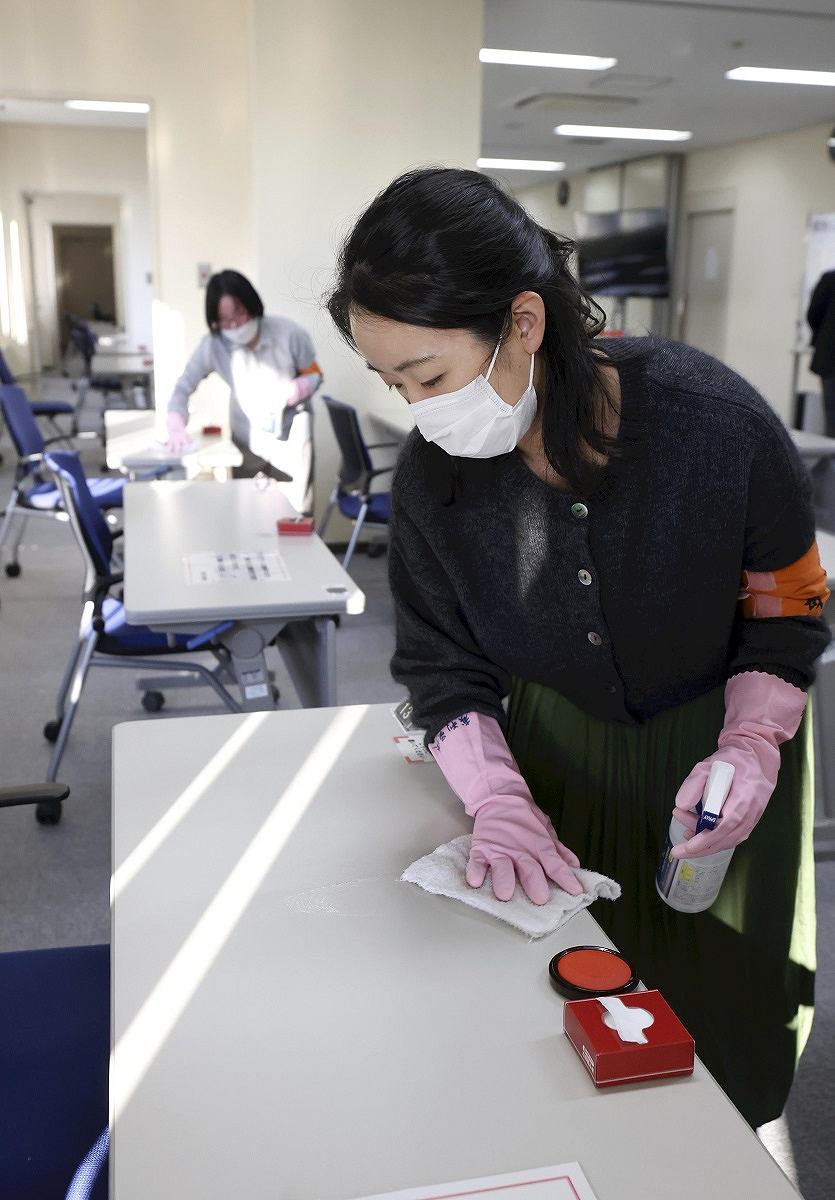 17:02 JST, January 28, 2021
Courts across the nation are continuing to hold trials even after the second state of emergency was declared for Tokyo and 10 other prefectures. When the first state of emergency was declared last spring, many trial dates were canceled, including for lay judge trials, but this time authorities have decided to keep courts open while taking steps to prevent infections. However, the virus has lately spread among people involved in trials, and courts now need to strike a difficult balance between maintaining judicial function and preventing infections.
■ Sterilization, ventilation
"The court sentences the defendant to three years imprisonment," presiding Judge Minoru Morishita said in a lay judge trial held at the Tokyo District Court on the afternoon of Jan. 25. After handing down the sentence, the 55-year-old judge explained the reasons for the ruling.
The 41-year-old defendant, who was charged with attempted murder for stabbing an acquaintance with a knife, wore a mask, as did others in the court, including the judges, lay judges, prosecutors, defendant attorneys and detention officers sitting on both sides of the defendant. To prevent droplets from spreading, transparent acrylic boards were installed between the judges' seats. The court gallery was limited to 50% capacity to maintain distance between spectators.
Since the Tokyo District Court gets lots of visitors, the court asks people to make sure to wear a mask. Courtrooms are disinfected twice a day and the doors are kept open for ventilation during court recesses. In lay judge trials, a large conference room is used for deliberations between the lay and professional judges so that they can keep a distance of at least 2 meters between them. "We would like to take all possible measures so lay judges and others can participate in trials without concern," a court official said.
■ 90% canceled
The Supreme Court requested that lower courts change trial dates in a flexible manner at the end of February last year, when the novel coronavirus began spreading in Japan. For that reason, many trials were postponed. In particular, most lay judge trial dates were canceled. This is because lay judge trials were considered to have a higher risk of infection as several dozen people have to gather in the same room for the lay judge selection process.
According to the Supreme Court, lay judge selections for 184 cases were canceled from March to May last year because of the coronavirus – nearly 90% of lay judge trials that were scheduled for the period. As a result, one trial was postponed for six months.
Supreme Court Chief Justice Naoto Otani, 68, said at a press conference held in conjunction with Constitution Memorial Day in May, "We would appreciate your understanding and cooperation for the situation as it is a necessary emergency measure."
However, postponing trials leads to longer detention periods and violation of the right to a speedy trial, among other problems. For that, more and more courts started to open as needed with infection prevention measures in place. Trials, including civil trials, were resumed in a phased manner from May, when the first coronavirus wave calmed down.
In December last year, the Supreme Court announced guidelines compiled based on the advice of public health experts, and it suggested that it is possible to hold trials in the middle of the coronavirus outbreak if the necessary measures are taken such as wearing masks, thorough disinfection and use of larger courtrooms. On Jan. 8, the day after the state of emergency was declared for the Tokyo metropolitan area, the Supreme Court asked courts across the country to consider continuing trials.
■ Infections found
However, along with the surge in infections nationwide, some court officials and people involved in court proceedings have tested positive for the virus. In the trial for former Justice Minister Katsuyuki Kawai, 57, who is charged with violating the Public Offices Election Law in relation to a large-scale vote-buying scandal in a House of Councillors election, one of Kawai's attorneys contracted COVID-19 in December last year, resulting in two court hearing dates being canceled.
The Osaka District Court on Monday canceled the sentencing of a woman charged with murder that was scheduled for the afternoon of Tuesday, saying that one of the participating lay judges was infected with the coronavirus. "If the infection situation gets worse and tougher behavior restrictions are imposed, it might be difficult to continue trials. All we can do now is to proceed with ongoing trials while considering effective measures," a veteran judge said.
How do lay judges see the current situation?
A female company employee in her 50s who participated in deliberations for an attempted murder trial at the Tokyo District Court said at a press conference Monday, "Considering longer detention periods and fading memories of the people concerned, I think trials should be held as much as possible even under the state of emergency."
On the other hand, a male company employee who served as a lay judge for another trial said that holding trials during the state of emergency could contradict the central government's policy. "My company allows employees to work from home. Even if trials are held, several steps could be taken such as holding the lay judge selection process online," he said.
Add TheJapanNews to your Google News feed.