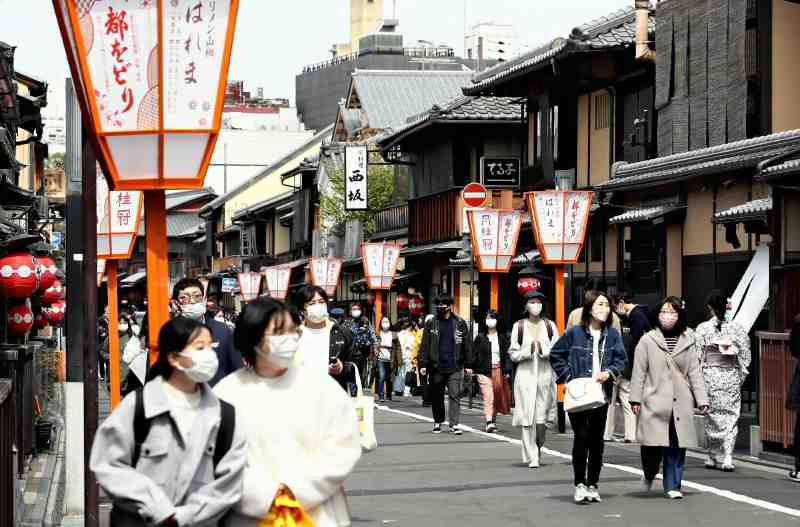 13:45 JST, April 21, 2022
The local tourism support program for travel within prefectures by local residents, as well as trips within regional blocs, will be extended to May 31, the Japan Tourism Agency has announced.
However, the program will not be available during the Golden Week holidays.
The government believes that novel coronavirus infections have plateaued throughout most of the nation, so it will not ask people to refrain from traveling across prefectural borders even during Golden Week, which runs from April 29 through May 8. However, it intends to remain vigilant against a resurgence in infections.
"We don't think it is necessary to restrict activities, such as movement across prefectural borders, during the holidays," Chief Cabinet Secretary Hirokazu Matsuno said at a press conference on Wednesday.
However, Matsuno urged people to receive COVID-19 booster shots, and actively use antigen test kits and other methods. "We expect people to move more actively" during the holidays, he said.
In 2020 and 2021, the government asked the public to refrain from nonessential travel during the Golden Week holidays. This will be the first time in three years that the government has not made such a request.
According to JTB Corp., the nation's largest travel agency, the number of domestic travelers is expected to reach 16 million, up 68% from a year earlier.
The travel support program for prefectural residents is an alternative to the central government's Go To Travel nationwide campaign, which has been suspended due to the spread of infections. The local program provides each traveler with up to ¥7,000 per night through their prefectural governments. It also started covering travel within regional blocs, such as Kanto and Kinki, from this month.
The program was originally applicable to stays through April 28.
The government excluded the Golden Week holidays from the program because demand for travel is expected to be high even without a financial incentive. There is also still caution within the government, with tourism agency commissioner Koichi Wada saying, "Infections have spread rapidly in some regional cities."
Infections tend to spread after extended major holidays, during which the movement of people increases, raising concerns among government officials.
"We mustn't let a seventh wave of infection occur after the holidays," a person close to Prime Minister Fumio Kishida said.
Of particular concern is Okinawa Prefecture, which has logged the highest number of new infections per 100,000 people among the prefectures. In cooperation with airlines and other entities, the government has called on people visiting Okinawa to be tested before their travel and receive their third dose of a COVID-19 vaccine.
Matsuno also serves as the minister in charge of vaccinations. He is scheduled to visit Okinawa on Sunday and Monday, during which he plans to urge people in the prefecture with the lowest vaccination rate in Japan to boost its rate.
Add TheJapanNews to your Google News feed.