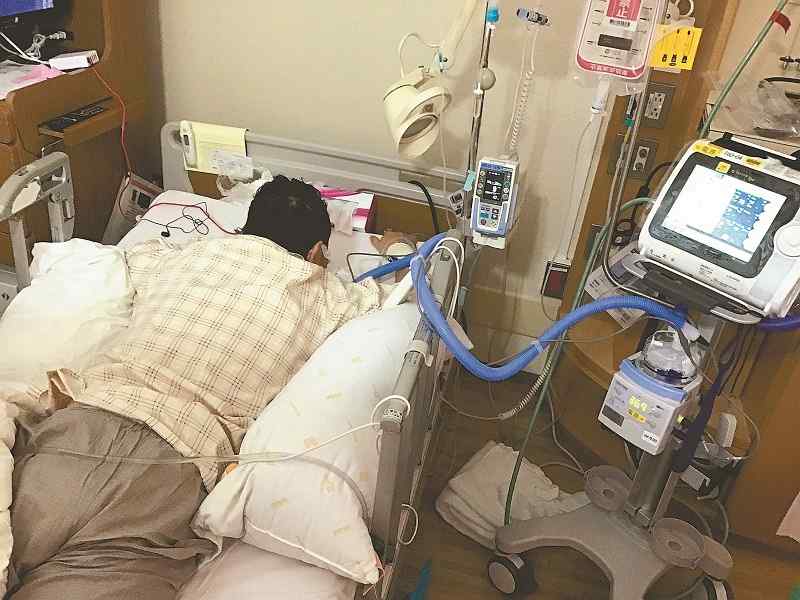 16:20 JST, August 19, 2021
The latest surge in novel coronavirus infections is straining capacity at hospitals across Japan, and severely ill patients are even spilling over into hospitals initially allocated for moderately unwell people. About 60,000 people in the Tokyo metropolitan area alone are recuperating at home.
Dr. Iori Motohashi of Kawasaki Municipal Tama Hospital's division of general internal medicine knows firsthand how desperate the situation has become. "Even general hospitals like us are being required to examine severely ill patients," Motohashi said.
A nearby university hospital has no spare beds. The Tama hospital was supposed to treat patients with moderate symptoms, but as of Wednesday, one of the 28 coronavirus patients here was on a ventilator and nine were receiving high-flow oxygen therapy, in which a large volume of oxygen is supplied to a patient through their nose. These nine patients also have such severe cases of lung inflammation that using a ventilator would not be unusual. They lie facedown to help protect their lungs.
A patient whose condition does not improve even with high-flow oxygen therapy will require more advanced treatment, such as a ventilator or extracorporeal membrane oxygenation, in which a machine replaces the function of the heart and lungs. But according to Cabinet Secretariat data, 100% of the hospital beds set aside for severely ill patients in Kanagawa Prefecture were occupied as of Tuesday. Recently, the Tama hospital has told patients on their first day at the facility that even if their condition deteriorates, it is "possible that we won't be able to transfer you to a university hospital or other medical institution."
"Every hospital is full," Motohashi said. "Only a handful of patients can be accepted, and even then, it's only after their condition gets quite serious. It'll be difficult for regular hospitals to treat any more severely unwell patients."
Assumptions exceeded
The shortage of hospital beds is becoming more acute across the nation. According to figures compiled Tuesday, the occupancy rate of beds set aside for coronavirus patients had topped 50 percent — the level placing them at stage four of the four-tier alert system — in at least 22 prefectures, mainly in Tokyo and its surrounding areas, and in the Kansai region. Hospitals are being stretched to the limit. "As soon as a bed opens up, it gets filled again," one hospital official told The Yomiuri Shimbun. Another said, "In just one day, we had to turn down about 20 urgent requests to take in a patient."
Another hospital insider said taking an emergency patient by ambulance to a hospital that can accept them "takes three to six hours."
After the nation faced a shortage of hospital beds for coronavirus patients at the start of 2021, the central government asked prefectural governments to revise their plans for securing and allocating enough beds so they could accommodate twice the number of patients that needed treatment during the peak of the "third wave." This was based on an assumption that an "explosion of infections" would create a coronavirus emergency. Consequently, the number of hospital beds set aside for coronavirus patients across Japan has increased from 28,000 in early January to 37,000 this month.
However, daily new infection cases in Japan have skyrocketed more than 10-fold since the start of July. The situation has already exceeded the "emergency" anticipated by 30 prefectures.
"The delta variant has been more infectious than we expected," a senior official of the Health, Labor and Welfare Ministry admitted.
Add TheJapanNews to your Google News feed.