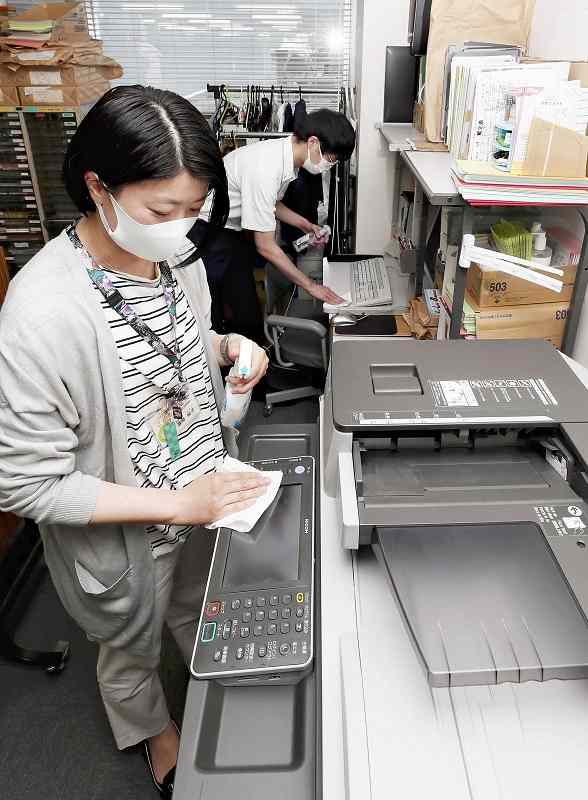 14:57 JST, June 18, 2021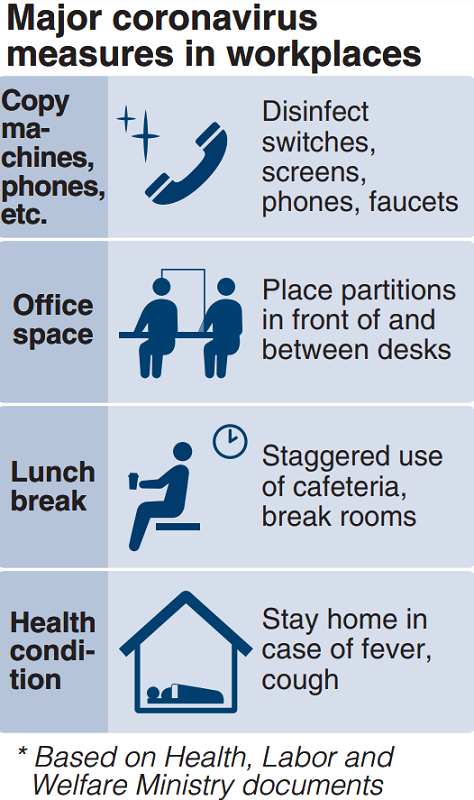 A spate of novel coronavirus clusters at workplaces has revealed holes in the preventative measures being taken by businesses to keep their employees safe from infection, prompting the government and experts to call for heightened vigilance as highly contagious virus variants continue to spread.
In late April, a cluster broke out at the city government office in Atsugi, Kanagawa Prefecture, in the department responsible for overseeing the city's nursery schools and kindergartens. Nine workers, ranging in age from their 20s to 50s, contracted the virus.
"Even though we wore masks and had been thoroughly disinfecting our hands, COVID still tore through the office quickly," said Akikazu Kaneko, 53, section manager of the childcare division.
About 40 people work in the two early education divisions, which are located in adjoining rooms on the third floor of city hall. Clear plastic had been strung up to prevent the spread of airborne droplets, and partitions were installed on both sides of each desk.
The first city worker tested positive for the virus on April 27. After a second infection was discovered on April 29, new cases were confirmed every day until May 3. The prefectural health and welfare office warned that the workers may have been infected with variants.
Although the precise transmission route has not yet been traced, shared office equipment such as phones and copy machines are being eyed as a possible culprit. The city said that its employees have now been instructed to wipe down devices with alcohol-soaked tissues after each use.
At a real estate company in Tokyo where 13 people were infected from March to April, the virus is believed to have spread in communal spaces such as restrooms, where employees would brush their teeth standing side-by-side.
"We took extra safety precautions when meeting with clients, but the restrooms were a blind spot," a company representative said.
Meetings, car-sharing increase risk
According to the Cabinet Secretariat, 1,993 infection clusters were detected nationwide in May. Of these outbreaks, 191 occurred in corporate, governmental, and other offices. The figure made workplaces the second most common incubator of clusters after the 237 reported in nursing homes and welfare facilities, edging out the 183 clusters reported in restaurants and karaoke bars, as well as the 150 logged in schools.
More than 30 people were infected in one workplace alone. The office had an employee who was feeling sick but still coming to work. Also, it neglected to install partitions or disinfect shared equipment, despite mandating mask-wearing and banning conversation in the lunch room.
Another workplace took a more fastidious approach to basic countermeasures, such as monitoring employees' temperatures at morning roll call and airing out the office every 30 minutes, but still could not prevent the virus from leaping across multiple building floors.
Commuters accounted for 132 of the 356 new infections confirmed by Tokyo's Kita Ward in April. The ward's public health center found that 33 of these 132 cases, exactly 25%, involved prior workplace contact with people who had subsequently tested positive for the coronavirus. The ward believes that meetings and training sessions with infected colleagues became a vector of transmission, as well as prolonged travel by train and car on business trips.
​"When people converse in close quarters, masks are not always going to be enough to prevent infections," said Hideo Maeda, 65, head of the Kita Ward public health center. "I want to urge people to limit the amount of time they're spending in unventilated meeting rooms or crowded cars, to the extent possible."
​Satoshi Hori, a professor at Juntendo University who specializes in infection control and prevention, called for the government to take action. "After putting partitions and ventilation rules in place, workplaces still need to ensure their effectiveness by monitoring carbon dioxide levels," Hori said. "The government should not leave these safety measures up to companies, but should instead actively provide concrete examples of appropriate steps and confirmation methods."
Add TheJapanNews to your Google News feed.