Vaccination of Japan medical personnel running into multiple problems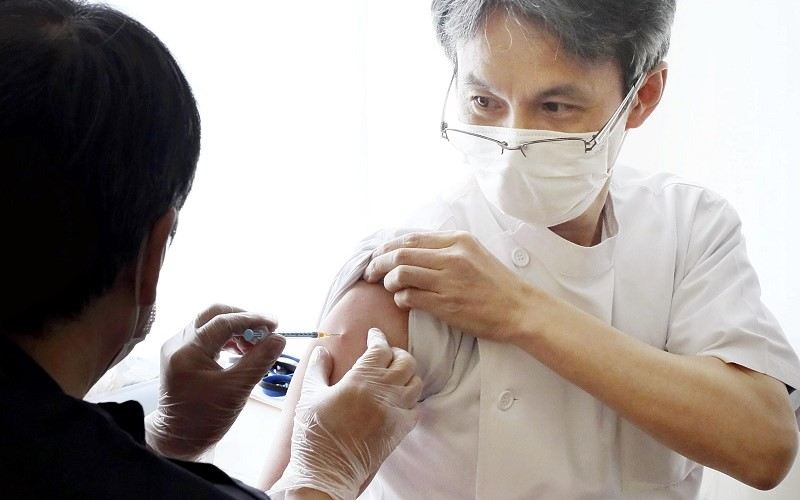 9:22 JST, May 4, 2021
The vaccination of medical personnel against COVID-19 has not progressed as expected, due chiefly to delays in the vaccine supply and inflexibility regarding its implementation.
The central government has not allowed surplus vaccine at hospitals and other inoculation sites to be shared with other facilities, in light of the fact that it must be stored at extremely low temperatures. To enhance the treatment of people infected with the novel coronavirus and the vaccination of the general public, including elderly people, it is first of all necessary to swiftly vaccinate medical personnel.
Yet-to-be inoculated doctors
"If I get infected [with the novel coronavirus], I may infect others. I vaccinated nursing home residents while worrying about that possibility," said Hideo Nakazawa, the 77-year-old head of a nursing care facility for the elderly in Hirano Ward, Osaka.
All 80 elderly residents at his facility were vaccinated on April 14 or later, but Nakazawa himself was not vaccinated until after the residents. Later, he and some of the staff were given doses from the facility's remaining supply, but other staff members have not been vaccinated, due to limited quantities.
They were to be vaccinated sometime after the Golden Week holidays, he said.
In Osaka Prefecture, there are about 310,000 medical personnel eligible to be vaccinated. As of April 30, however, only 39% of them had been given their first dose, while 21% had received two shots.
Should the vaccination of medical personnel be delayed, there are also fears that it will be difficult to secure enough doctors and nurses to vaccinate elderly people 65 or older, efforts that will get fully underway in the weeks ahead.
"There are medical practitioners who aren't vaccinated yet because they're afraid to go to group vaccination sites where lots of people gather. We hope all medical personnel will be vaccinated somehow or other," said Nakazawa.
In Morioka, Iwate Prefecture, the municipal government had planned to ask a hospital to help inoculate elderly people. However, it was told to wait until the staff members at the hospital were vaccinated.
One factor behind the slower-than-expected progress is a shortage of vaccine supplies.
About 4.7 million medical personnel are eligible to be inoculated, with vaccines earmarked for their first doses to be delivered in five separate batches between February and May. However, deliveries got into full swing only after mid-April.
Kochi Prefecture was short of doses for about 4,000 medical personnel. Even if vaccines already sent there for elderly people were diverted to medical staff, the prefecture would still need supplies for another 1,000 people.
"The shortage seems unlikely to be resolved for some time," complained an official in charge at the prefectural government.
There are also problems with the storing of vaccines.
The vaccine presently being administered to medical personnel was made by Pfizer Inc., a U.S. pharmaceutical company. The Pfizer vaccine needs to be stored at minus 70 C and has to be used within five days after it is thawed.
The vaccine is delivered to hospitals and other sites in boxes containing 195 vials each, equivalent to 1,170 doses if one vial is used to administer six shots, regardless of the order size. As a result, vaccination sites do not receive the exact quantity they need.
The central government has not eased its cautious stance on allowing vaccination facilities to share doses because it will endanger efforts to preserve the vaccine's quality at ultralow temperatures. This also makes it impossible to keep track of vaccines when unexpected circumstances arise. As a result, surplus vaccine cannot be diverted to other inoculation sites that still need doses.
Some local governments have called for a less rigid approach. An official in charge at the Kanagawa prefectural government said, "We're asking [the central government] to respond flexibly so that surplus vaccine can be shared among vaccination sites."
The National Governors' Association asked the central government on April 26 to allow the transfer of vaccines among facilities in addition to swiftly supplying vaccines.
Nobuhiko Okabe, the director general of Kawasaki City Institute for Public Health, said: "There's a limited quantity of vaccine available right now, so local governments have no alternative but to make better choices flexibly. For instance, by diverting vaccines earmarked for elderly people to medical personnel.
"Medical staff engaged in administering vaccines should at least be given the first dose of the vaccine quickly, thereby reducing the risk of infection as much as possible."
Fears of adverse reactions<
Inoculation is believed to be a decisive measure for coping with infections. The government is aiming to complete the vaccination of medical personnel — about 4.7 million people in total — in June, and to finish inoculating elderly people — about 36 million — by the end of July.
With regard to medical personnel, the government plans to deliver enough vaccine to implement two rounds of shots by mid-May. However, it has been confirmed that adverse reactions such as fever have occurred in some cases after the second dose of the Pfizer vaccine.
Medical personnel need to be inoculated while they are treating patients infected with the novel coronavirus and providing ordinary medical services.
An official at one prefectural government said: "There will likely be difficult aspects to moving ahead with the vaccinations all at once because we will have to make efforts not to allow the medical system to be negatively affected even if some personnel experience side effects."
The vaccination of elderly people, which started on April 12, will get into full swing in the days after Golden Week. Enough vaccine for two rounds of shots for all the elderly people in their communities is scheduled to be delivered to all municipalities by the end of June. If the vaccine produced by Moderna, Inc. of the United States is approved, inoculations are expected to accelerate. The Moderna vaccine is being considered for use at large-scale vaccination sites to be set up in late May both in Tokyo and Osaka.
Taro Kono, minister of state for regulatory reform, said at a press conference Friday, "I hope that they [local governments] move ahead with vaccinations, cooperating with local medical associations and others."
Add TheJapanNews to your Google News feed.