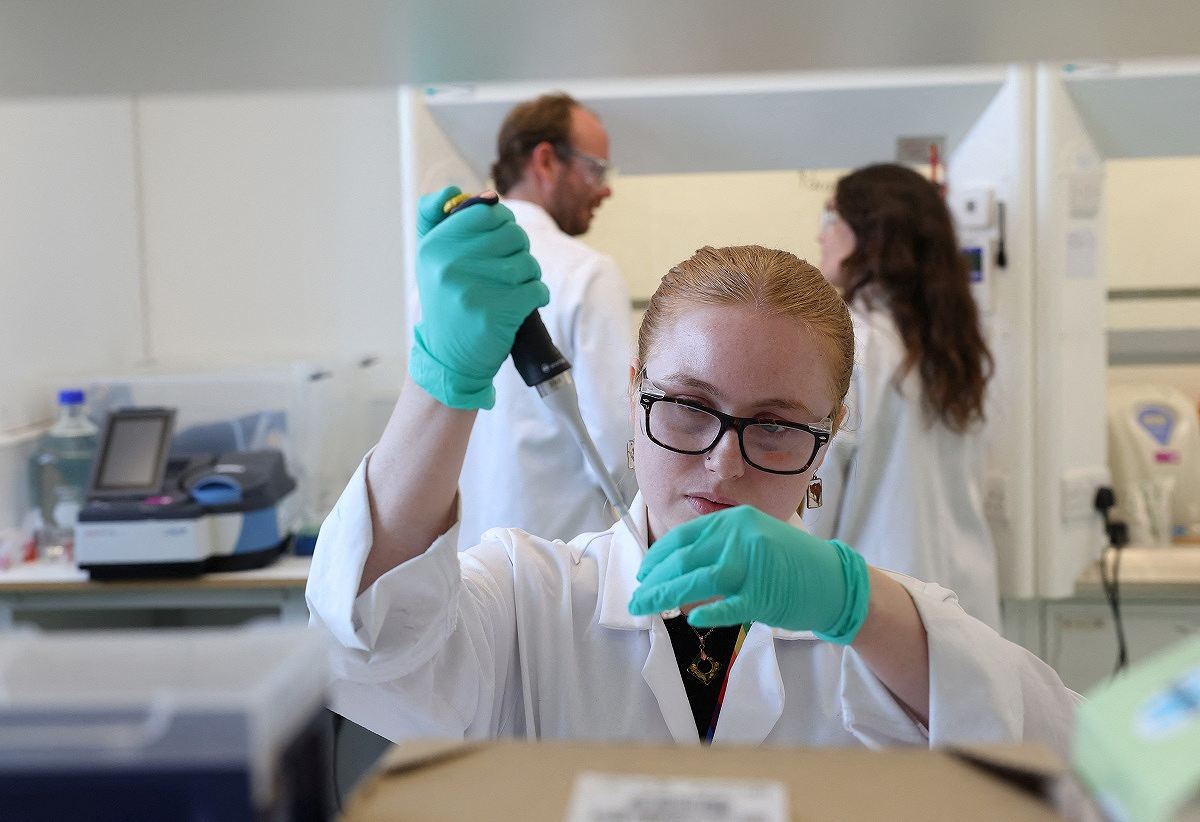 17:11 JST, July 12, 2023
OXFORD, England (Reuters) — For Ros Deegan, the thrill of raising $100 million to expand a biotech firm among the dreaming spires of Oxford was soon tempered: unable to find a bigger laboratory, she routinely had to work at home.
Not far away in the rival academic center of Cambridge, biochemist Catherine Elton, persistently frustrated by similar real estate issues, taught herself how to turn old offices into labs to keep expanding her bioactive protein business.
The two businesswomen in Britain's fast-growing life sciences industry are far from alone.
Property consultants Bidwells put demand for lab space in Cambridge at 110,000 square meters — but only 650 square meters are available. In Oxford, demand stands at 79,000 square meters with just 25,000 ready to go.
The dearth of state-of-the-art labs in the cities is just one example of how a lack of an overarching strategy for Britain's life sciences sector is throttling the growth of some of the country's most promising companies, according to Reuters interviews with 17 people with knowledge of the challenges.
The industry figures, from biotech bosses, property developers, industry sources to investors, all spoke of a growing frustration with the lack of a coherent approach in Britain to everything from lab space to funding, talent, suppliers, affordable homes, transport, water and power.
At a time of rapid innovation, when the United States and the European Union are spending heavily to help businesses shift faster to newer technologies in the next wave of industrial transformation, they say that Britain risks falling behind.
"It's a huge barrier when you're trying to set a company up and you can't actually find a lab for it," said Elton, founder of Qkine. She said the latest office conversion took up more than 20% of her firm's time in the year before it opened.
Deegan, meanwhile, counts herself lucky that OMass Therapeutics, the drug discovery company she runs, only had to wait a year from raising funds to moving to a larger site.
"I couldn't go to work because there just wasn't a place to sit. You'd end up in the kitchen," the chief executive said.
'Death by a thousand cuts'
Life sciences is meant to be one of Britain's most important sectors. Generating £94 billion ($118 billion) in 2021 and employing more than 280,000 people, it enables the government to boast Britain is on its way to becoming a "science superpower."
In biotech, Britain lags only the United States in activity, according to consultants McKinsey, driven by the discoveries that come out of colleges in Cambridge, London and Oxford, and aided by a centralized health system for clinical trials.
That has led to an explosion in venture capital, with much of it coming from the United States. But in the small cities home to ancient universities — and strict planning laws — the delivery of new infrastructure has failed to keep pace.
While developers say capacity is expected to improve in the coming years, companies in Britain specializing in areas such as cell and gene therapies, genomics and synthetic biology may be failing to reach their full potential, many experts say.
Diarmuid O'Brien, head of Cambridge Enterprise which works to commercialize research at the university, said the current environment led to "death by a thousand cuts" as many spin-outs were sold to U.S. companies, or moved across the Atlantic.
Humira, for example, one of the world's bestselling drugs owned by U.S. company AbbVie, was based on technology that emerged from Cambridge. Illumina, a U.S. firm with a market value of $33 billion, has a DNA sequencing approach also discovered at Cambridge at the heart of its technology.
Britain's Prime Minister Rishi Sunak's government has acknowledged there's a real estate problem and is looking to reform planning rules, asking local authorities to take research and development needs into consideration when assessing applications.
"Only last month [in May] we announced more than £100 million to provide world-class lab space to help unlock U.K. researchers' full potential," a government spokesperson said, referring to funding designed to upgrade infrastructure and equipment.
Record rents
The race to develop and retain new technologies is taking place across the world, with Western governments such as France touting cheap power and fast-track planning systems to attract next-generation industries such as battery gigafactories.
Gordon Sanghera, who was determined to list his Oxford Nanopore Technologies in Britain, told Reuters he often thought the country's success was in spite of the support available, not because of it, and Britain needed to realize it was in competition with others.
The lab shortage is not only driving up rents to record highs — Bidwells says they rose 25% for purpose built lab space in Oxford in 2022 — but it also means access to laboratories can become a defining issue in whether a company succeeds or not.
To meet its full potential, Britain's biotech industry says it needs small companies to be able to access shared laboratory space on decent rents with flexible leases, before they can move to independent labs with the potential to expand.
Company founders also say they want to be as close to the heart of academic centers as possible — rather than on more distant science parks — so they can tap into the cluster effect that comes from sharing experiences and contacts, take advantage of existing transport links and recruit talent more easily.
Michael Chen moved to Cambridge from the United States in 2012 to do a doctorate in chemistry. He later formed Nuclera with two PhD colleagues to improve the accessibility of proteins for research and drug discovery.
He said Cambridge offered a cheaper location for drug discovery than the U.S. city of Boston, the world's leading hub, due to lower rents and salaries, but a lack of growth capital and space meant it struggled to scale up those businesses.
The fact many scientists spend time overseeing the refit of an old building puts off executives who have raised funds and floated spin-outs before, he said. "They'll just move to Boston and make their life easier."
'Not keeping pace'
Laboratory developers say more space is in the works but the challenge of building vast modern labs in densely built university cities cannot be ignored.
"They're fundamentally quite small cities, going through extremely rapid rates of growth," said Artem Korolev, head of developer Mission Street.
Anna Strongman agreed. She leads a joint venture between Oxford University and Legal & General to build lab space and homes. Strongman said the industry needed to address the impact new projects would have on housing, traffic, power and school places to keep the local community onside.
But to go further, with more homes and train lines, would require greater government input.
"We are a country that doesn't have a growth solution, and there is one in Oxford," she said. "There is amazing potential."
Pioneer Group, which provides funding and lab space in Britain, said action was needed now to address the "crazy" demand. "If planning takes years to come through, then the opportunity will potentially have been lost," Executive Director Glenn Crocker said.
Alistair Cory, a director at Oxford's Begbroke Science Park, welcomed the government's renewed focus on support for the life sciences sector, saying a leadership vacuum in recent years had resulted in glacial progress.
"We're not keeping pace with those who are accelerating faster around us, whether that's North America, or parts of Europe, or parts of Asia and particularly China," he said.
Back in Cambridge, Qkine's Elton is resigned to wrestling with another real estate challenge in the near future.
"Every two years or so, if you're successful, you need to move, and that's just disruptive," she said. "It affects the speed at which you can grow."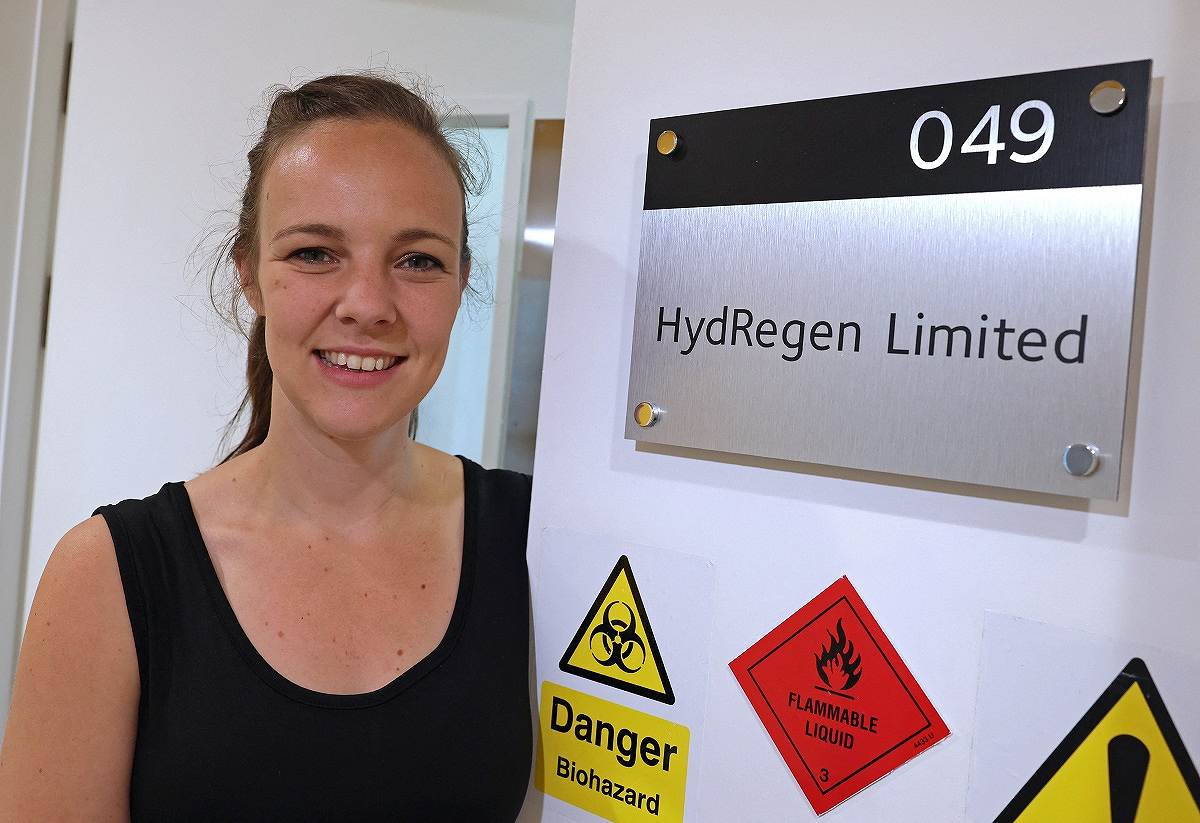 Add TheJapanNews to your Google News feed.