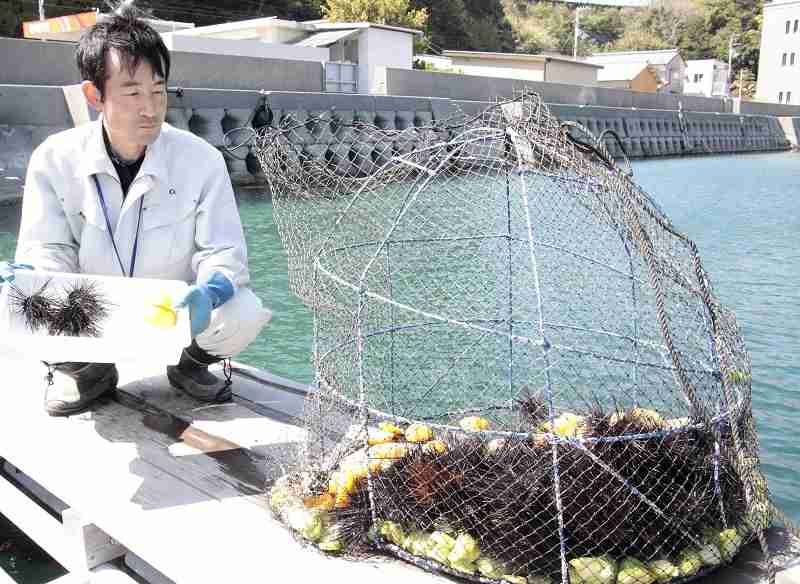 17:59 JST, June 15, 2021
MATSUYAMA — Sea urchins are considered to be the main culprit behind the disappearance of kelp forests in local fishing areas. These echinoderms, which create desolate seafloor areas called urchin barrens by consuming large amounts of kelp, are now being caught and farmed.
An effort to use local resources, such as feeding the urchins citrus peels that normally would have been thrown away, has been drawing attention as an effective way to protect the marine environment and vitalize the fishing industry.
Hints of citrus
Yosuke Shimizu, a town official of Ainan, Ehime Prefecture, raised a metal basket in a fishery in the Uwakai sea to reveal black longspine urchins eating peels of the bankan citrus brand Ainan Gold, a local specialty, and broccoli stalks. In November 2018, the town began experimenting with farming the animals in cooperation with Ehime University.
Sea urchins that do not have a lot of kelp in their diet have thin, lean meat with a strongly bitter, astringent flavor. The black longspine urchin population has grown along the coast in recent years as the water temperature has risen, injuring divers with their venomous spines and creating urchin barrens.
A lack of kelp makes such high-quality sea urchins as green and purple sea urchins no longer edible.
During the experiment, unsellable Ainan Gold citrus provided by local agricultural cooperatives are fed to the urchins once or twice a week. Within one to three months, the urchins became more meaty, sweet and had a citrus flavor.
About 2,000 to 2,500 sea urchins are raised in the fishery, and some have been served at local restaurants since last December. The town aims to stabilize shipment volumes and market the urchins as a brand called "Citrus-Flavored Unikkori," combining uni, the Japanese word for sea urchin, and broccoli.
"They taste good and are always selling out," Shimizu said. "We want to make them our new local delicacy and revitalize our aquaculture industry."
Cabbage Sea Urchin
Taking advantage of the fact that they are omnivorous, the Kanagawa Prefectural Fisheries Technology Center first came up with the idea of using vegetables to farm sea urchins six years ago.
After trial and error, the center tried feeding them cabbage, the prefecture's specialty, and found that the meat became sweeter.
Last year, the prefecture trademarked "Cabbage Sea Urchin," which are farmed by local fishermen's cooperatives and sold for ¥300 to ¥400 apiece.
Most of the sea urchins on the market are wild, and more than 90% of those are from Hokkaido and the Tohoku region. However, the animals can be farmed anywhere at a low cost.
"We get a lot of visitors and also received inquiries from people outside the industry, such as from printing companies," said Kazushige Usui, a senior researcher at the center.
Urchin farming has spread nationwide. In 2019, Kindai University took purple sea urchins that were going to be discarded and fed them mikan orange peels and other foodstuffs at an aquarium in Shirahama, Wakayama Prefecture. These urchins became known as "Kindai sea urchins."
In Shimonoseki, Yamaguchi Prefecture, which is said to be where the idea of preserving sea urchin meat in jars or bottles originated, the city government and local banks formed a so-called Shimonoseki Univasion council to promote sea urchin cultivation. The city's urchins are fed tomatoes and other foodstuffs.
Urchin barrens
Kelp forests provide ideal habitats for fish and shellfish, and they also help purify the water. However, according to a national survey, kelp forests have shrunk. In 2016, there were only 126,000 hectares left nationwide, a fall of 40% compared to 40 years ago. It is thought that sea urchins are to blame for a quarter of the damage, which could seriously impact fisheries.
The Fisheries Agency supports local governments in expanding and conserving kelp forests, as well as the removal of sea urchins, and even subsidizes such efforts.
"Using vegetables that would have otherwise gone to waste to feed sea urchins is environmentally friendly and also helps raise awareness about urchin barrens," an agency official said. "The agency will establish a system in which farming, processing and marketing sea urchins can be made into a business."
Add TheJapanNews to your Google News feed.