Raicho rock ptarmigan breeding project succeeding across Japan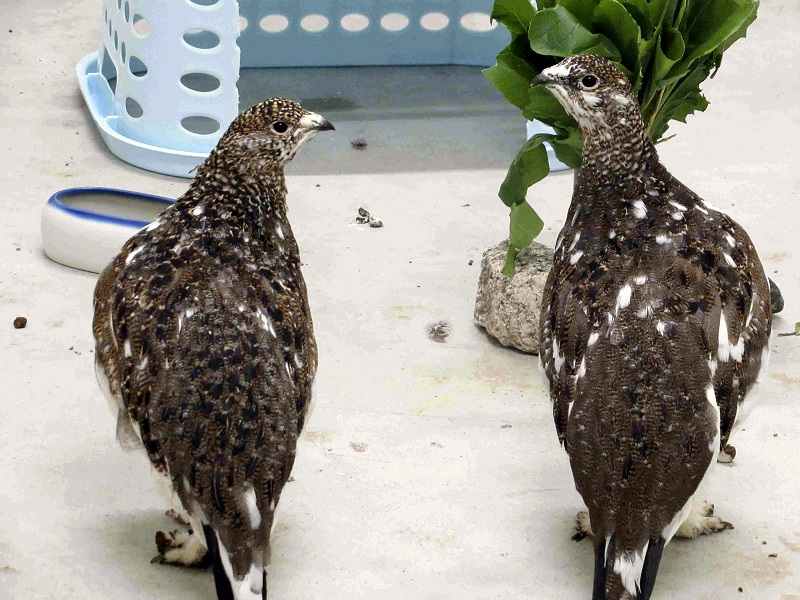 7:00 JST, April 13, 2022
A project to breed Japanese rock ptarmigan, a bird species designated by the central government as a special natural treasure, is proceeding smoothly.
With a large increase in bred birds compared with six years ago, the Tokyo-based Japanese Association of Zoos and Aquariums, which is in charge of the breeding operations at seven facilities around the country, has begun considering an increase in the number of these facilities.
The birds are currently on view to the public at six facilities. An increase in breeding facilities is expected to provide more opportunities for the public to view the rare birds known as raicho in Japanese, literally meaning "thunderbird."
The number of rock ptarmigan, which live at an altitude of at least 2,200 to 2,400 meters, fell from about 3,000 in the 1980s to less than 2,000 in the 2000s as their habitat decreased due to global warming. It then became easier for enemies such as monkeys to invade their habitat.
The Environment Ministry and JAZA launched the breeding project in May 2015, and have been carefully raising the species. JAZA established standards for breeding, such as requiring the handlers to wear protective gear and disinfect the birds' food. Efforts were made to minimize the risk of the birds contracting an infection at facilities located in the lowlands, where various bacteria can easily multiply.
Thanks to these efforts, the number of adult rock ptarmigan bred increased to 72 in 2021 from 3 in 2015. Another effort will start during the April-March fiscal year to introduce some of the adult rock ptarmigan into the wild.
As only about 80 rock ptarmigan can be bred at the seven facilities, JAZA said it will ask zoos and facilities that have been involved in raising related species if they can help with breeding operations.
The association will review the breeding standards this fiscal year and relax rules, if not completely remove them, including those on protective gear and handling bird food, in order to encourage the participation of more facilities in the effort.
"We hope more facilities will be able to breed the birds," said Yuki Akiba, 41, a veterinarian at Toyama Municipal Family Park Zoo and JAZA's rock ptarmigan project manager.