11:42 JST, September 27, 2021
NARA — The site of an ancient imperial palace is also one of Japan's largest resting places for swallows.
It is impressive to see the hard-working swallows in early spring, when they make their nests in the eaves of houses and stores and carry food for their chicks. But in summer, after they have finished raising their young, the birds show a different side. En route to the south for the winter, huge numbers of swallows pass the night together in reed fields and similar places near water.
The site of Heijo Imperial Palace in Nara, the 8th-century capital of Japan, is one such place. In peak times in July and August, up to 60,000 swallows fly in the evening dusk.
Wondering why they stay in such a place, I decided to take a look.
Covering the sky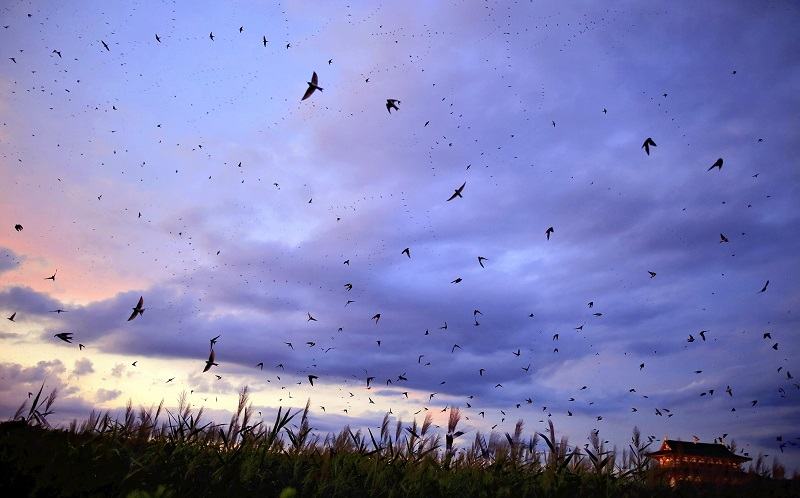 Near sunset one day in mid-August, I was standing by a palace site, my heart beating quickly. I was in the northwest of the precincts of Daigokudenhall. About 2,000 square meters of reed fields stretched before me.
Shortly before 7 p.m., when the bright glow of the sunset turned to twilight gloom, dark spots filled the sky. As soon as I could hear chirping voices, a surprising number of swallows covered the sky.
The birds nosedived to just two to three meters above the ground only to veer upward before gradually landing in the reed fields. I felt like if I stretched my arm, I could touch them.
There are swallow resting places in many parts of Japan, but people from Tokyo and even from Hokkaido have visited Nara to see this spectacle, according to Akiko Iwai, a member of a local citizens group that studies swallows' resting places.
"I think it's impossible to see the birds so closely anywhere else in Japan," she said.
Business hotel for swallows
Swallows come mainly from Southeast Asia just as the cherry blossoms are in bloom in Japan. When they have finished raising their chicks, many make short stops at resting places across the nation on their way back to the south. Experts believe they spend the night in large groups to defend against natural enemies or help each other find feeding sites.
"We can liken this place to a business hotel for swallows. Tomorrow, another flock of swallows will come," said Ichiro Nakamoto, a member of the Nara branch of the Wild Bird Society of Japan. He has been observing swallows for about 30 years.
It is hard to predict when the birds will arrive, as they come even during typhoons. "Some days there are swarms of them; some days only a handful," Nakamoto said. I managed to witness a swarm after my third visit.
About 30 years ago, no more than 12,000 swallows stopped in the site of Heijo Palace. As the years have gone by, more and more have stopped there.
"Swallows come here maybe because other resting places have disappeared due to developments and such," Iwai said.
Casual bird watching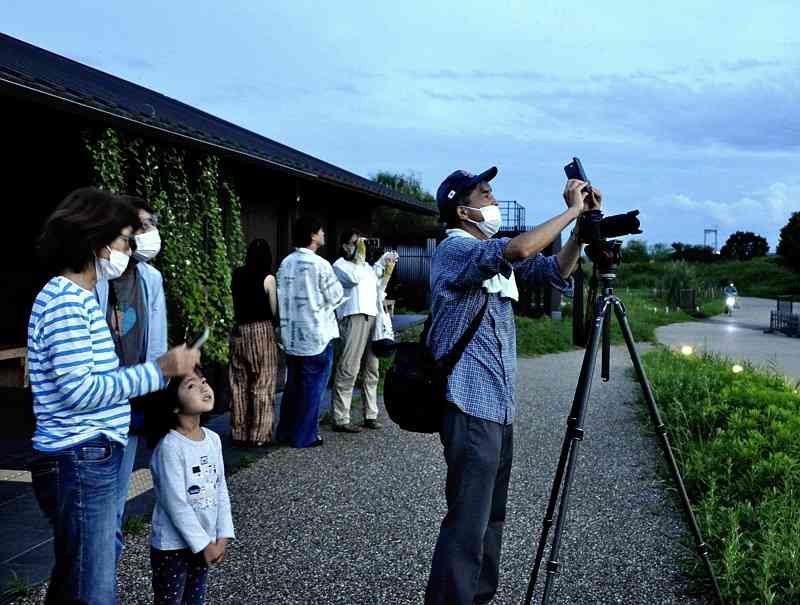 Heijo Palace is in a busy city district close to train stations and department stores. People who want to observe swallows can easily go there compared to other resting places. One day, nearby local residents came to view the birds while enjoying cool winds in the evening.
Nakamoto and Iwai also live near the site to observe the swallows. They have visited every day during the swallows' gathering seasons for the past 10 years, posting their observation results on the internet.
Keiichi Ogawa has used their records in his hobby photography for six years. The 74-year-old man has taken photos of swallows two or three times a year at Heijo Palace every summer.
"When I saw the birds for the first time, I was impressed that such a thing was happening in an urban area," he said.
A science teacher at an elementary school also regularly visits the site.
"I want to teach children that there's such natural activity in a place close to their daily life," said Naoto Nakano, 37. He plans to use what he sees at Heijo Palace as a topic for his classes.
"Heijo Palace is part of a World Cultural Heritage site, but I think it is also a natural heritage," Nakano said.
Grass fields in front of me and an unobstructed sky — I couldn't help but nod at his remark while admiring an environment well suited for resting swallows.
There are two resting places for swallows at the Heijo Imperial Palace site: Around Daigokuden hall in the northwest of the precinct, and around Tamate Gate in the southwest. Flocks of swallows use each site. The former site is better for observing the birds because visitors can see them from a spot in front of the Information Center for Reconstruction Project.
Extend your trip!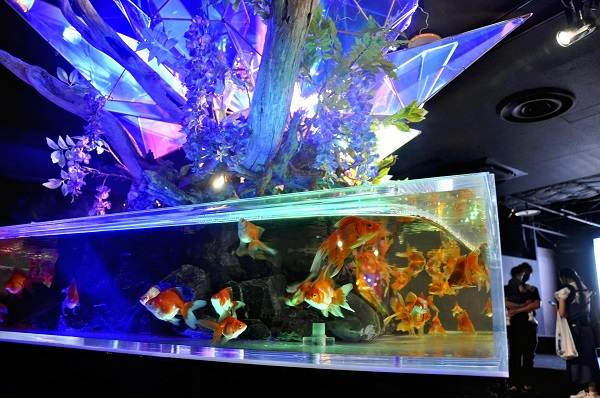 Nara Kingyo Museum (Goldfish museum)
About 2,000 goldfish of 38 varieties are displayed in spaces decorated by stained glass, mirrors and lights. A diamond-shaped aquarium is illuminated by a mirror ball as if the space were a disco. Goldfish images are projected on the wall swimming in the scenery of the four seasons and other scenes. The goldfish were raised in Yamato-Koriyama, a neighboring city of Nara — one of the most famous producers of goldfish in the nation. The museum is on the fourth floor of the Minara commercial facility building. Admission is ¥1,200 for adults. Business hours and closing dates are available on the official website.
Add TheJapanNews to your Google News feed.