Japan Fisheries Industry Receives Support from Public and Private Sectors; Prices Lower than Last Year Due to Treated Water Release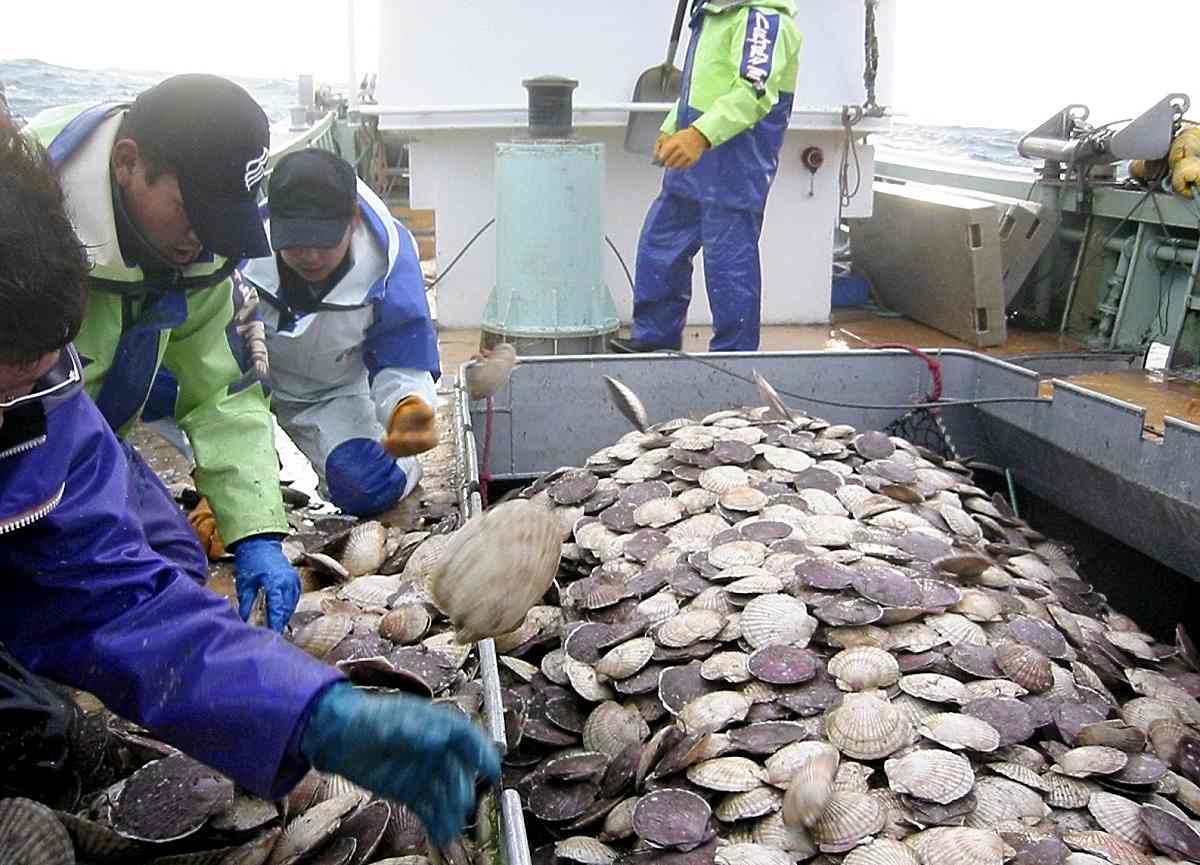 20:00 JST, September 23, 2023
Both public and private sectors are increasingly trying to support fisheries businesses that lost sales channels due to China's import ban on all Japanese seafood, as Sunday mark one month since the start of the discharge of treated water from the Fukushima No. 1 nuclear power plant. However, there is no prospect of China lifting the import ban and some voice concern that the impact of the ban could be prolonged.
On Satofull, a portal site for the furusato nozei system, in which taxpayers pay a portion of their taxes to a local government of their choice and receive specialty products of the area, the number of tax donations in the category of "fish, shellfish and other marine products" from Sept. 4 to 17 increased by more than four times from a year earlier. The town of Namie in Fukushima Prefecture received 157 donations in August, nearly six times higher compared to the same period of the previous year. The town also has received encouraging messages such as "Don't let the reputational damage get you down." A town official said, "We are very grateful for all the support. We are very encouraged."
Hokkaido scallops are one of the main seafood products exported to China. On Friday, Kura Sushi Inc., a sushi restaurant operator, began selling nigiri sushi using Hokkaido scallops for ¥280 including tax at 540 Kura Sushi locations across Japan. Watami Co. offered dishes using Hokkaido scallops at its izakaya bars until Wednesday.
Ito-Yokado Co.'s volume of Hokkaido scallops increased about 1.5 times while the price is 20 to 30% cheaper compared to September last year. Aeon Co. has an expanded Hokkaido scallop corner at about 350 of its grocery stores until Sunday.
The central government has compiled an emergency relief package totaling ¥100.7 billion for the fisheries industry and is ready to fully provide support for those affected. While the government has started a program of providing aid to businesses that purchase and store seafood products with nowhere to go in freezers, only one business has been selected.
The Agriculture, Forestry and Fisheries Ministry calls for the cafeterias in ministry and agency buildings to offer menu items using domestic seafood. The Defense Ministry plans to actively use domestic seafood at camps and bases of the Self-Defense Forces across Japan.
The U.S. Embassy to Japan has begun helping fisheries businesses in Hokkaido and the Tohoku region. As in the past, Japanese scallops have been processed in China and then exported to the United States and other countries, the U.S. embassy introduces processing facilities registered to the U.S. Food and Drug Administration located in Taiwan, Thailand and Vietnam to enable Japanese fisheries businesses to export their products to the United States smoothly.
Regarding the release of treated water into the ocean, Chief Cabinet Secretary Hirokazu Matsuno said at a press conference Friday, "Calm responses based on scientific knowledge have been spreading across the world." However, there is no sign of a breakthrough in the situation.
According to a survey conducted by Hokkaido's regional office for areas facing the Sea of Okhotsk on 93 scallop processing companies within its jurisdiction in early September, 80% of the 54 companies that responded said that they were affected by the import ban "significantly" or "modestly." The Okhotsk region revitalization committee submitted an emergency request calling for financial and other assistance to Agriculture, Forestry and Fisheries Minister Ichiro Miyashita on Thursday.
As the excess stock of scallops is becoming an issue, the ministry is considering support measures such as transporting scallops to other regions.
Koichi Ito, the mayor of Sarufutsu Village, Hokkaido, where scallop fishing is widely conducted, said, "If the import ban continues for a medium and long-term period, the village will have difficulty securing its budget."
Add TheJapanNews to your Google News feed.