Japan Policymaker Aso Stresses Importance of Japan-Taiwan Ties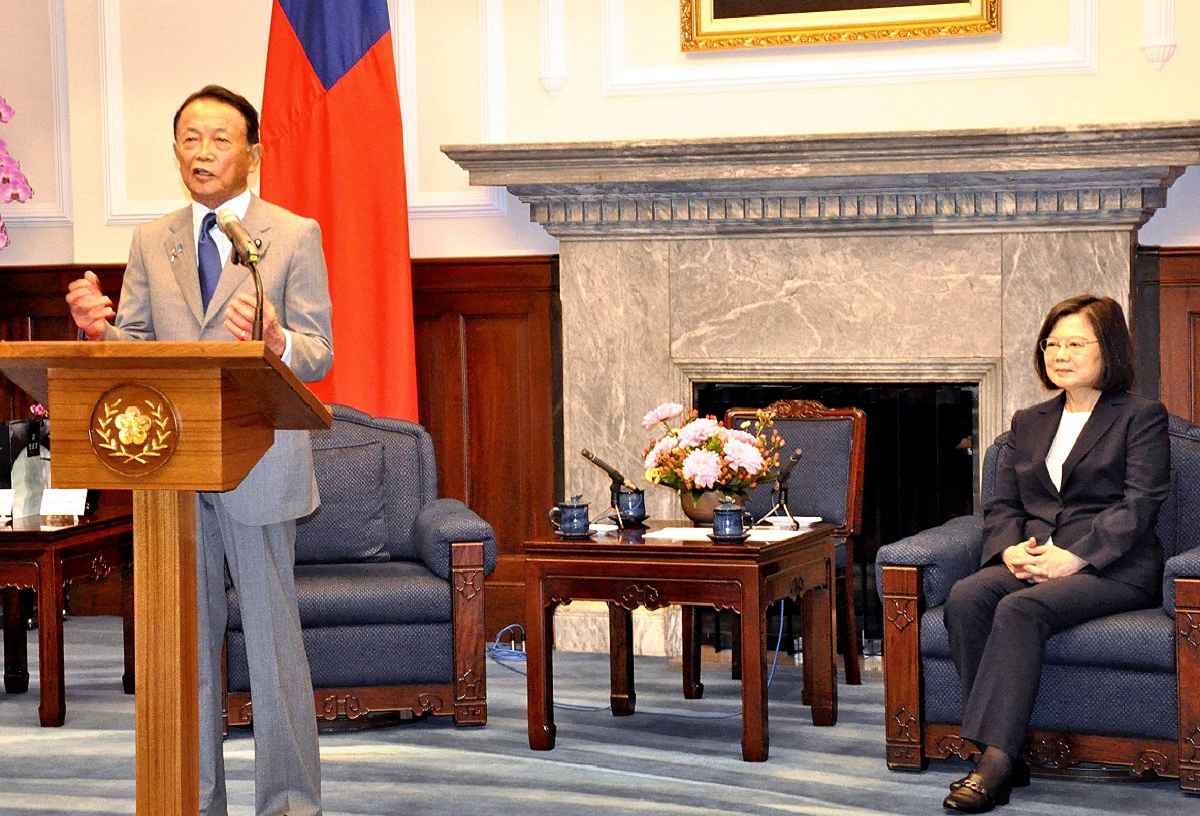 1:00 JST, August 10, 2023
TAIPEI — Liberal Democratic Party Vice President Taro Aso on Tuesday shared concerns with Taiwan President Tsai Ing-wen and Vice President Lai Ching-te over a possible contingency involving Taiwan, while stressing the importance of solidarity between Tokyo and Taipei.
Aso is reportedly keen to use lawmaker-led diplomacy to strengthen relations between the two governments — which have no official diplomatic links — with an eye on stabilizing the East Asian region.
"There has long been strong will within the LDP to properly maintain Japan-Taiwan relations, even after the severance of formal ties [in 1972]," Aso said during his meeting with Tsai.
Based on LDP records, Aso is the first incumbent LDP vice president to make an official trip to Taiwan since Tokyo cut links with Taipei, and the highest-ranking member of the LDP to pay a formal visit to the island.
"I sincerely hope I can help foster a relationship of trust between Japan and Taiwan," Aso said. Tsai expressed her gratitude for the expression of support.
Taiwan is scheduled to hold a presidential election in January. In this connection, Aso has also striven to build relationships with the election candidates with the aim of further stabilizing Japan-Taiwan relations.
On Tuesday, Aso lunched with Lai, who is expected to run for president as a member of the ruling Democratic Progressive Party (DPP).
Aso, who is known for being pro-Taipei, has repeatedly spoken of Taiwan's importance since his time as finance minister and deputy prime minister under former Prime Minister Shinzo Abe, who advocated the concept of a free and open Indo-Pacific.
In a 2021 speech, Aso stated that a contingency in the Taiwan Strait would be viewed by the Japanese government as a "situation that threatens Japan's survival" under security-related laws, allowing for Japan to exercise its limited right of collective self-defense.
"The LDP has had scant relations with Taiwan political parties except for the [largest opposition Nationalist Party] Kuomintang, but we need to build connections with the DPP, which has been accumulating experience as a governing party," Aso said after the meetings.
---
Add TheJapanNews to your Google News feed.