Lawmaker's Lies about Tokyo Hostess Club Affair Further Batter LDP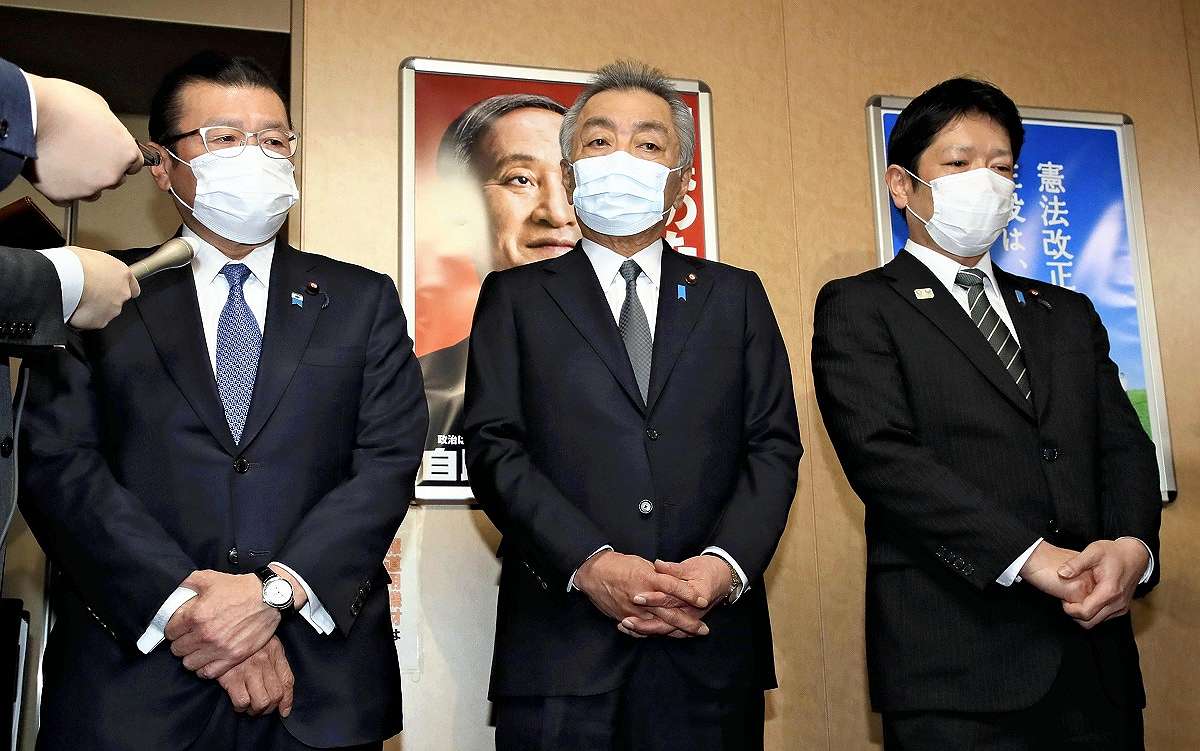 16:22 JST, February 2, 2021
The ruling coalition of the Liberal Democratic Party and Komeito misjudged how intense the public's backlash would be toward their party members staying out late at Tokyo hostess clubs during the state of emergency.
The parties' response in dealing with the situation, when the public has been urged to refrain from going out, was tardy and inadequate, further widening the wound felt by the ruling coalition.
Those involved in the late-night excursions to hostess clubs in the Ginza district were three LDP lawmakers — including Jun Matsumoto, former head of the National Public Safety Commission — who are being forced to resign from their party, and Komeito's Kiyohiko Toyama, who resigned from the Diet on Monday after earlier relinquishing his post as the party's acting secretary general.
Matsumoto stood in front of reporters at LDP headquarters in Tokyo on Monday afternoon with Takashi Otsuka and Taido Tanose, the LDP lawmakers who were discovered to have been with him at the hostess club. The three had just submitted a notice of withdrawal from the party to LDP Secretary General Toshihiro Nikai.
"I was trying to cover up for these two who have a bright future," Matsumoto said by way of explaining why he had originally lied that there were no other members of the Diet in attendance with him.
Tanose, who had visited the Prime Minister's Office prior to the party headquarters, said he had been "severely reprimanded by Prime Minister Yoshihide Suga" and had been removed from his position as state minister of education, culture, sports, science and technology.
Otsuka also had to resign as the director of a House of Representatives Rules and Administration Committee.
Matsumoto's response to and the LDP's handling of the Ginza hostess club issue wavered continuously.
When the issue came to light on Jan. 26, Matsumoto made it clear that he had no intention of resigning from his post as acting chairperson of the LDP's Diet Affairs Committee. The party tried to quash the issue with a stern warning, but when it saw that public criticism would not abate, it decided on Jan. 29 that Matsumoto had to leave his post.
After that, information spread that there were other members of the Diet in attendance.
When Komeito's Toyama announced his intention to resign from the Diet, the consensus within the LDP was that, to protect the party, it couldn't afford to cover up for Matsumoto and had no choice but to take harsh measures.
LDP executive members then decided that the three members had to be expelled from the party.
Nikai, who had consoled Matsumoto when he offered to resign from his post, shunned him this time.
"Circumstances have changed since the initial explanation," Nikai said.
The punishment was unusually severe, but a senior LDP member said: "It's bad enough that he lied. It's already too late to impose a harsh punishment."
With the Tokyo Metropolitan Assembly election coming up in July and the House of Representatives election to be held by autumn, the LDP is already facing harsh headwinds.
In Sunday's election for mayor of Chiyoda Ward, Tokyo, a candidate nominated by the LDP and Komeito was defeated by a candidate nominated by regional party Tomin First no Kai. On the same day, six LDP candidates were also defeated in the Kitakyushu City Assembly election.
A former cabinet minister from the LDP said, "We have to break this awful trend, but I can't find anything that will help us get back on track."
Add TheJapanNews to your Google News feed.