Survivor of 2022 D.C. Sniper Attack Sues Gunmakers over Military-Style Ads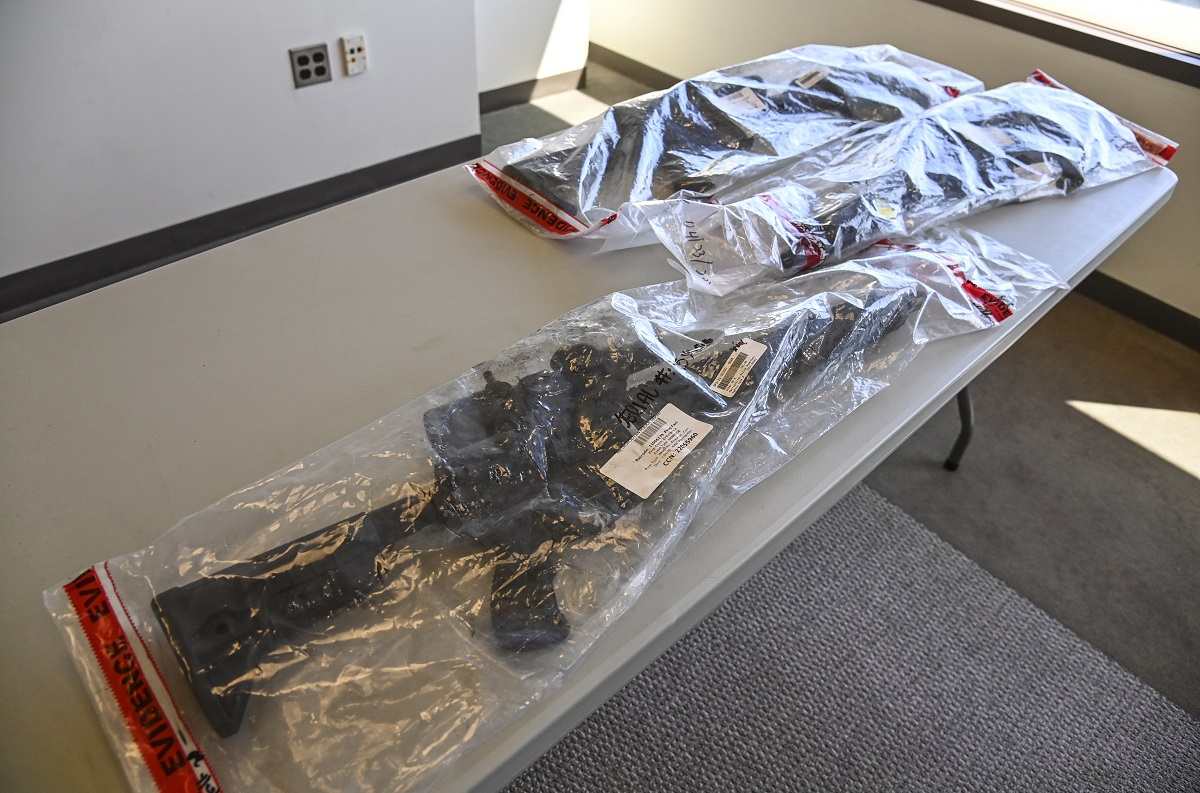 12:57 JST, October 3, 2023
A Maryland woman who suffered gunshot wounds in a sniper attack last year outside a D.C. school filed a lawsuit over the weekend against several gun manufacturers, alleging that their marketing practices glorify violence and contribute to an epidemic of mass shootings.
Karen Lowy was sitting in an SUV on the afternoon of April 22, 2022, waiting to pick up her daughter, a student at the Edmund Burke School in Northwest Washington. A heavily armed 23-year-old shooter began firing at the school from inside a fifth-story apartment nearby, injuring four people before he fatally shot himself as police closed in on him. In all, he fired at least 239 rounds, authorities said.
Lowy was shot multiple times, "twice resuscitated by emergency medical teams" and treated for life-threatening injuries, according to her lawsuit, filed in U.S. District Court in Alexandria. Lowy's daughter was not injured but had to seek cover for hours and continues to suffer emotional distress, the lawsuit says.
Victims of mass shootings and their families have filed similar lawsuits against gun manufacturers in recent years, arguing that their ad campaigns flout state or federal laws by depicting military-style operations and inspiring young men to amass dangerous weapons more suited for war than civilian life.
Last year, the families of nine victims of the 2012 Sandy Hook Elementary School massacre reached a $73 million settlement with Remington Arms, the now-bankrupt manufacturer of the Bushmaster rifle, after arguing that the company's marketing was "targeted to those who want to appear more intimidating, more powerful and more masculine though their use of their AR-15s."
Elizabeth Lockwood, an attorney for Lowy and her daughter, said they are seeking unspecified monetary judgments against more than a dozen companies that manufactured the guns, accessories and ammunition found in the shooter's D.C. apartment, which police described as a "sniper's nest."
The lawsuit alleges that the manufacturers Daniel Defense, of Georgia; FosTech, of Indiana; and Bravo Company USA, of Wisconsin, contributed to the shooting because they "continue to intentionally and recklessly advertise, market, promote, and sell a warrior mentality that a certain subset of youths, like this shooter who live-streamed his crime, fantasize will make them legendary." (Video of the April 2022 shooting was posted on the online message board 4chan.)
Daniel Defense, FosTech and Bravo Company USA did not respond to requests for comment.
According to Lowy's lawsuit, Daniel Defense uses social media hashtags such as #GunPorn and taglines such as "MK18 Monday" and "Saturdays are for the boys" to market its firearms in print, Facebook and Instagram ads that also feature "imagery of combat soldiers in the field of war, and men in military fatigues."
The firearms manufacturers could take steps to warn consumers about the risks of assault rifles, or implement age restrictions on users hoping to view their social media accounts, but have not done so, Lowy alleges.
"Rather than take steps to curb their influence on a demographic susceptible to their disturbing advertising, manufacturers have doubled down on their despicable marketing practices," Lockwood said. "This lawsuit seeks to stop the cycle, and ensure these manufacturers are held accountable."
Authorities have said the shooter had legally purchased four high-powered rifles equipped with scopes, two handguns and more than a thousand rounds of ammunition. Other companies that make gun accessories or ammunition are also named as defendants.
The lawsuit was filed in Virginia because the shooter, Raymond Spencer, lived in a Fairfax County apartment and stockpiled guns and ammunition from Northern Virginia retailers before carrying out the attack from a second apartment he had in D.C., attorneys said.
Add TheJapanNews to your Google News feed.