In One Suburb, a Backlash against Homeowners Renting Out Private Pools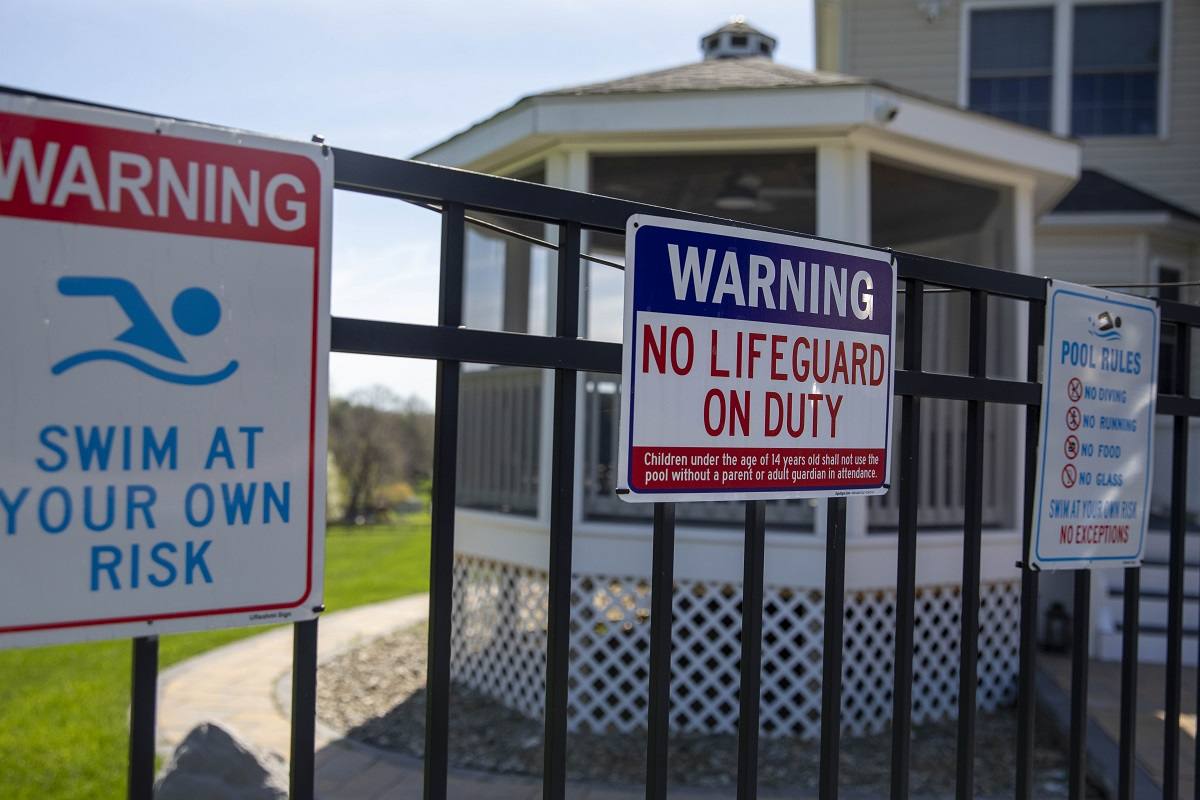 12:42 JST, May 29, 2023
Parents shepherding swimsuit-clad tots toward a backyard birthday party. Peals of laughter from kids running past an open window, wreathed by blowup floaties and wrapped in dripping towels. The splash of a cannonball in the deep end.
The sounds of summer fun ripple up from ads for Swimply, an app that allows homeowners to rent out private pools to strangers looking to enjoy cool water under the hot sun. But that seasonal chorus has sharply divided suburban residents of Montgomery County as the local government considers formally regulating the short-term amenity rentals – potentially becoming the first in the nation to do so.
The move shifts the front line of debate over the sharing economy's frontier to handsome homes and manicured lawns of enclaves just across the D.C. line, where debate about ownership and rights has at times careened into uncomfortable territory. Neighbors have spied on neighbors, reporting unwanted outsiders flocking to their quiet residential streets.
"Our entire block has been disturbed," Constance Kiggans, a Chevy Chase resident, said in written testimony to the Montgomery County Council. "It is, for all intents and purposes, like having a pool club on the street."
It is only mid-spring, but already dozens of pools in and around Maryland's most populous county have been listed for rent on Swimply, which launched in 2020 as people sought alternatives to public pools that shut down because of the pandemic on the heels of the wild success of apps like Airbnb and Uber. Hosts set hourly rates anywhere between $25 to $100 an hour to access private backyard pools that bypass lines and crowds.
Unlike long-established home rental and ride sharing apps, newer apps that let people rent out their pools, home gyms and backyards have largely been unregulated across the United States so far. In fact, several jurisdictions, from the city of San Jose to towns across New Jersey to the state of Wisconsin, have tried over the past three years to ban the rentals or set up strict rules that require private pools to meet the same standards as a public pool.
The rentals began cropping up in Montgomery County in the summer of 2020. Residents responded by reporting their concerns to county officials.
"We're recognizing this is happening already, so we should create guardrails, rules of the road, and due process if there are bad actors," said Council member Will Jawando (D-At Large). A share economy bill he introduced this year alongside co-sponsors Dawn Luedtke (D-District 7), Laurie-Anne Sayles (D-At Large) and Kristin Mink (D-District 5), proposed new guidelines for renting out pools, home gyms and dog runs to neighbors and strangers for quick, charge-by-the-hour stints. Under bill 6-23, homeowners must register their short-term amenity rental with the county, pay $150 for a license to operate and pay taxes.
Many homeowners are eager to earn easy money by renting out a backyard pool, despite a murky legal landscape that does not offer clear guidance on whether the rentals are legal or not.
But in Montgomery County, which is home to its fair share of power brokers and million-dollar houses with spacious backyards and picturesque pools, the emergence of apps – like Swimply and SniffSpot, which connects dog owners to private dog parks for rent – has elicited resistance.
Chief among the complaints detailed by pool sharing opponents is the noise.
The noise of parties arriving has often forced Kiggans to close her windows, she wrote to the Council, in an account that described people loitering on the street in bathing suits and carrying floaties, waiting for their turn to use the pool.
"This is a constantly renewed stream of paying 'guests' seeking to extract the maximum enjoyment from their poolside time," Kiggans said in the letter.
A like-minded group of 36 county residents from Chevy Chase, Rockville, Montgomery Village, Kensington and Rosemary Hills, wrote a letter opposing the bill and asking the county instead to outlaw the amenity rentals altogether. The group argued that the rentals turn quiet residential neighborhoods into bustling business districts, without the infrastructure to support commercial activity. They raised dozens of concerns, largely over the added nuisance of strangers pouring into their neighborhoods because of the apps, congested roads, scarce parking, and noise and safety.
Their complaints have shut down at least one pool rental in the county.
Homeowner Patricia Van Ryckeghem, who lives across the street from Kiggans, said in a letter to council that her Swimply pool rental, which became a financial lifeline in 2020 when her husband could not work, was shut down last year after the county fined her.
"A lack of regulations meant that the act itself was illegal," Van Ryckeghem said in the letter. "This is mind boggling as such a mind-set would mean anything the County does not explicitly regulate would be disallowed." (Reached by phone, Van Ryckeghem and Kiggans declined to elaborate for this story.)
The opposed residents also wrote to urge the Montgomery Council to consider the safety risks of allowing unmonitored private pool rentals to the public.
"What is going to happen when someone, most likely a child, drowns in a rented residential pool?" Edward and Jackeline Pfister, of Montgomery Village, asked lawmakers. "Would you still believe that the proposed legislation was a good idea?"
Last June, a 7-year-old girl drowned in Teaneck, N.J., in a pool that had been rented for a party through the Swimply app. Cameron Kilberg, the head of legal and government relations at Swimply, said the incident remains under internal investigation, but added that the company has implemented some changes to center safety for both guests and hosts. The company instructs hosts on basic safety measures during the onboarding process when they sign up for the app, she added, though Swimply does not give renters specific safety instructions.
"We continue to message safety first," Kilberg told The Post.
Jawando said he believes that renters and homeowners are taking on the same risk as one would if they invited a friend over to use their backyard pool. And Swimply's insurance policy offers up to $1 million in coverage in the event that a guest is injured and up to $10,000 to cover property damages.
The effort to regulate and tax home amenity rentals is welcomed by homeowners like Cornell Hudson, 50, who rents an 8-foot-deep pool nestled in the backyard of his Damascas, Md., home through Swimply for $50 to $150 per hour. The accountant, who also owns an Airbnb in Ocean City, Md., said one of his favorite repeat customers has been a young man with a disability who lives nearby and uses the pool for recreation. Hudson added that most of his customers are local families and small community groups in the DMV region.
Hudson said he supports the county implementing regulations and even charging a tax, as long as the rules do not overly burden hosts with onerous requirements of frequent inspections – something county officials have said they are not staffed to undertake.
"What's most important to me is being able to share the space," Hudson said.
In a letter siding, in part, with bill opponents, County Executive Marc Elrich said the county's regulators are already overwhelmed with the daily complaints from residents taking issue with neighborhood nuisances, and he said the proposed bill opens the door for even more demand for enforcement.
"Neighbors complain about neighbors, HOAs get involved, and in some cases, constituents make direct requests to their Council member and County Executive," Elrich said. "Bill 6-23 and ZTA 23-01 could lead to excessive commercialization of residential homes, thereby exacerbating existing problems."
Elrich proposed 14 amendments to Bill 6-23 that would significantly curtail home amenity rentals, including limiting listings to the hours of 10 a.m. to dusk, restricting rentals to no more than 120 days per year, and requiring annual inspections of rental properties.
The Council has taken a deliberative approach to the proposal, asking county staff to gather data on complaints, the number of pools in the county and where they are located by Zip code, and more information about how the county would meet the increased demands of regulating a new industry.
"This legislation is in concept changing the residential [zoning] to commercial and there's a lot to unpack there," Council President Evan Glass (D-At Large) said at a work session in March.
Jawando, who said he is open to amending the bill, expressed doubt that a final vote would occur before the fall.
At the outset of Memorial Day Weekend – the unofficial start to summer – a search for pools in Montgomery County showed more than 100 Swimply listings.
Add TheJapanNews to your Google News feed.