Trump Extends Election-Rigging Myth to His Potential Criminal Charges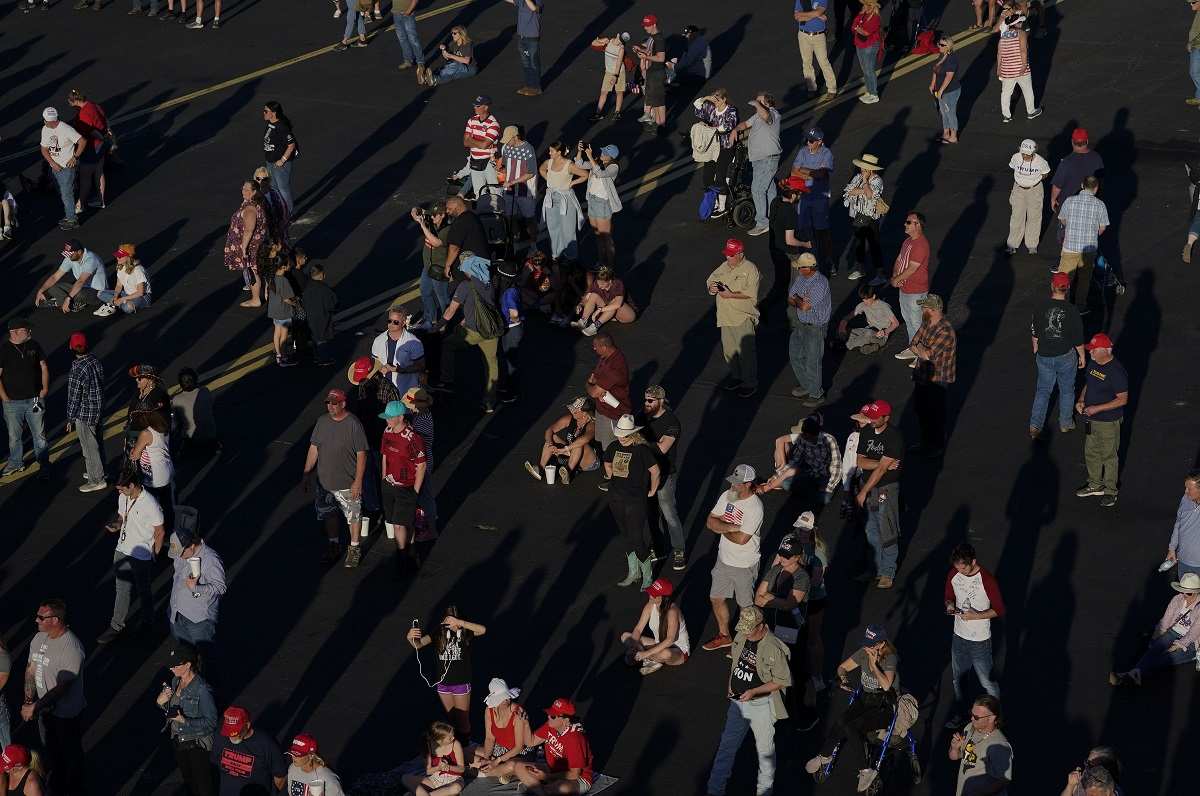 15:51 JST, March 28, 2023
Former president Donald Trump opened the first mega-rally of his 2024 campaign by playing a recording of the national anthem sung by inmates charged in the riot at the U.S. Capitol on Jan. 6, 2021.
In the 90-minute remarks that followed on Saturday, Trump repeatedly emphasized – even more than in last year's rallies for the midterms – his false insistence that the 2020 election was stolen from him. But he added a new twist: that his political opponents were now bent on rigging the next election against him through the prospect of criminal charges.
"This is their new form of trying to beat people at the polls," Trump elaborated to reporters on his flight home from the rally, according to a recording obtained by The Washington Post. "This is worse than stuffing the ballot boxes, which they did."
Saturday's speech by the early polling leader for the Republican nomination shows how Trump is seeking to adapt the stolen election myth, continually absorbing new allegations when old ones are debunked or obsolete – from supposed foreign plots to tamper with voting machines to alleged manipulation of social media and now potential prosecution. The latest version also underscores Trump's continued determination to elevate conspiracy theories with inflammatory rhetoric that has already inspired violence by his supporters, which he continues to downplay or defend.
"President Trump has always sounded the alarm on election interference, but what is happening with these legal witch hunts is the updated version of that in 2024," campaign spokesman Steven Cheung said. "It's an 'us vs. them' moment that harks back to his core message in 2016: They're coming after us, but Trump is the only person standing in the way."
Trump himself leveled a similar argument from the podium on Saturday, declaring: "When they go after me, they're going after you."
Trump's choice to center Jan. 6 in his first big rally drew rebukes across the political spectrum. "Look, when it comes to running for president or any other office, people don't want you to re-litigate all your grievances in the past. They want to know what your vision for the future is," Sen. John Cornyn (R-Tex.) said Monday. "I don't think it's a formula for success."
Sen. Richard J. Durbin (D-Ill.) said Trump had hit "new depths" with the fresh glorification of Jan. 6 rioters. "I don't know how much more disrespectful the former president can be when it comes to the men and women in law enforcement who were attacked and some lost their lives because of this situation," Durbin, the Senate's No. 2 Democrat, said.
But public opinion surveys suggest many Republicans agree with Trump's denial. An NPR-PBS NewsHour-Marist poll taken last week found 80 percent of Republicans viewed the investigations into Trump as a "witch hunt" (though only 41% of all Americans took that position.) Earlier this month, a CNN poll found 63 percent of Republicans and Republican-leaning voters still said the 2020 election was illegitimate, even as about half of those voters acknowledged there was no "solid evidence" for that belief, and they were basing it on "suspicion only."
"They're really trying to frame him as a criminal and I don't believe he is," Brian Hundley of San Antonio said at Saturday's rally.
"They're all a bunch of lies," echoed 91-year-old Charles Tooker as his grandson pushed him into the rally in a wheelchair. Tooker predicted Trump would prevail with a nod of his MAGA hat.
"Even Moses had his sins," said Laura Wright, a retired schoolteacher from Denton, Tex. "God forgives and so do I."
Trump's rally came in the same week that he called on his supporters to take to the streets to protest his being arrested by the Manhattan district attorney – something that did not occur – and warned on social media of "potential death & destruction" if he's charged. He held the rally in Waco, Tex., during the 30th anniversary of a deadly federal raid there that fueled the growth of the anti-government militia movement, though aides provided other reasons for the site choice, and Texas Lt. Gov. Dan Patrick (R) said it was his idea.
Trump has long sought to discredit elections before and after they happen. In 2016, he said the election would be rigged and that he would only accept the outcome if he won. Not all rallygoers were entirely comfortable with Trump's dwelling on the 2020 election and use of threatening language.
"It was not the best thing to say," Alexander Zieglgansberger, a student at nearby Baylor University, said of the "death & destruction" post. Standing in a long line for food at the rally, he pushed back on a friend's suggestion that Jan. 6 was largely peaceful and tried to steer the conversation elsewhere. "This is a little too controversial for my comfort," Zieglgansberger said.
Ahead of the event, the campaign circulated talking points attacking the prosecution as "election interference," alongside attacking the district attorney, Alvin Bragg, for contributing to the campaign of Sen. Raphael G. Warnock's (D-Ga.) and for being supported by funding from Democratic megadonor George Soros – and being described as "woke."
"The new weapon being used by out of control, unhinged Democrats to cheat on [the] election is criminally investigating a candidate," Trump said at the rally. "It's a rigged system. Like we had a rigged election. We have a rigged system."
Many Republicans have blamed Trump's frequent fixation on the 2020 election for discouraging turnout among his own supporters and putting off moderates and swing voters in the 2022 midterms. Even some of the ex-president's allies have publicly urged him to focus on attacking President Biden and outlining an agenda for his second term rather than on old grievances.
Yet Saturday's Trump rally featured more emphasis on election conspiracies than his campaign stops last year. A common refrain in the midterm rallies was: "I ran twice, I won twice and did much better the second time"; on Saturday, he was more explicit, saying: "We won in 2016. We won by much more in 2020, but it was rigged." Last year's events often featured a montage of right-wing media clips suggesting the Capitol riot was a government setup that played as part of the hours of preprogramming before Trump's speech; this time, Trump began his speech with a tribute to Jan. 6 defendants.
Images from a pro-Trump mob's storming of the U.S. Capitol loomed over the audience as they stood for the "Justice for All" song, which mixes Trump's recitation of the pledge with a rendition of the national anthem by prisoners facing charges in the Jan. 6, 2021 attack. "Our people love those people," Trump declared when the song finished, making sure to note that it hit No. 1 on iTunes. Behind him, supporters held up signs distributed by the campaign that read "WITCH HUNT."
In his speech, Trump sought to connect the Bragg investigation – which is believed to involve hush-money payments made to an adult-film actress before the 2016 election – to the long string of scandals that hounded his presidency: the special counsel investigation into Russian interference in the 2016 election; the first impeachment he faced over pressuring Ukraine to investigate Biden; the second impeachment over inciting the insurrection at the Capitol; the House committee that formed to investigate the attack; the federal criminal investigation into Trump's efforts to overturn the election, and the parallel probe into the top-secret documents found at Mar-a-Lago (now both overseen by special counsel Jack Smith); a civil case against his company by the New York attorney general; and an investigation by the district attorney in Fulton County, Ga., into Trump's pressure on state officials to overturn the election results there.
"For seven years, you and I have been taking on the corrupt, rotten and sinister forces trying to destroy America," Trump said at Saturday's rally. "They're not going to do it. But they do get closer and closer with rigged elections."
While Trump is trying to look forward with attacking the Bragg prosecution as election interference, he did not completely forgo glances back to 2020 either. Throughout Saturday's speech, he criticized the Supreme Court for not overturning the results, falsely claimed that ballot-stuffing had been caught on tape, praised people detained on Jan. 6-related charges and promoted Fox News host Tucker Carlson's airing of Capitol surveillance footage purporting to downplay the day's violence.
"Prosecutorial misconduct is their new tool and they are willing to use it at levels never seen before in our country," Trump said. "We must stop them and we must not allow them to go through another election where they have yet another tool in their tool kit."
While much of the speech focused on Trump's legal troubles and rivalry with Florida Gov. Ron DeSantis (R), some of his biggest applause came when he turned to policy issues that many Republicans are focused on, such as classroom instruction on gender and diversity. Trump closed with repeating his promise, first offered at this month's speech at the Conservative Political Action Conference, to use his second term for "retribution."
"When this election is over, I will be the president of the United States," he added on Saturday. "You will be vindicated and proud. And the thugs and criminals who are corrupting our justice system will be defeated, discredited, and totally disgraced."
Add TheJapanNews to your Google News feed.