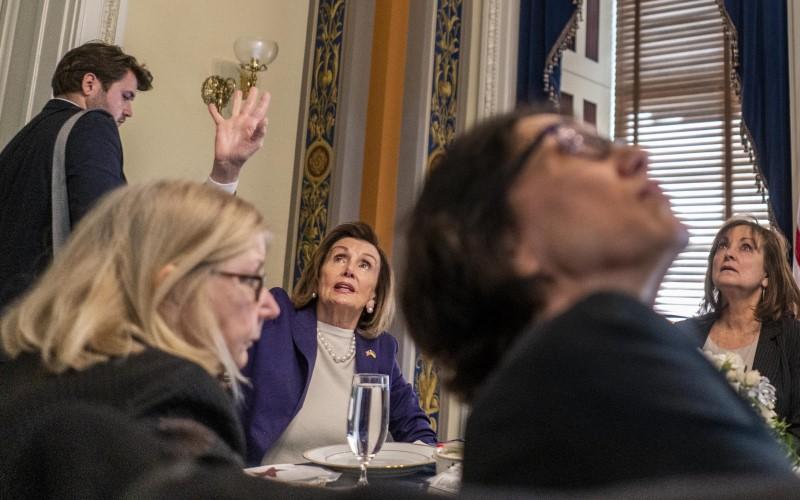 17:18 JST, January 3, 2023
House Speaker Nancy Pelosi (D-Calif.) officially steps back from her leadership position this week after 20 years of guiding House Democrats, marking the end of a history-making tenure that saw her take the gavel twice.
Pelosi, the first and only woman to be chosen as speaker of the House, will again be sworn in to the House on Tuesday for another term, but this one as a rank-and-file member with no special privileges. It will be the first time she is sworn in without a leadership position in more than 20 years.
In recent weeks, Pelosi has grown reflective, a change from the more steely outward posture she has shown in the previous couple of decades on the Hill. But she has also grown irritated with questions about whether she intends to serve a full two-year term, as ambitious Democrats back home in San Francisco have spent the past several years eyeing her departure and prepping bids for the seat.
Pelosi, 82, held court twice recently with a small group of reporters in the "Board of Education" room on the first floor of the Capitol – a small, ornate room that used to be the men-only haunt of the only House member to lead a caucus longer than Pelosi: the legendary Texas Democrat Sam Rayburn. Pelosi has retrofitted the room away from a Texas-macho vibe into a tribute to women's suffrage and nods to the West, including a painting of the Golden Gate Bridge.
Each of those wide-ranging interview sessions was attended by a Washington Post reporter, and below are some highlights of those conversations, as well as some quotes from Post archives. Some answers have been edited for length.
***
Pelosi was first elected to the House of Representatives in the late 1980s, with a campaign slogan that belied her self-described shy nature. In one of the recent interviews, she recounted some discomfort at her campaign's mailers, loudly proclaiming "a voice that will be HEARD."
But her voice dropped slightly a moment later, as she noted simply, "And then it was a voice that was heard."
***
Pelosi broke the congressional glass ceiling on several occasions, becoming the first woman to hold the whip position, the first woman to lead either party in either chamber and the first woman elected speaker. It wasn't always easy, she has conceded, to be an ambitious woman in a chamber still overwhelmingly run by men.
When she first ran for leadership, eventually becoming the first woman to be elected Democratic whip, she recounted the firm pecking order in leadership at the time, with people questioning who had given her permission to run for a top slot. At the time, the men in charge asked why the women in the House didn't just make a list of what they wanted, Pelosi said, and hand it over for the men to handle.
Pelosi recounted responding flatly, "No, we've been waiting over 200 years."
***
During Pelosi's tenure in leadership, the House Democratic caucus has seen increased representation of women, people of color and members of the LGBTQ community. She noted in her speech announcing she was stepping back from leadership that new members of the House Democratic caucus "will be about 75 percent women, people of color and LGBTQ."
***
Pelosi's family lineage played a huge part in her entry into politics – her father was the mayor of Baltimore and a member of the House. Her husband, Paul, recently the victim of a brutal attack at their San Francisco home, is often seen by her side at public events. References to her children and grandchildren are frequent in her speeches and interviews.
"When I first came to the floor at 6 years old," she said in her recent address to Congress, "never would I have thought that someday I would go from homemaker to House speaker."
***
Calling it "the biggest thing that I've ever done in Congress," Pelosi recently reflected on the passage of President Barack Obama's signature health-care law, the Affordable Care Act. It is perhaps the piece of legislation she is most closely tied to, muscling it over the finish line. But it also is indicative of a larger theme to Pelosi's career: winning the vote.
Many, if not most, historians believe her to be the most powerful speaker in the history of the chamber for her ability to wrangle her caucus to vote how she needs them. It was obvious in several moments in her tenure, from her vote against the Iraq War to votes approving a Wall Street bailout (that had already failed once) and moving forward several pieces of President Biden's agenda.
***
Pelosi once again made history during President Donald Trump's administration, becoming the only speaker to have ever brought impeachment charges against a president twice: once over his conversation with the president of Ukraine and the second after the Jan. 6, 2021, attack on the U.S. Capitol.
"The actions of the Trump presidency have revealed the dishonorable fact of the president's betrayal of his oath of office, betrayal of our national security and betrayal of the integrity of our elections," she said when announcing her intent to bring charges in the first impeachment.
***
While Republicans were the most frequent target of her ire, Pelosi was not afraid to challenge members of her own caucus when she felt it was warranted. She famously clashed with members of the Squad and held back challenges to her speakership on more than one occasion.
"I want women to have confidence," Pelosi said in her final news conference as speaker recently. "So sometimes when I act a little more, shall we say, like myself, it's because I want them to know it's okay to assert yourself, to have confidence in what you bring to the table, and also to understand your uniqueness."
Add TheJapanNews to your Google News feed.