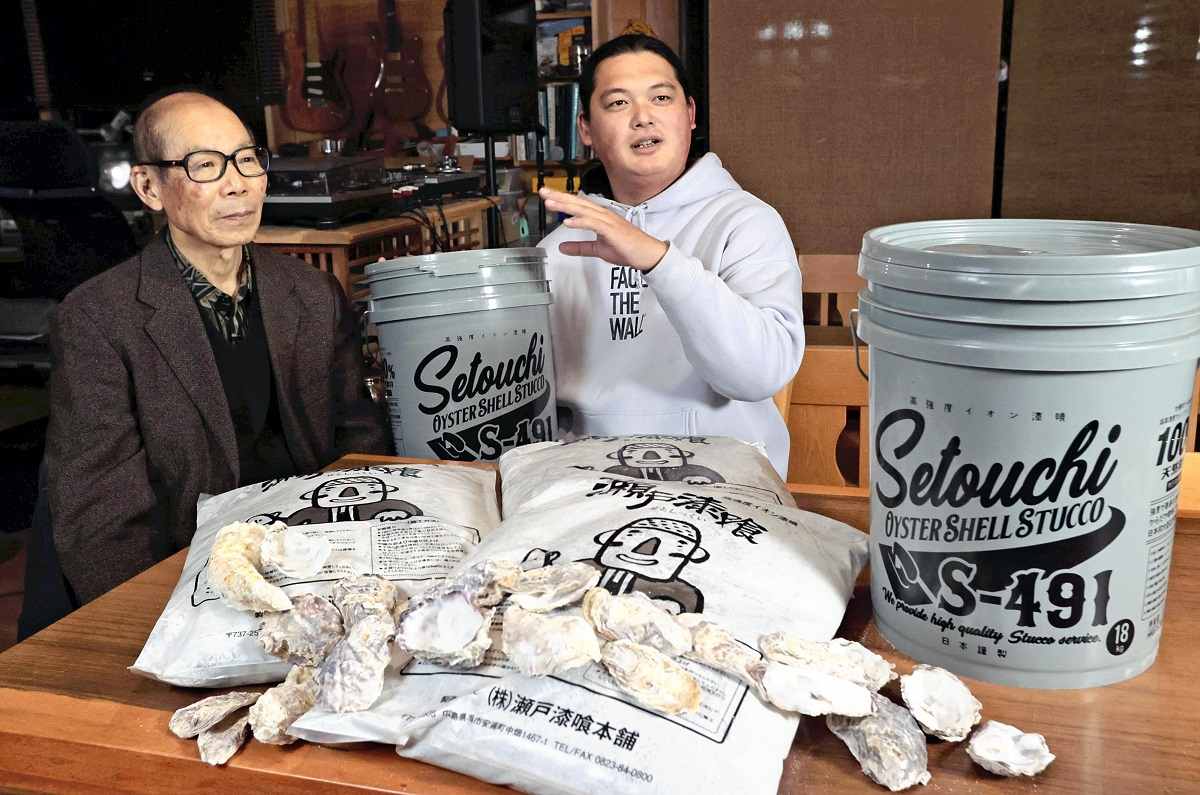 12:48 JST, January 21, 2023
KURE, Hiroshima — A manufacturer in Hiroshima Prefecture has developed a health-friendly stucco made from oyster shells, which typically go to waste.
The annual volume of oysters caught and farmed in Hiroshima Prefecture is about 17,000 tons with shells removed, accounting for about 60% of the total amount in Japan. However, shells make up 80% of an oyster's weight, and they are mostly disposed of as waste.
According to the Environment Ministry, about 130,000 tons of shells are removed from oysters nationwide every year.
Seto Shikkui Honpo, a materials manufacturer in Kure, Hiroshima Prefecture, has been marketing stucco made from oyster shells since 2011.
Yoichi Sato, 64, then president of the company, came up with the idea because his daughter suffered from sick building syndrome, which is caused by chemical substances used in building materials, when she was a child. Around 2008, the company started working with Tsuyoshi Morimura, 79, who was a professor at Kindai University's Faculty of Engineering at the time, and successfully increased the strength of the oyster shell stucco, which had been a challenge for putting it to use.
Although stucco made from oyster shells costs more than conventional products, it has become popular through word of mouth for its fire resistance and mold resistance. The volume of the company's oyster shell stucco sold annually now exceeds 30,000 tons, a significant increase from about 24 tons in its first year.
The company now exports its oyster shell stucco to China and Taiwan, and is considering sales in the United States this year.
"I want to spread this type of stucco around the world so that all the oyster shells in Japan are used up," said Sato's 30-year-old son, Fumihiro, who took over as the company's president in 2020.
Add TheJapanNews to your Google News feed.