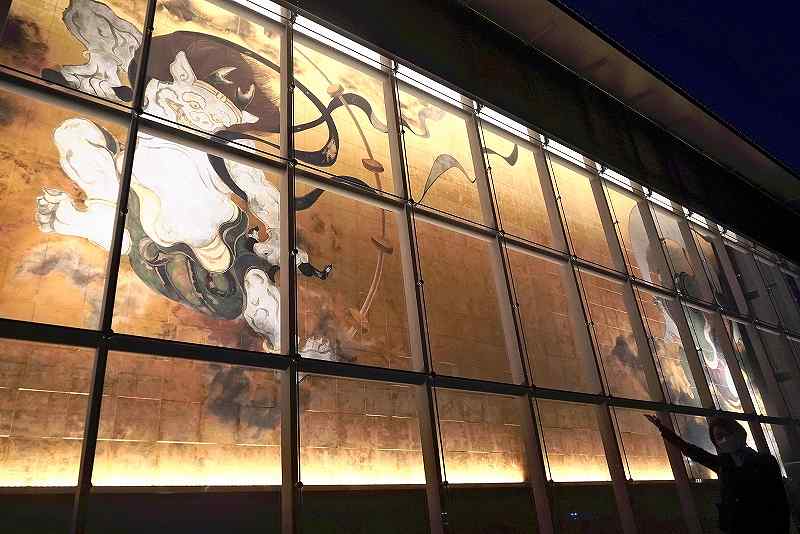 2:00 JST, January 2, 2023
HAKONE, Kanagawa — At the top of a steep mountain road in Hakone, Kanagawa Prefecture, a visitor is met by a modern, glass-walled building. It is the Okada Museum of Art, a private collection of great works of Asian art, especially by Japanese artists.
What first catches the eye is the massive wall painting "Kaze/Toki" ("Wind/Time") by contemporary artist Kotaro Fukui, which adorns a wall in the front of the museum and is visible from outside. The mural, depicting the gods of wind and thunder, is based on the famous pair of 17th-century byobu screen paintings "Fujin Raijin Zu Byobu" ("Wind God and Thunder God Screens") by Tawaraya Sotatsu, who is known as the founder of the Rimpa school.
"Wind/Time" consists of 640 metal plates, each painted in acrylic, and measures 12 meters tall by 30 meters wide. Looking up at it from up close, its sheer grandeur is overwhelming.
"They're like guardian gods of Hakone," said museum curator Aika Chikamori. This sounds decidedly plausible.
The Rimpa school is said to have been started by Sotatsu and others in Kyoto in the early years of the Edo period (1603-1867) and firmly established by Ogata Korin. It is characterized by its bold composition using bright colors such as blue and green against a gold- or silver-leaf background.
A good example on display is Korin's "Sessho Gunkin Zu Byobu" ("Ducks and Snow-Covered Pine Trees"), a folding-screen painting in which ducks and geese are gathered around a pond on a gold-leaf background. The blue of the pond is particularly resplendent. This piece holds special meaning for the museum because the founder was said to have started collecting Japanese paintings in earnest after acquiring it.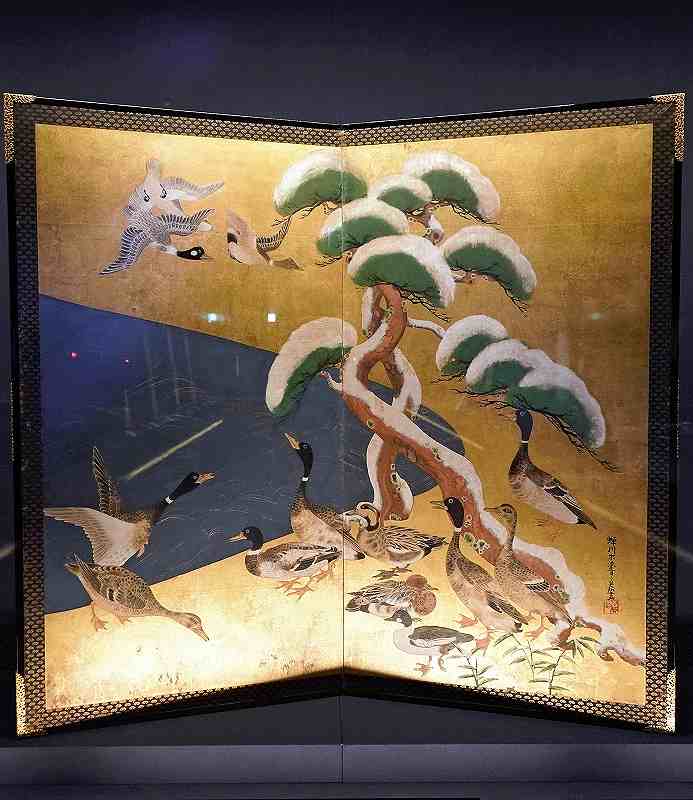 Gentle accent lighting in the dimness of the exhibition rooms assures that each and every work can fully make its presence felt.
Korin's "Kiku Zu Byobu" (Chrysanthemum byobu screen) depicts large white chrysanthemums in bloom, accented by the use of green and black for the leaves and stems. Chrysanthemums also feature in "Iroe Kikumon Sukashibori Soribachi" ("Bowl with Chrysanthemums in Openwork") by Ogata's younger brother, ceramic artist Ogata Kenzan. It is also on display, and visitors can compare the colors used for the stems and leaves.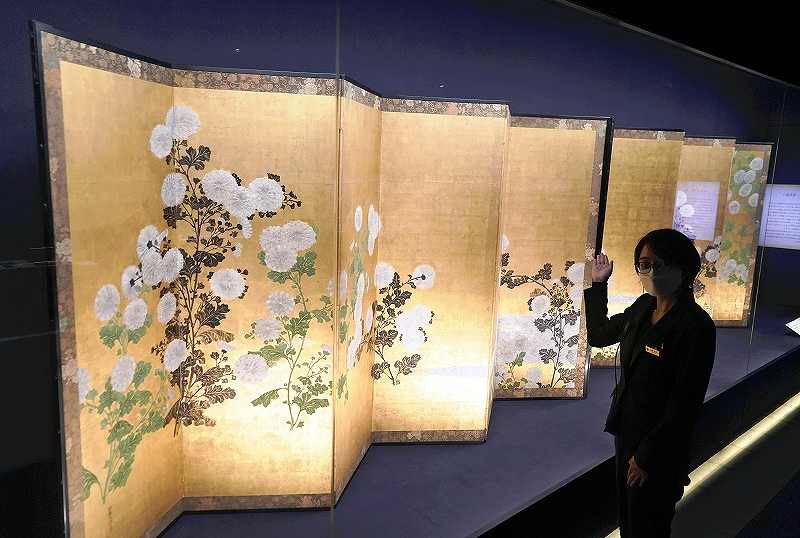 Other notable exhibits include Chinese porcelain from the Qing dynasty and paintings by such great masters as Ito Jakuchu and Taikan Yokoyama.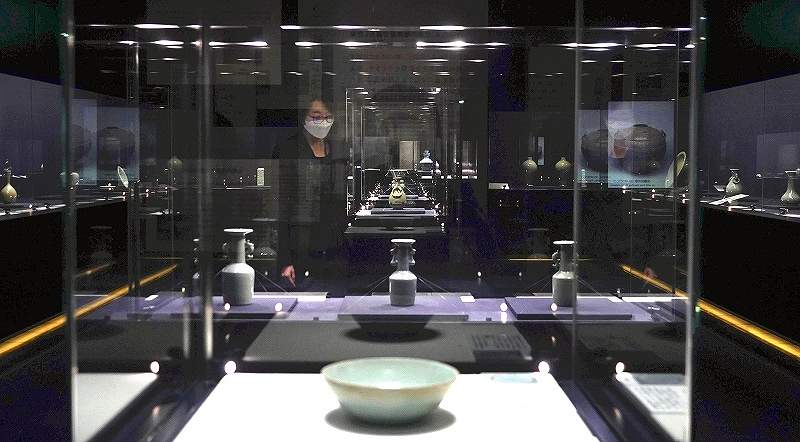 During the Meiji era (1868-1912), a hotel called Kaikatei stood on the site, attracting many foreign guests. Nowadays, as an art museum with great artworks collected from Japan and abroad, the place has become a "temple of beauty."
"I hope people will discover a brilliant gem with their own eyes," Chikamori said.
Within such artwork that is both bold and sophisticated, we can feel the spirit of the Rimpa school, which has defied eras and continues to be passed down.
Okada Museum of Art
The museum has about 450 items on display, including Japanese paintings and ceramics.
Address: 493-1 Kowakudani, Hakone, Kanagawa Prefecture
Hours: 9 a.m. to 5 p.m. (Admission until 4:30 p.m.) Closed on Dec. 31, Jan. 1 and some other dates.
Admission: ¥2,800 for university students and adults, ¥1,800 for elementary, junior high and high school students
Add TheJapanNews to your Google News feed.